20 Brilliant Uses For A Timer That Will Help Kids Focus
Looking for ways to teach kids responsibility and independence? Find out how to use a timer to help your kids focus and even improve their behavior!
I'm sorry to say it, but kids have absolutely no concept of time.
And most of the time, that's perfectly ok! They have years before they have to deal with a world dictated by clocks.
But boundaries? Kids definitely need those – they help kids feel safe as they learn and grow in their environment.
That's why timers are such an effective tool. When we use a timer, we help our kids focus more by dividing time into something manageable and understandable. They can get things done without becoming tired, overwhelmed, or even bothered by us having to nag them!
THE BENEFITS OF USING A TIMER WITH KIDS
Kids are always learning, though they might not always realize it. When we use timers, we're helping them grow by providing the opportunity to practice important life skills such as:
Independence
Improved focus (due to shorter work periods)
Time management
Self-discipline
Self-regulation
Patience
Work ethic
Endurance
Pretty impressive, right?
In this article, you'll find out how to use a timer to:
Alright, let's dive into the 20 ways you can start using a timer with your kids so your family can start reaping the benefits right away.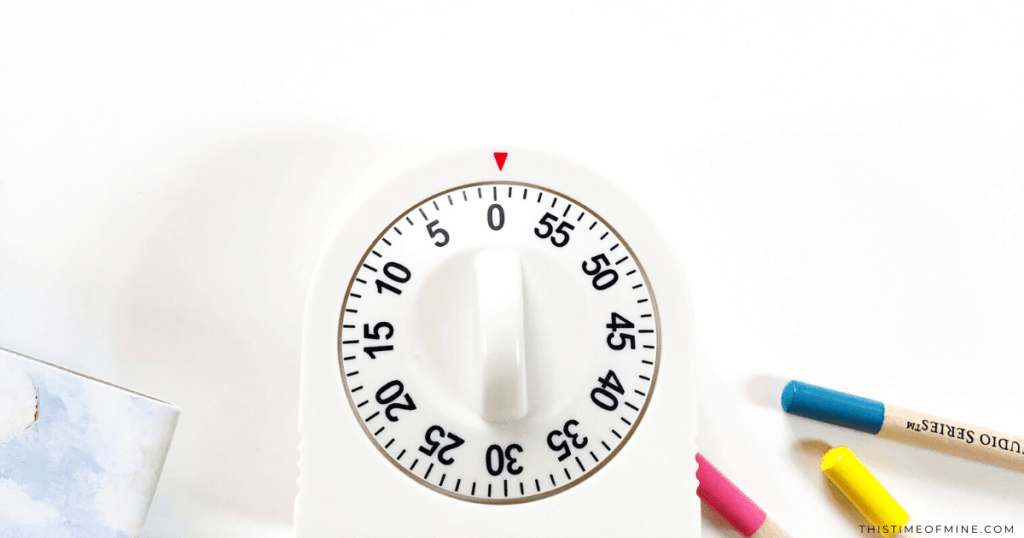 USE A TIMER TO HELP KIDS STAY FOCUSED AND ON TASK
This post contains affiliate links. For more information, see my disclosures here.
Kids have short attention spans and are easily distracted…and that can make certain skills pretty difficult.
Make it easier for them by using a timer in these ways:
1. CHORES
It's incredible how slow kids can be at chores sometimes. It can be a little like watching slugs move through peanut butter.
Try using a timer to help kids focus and stay motivated. They can race to beat the timer or use it to break bigger chores up, making them more manageable. (Messy bedrooms, I'm thinking of you!).
READ NEXT: Chore Sticks For Kids: The Easy-To-Make Chore System That Works
2. QUICK PICK UP
"How much can you pick up in 5 minutes?"
This is a great way to get kids to help with clean up. The amount of time is up to you, but it's amazing how much kids can get done when they're up against the clock!
3. ROUTINES
Kids thrive on routines. It helps organize their day in a predictable way.
But sometimes, getting things done takes them forever – even simple routine tasks like getting clothes on. Help them out by challenging them to beat the timer.
This works great for morning and after school routines or any other part of their daily routines.
4. FAMILY GAMES
Games are a great way for families to bond. But they're also a fun way for kids to learn self-regulation.
Give them a chance to practice those skills by playing games with them – especially games that have a timer.
USE A TIMER TO HELP KIDS FOCUS ON SCHOOLWORK
It can be hard to focus on schoolwork for long periods of time. But setting timers for shorter periods can help immensely.
Try using a timer to help kids focus in these areas:
5. READING
Help reading become a daily habit by setting a timer. The length of time depends on age, but aim for somewhere between 15-30 minutes at a time.
This time could be spent reading silently or reading out loud (a different, but equally important skill). They could also listen to audiobooks or have you read to them.
6. HOMEWORK
If kids have a lot of homework or have difficult assignments, breaking it up can keep them from becoming frustrated. Focusing for shorter periods of time is often more effective than going until the brain is too tired to learn.
** Right now, we're doing this for our temporary "homeschooling" work while everything is shut down due to COVID-19. See our simple schedule here.
7. BRAIN BREAKS
Another way to use a timer to help kids focus on schoolwork is to use it for brain breaks. This is especially helpful when the work is hard or tedious.
For brain breaks, kids set a timer for 10 minutes or so and do something fun, relaxing or silly. Anything to give their minds a chance to relax.
8. LEARNING TIME
Keep brains active in the summer!
During the summer, set aside a little time each day for kids to do something educational. It could be anything from flash cards to a writing prompt. They could also do simple worksheets or play educational apps.
It doesn't have to be long to be effective!
USE A TIMER TO HELP KIDS FOCUS ON LEARNING SKILLS
Kids have so much to learn, yet their short attention spans often make it difficult for them to focus long enough to remember it all.
Help ease their frustration (and yours) by using a timer to help kids learn new skills like these:
9. HYGIENE SKILLS
Sometimes, we use timers to help kids go faster.
But when it comes to hygiene, we actually want them to go slower and do a better job. So keep a simple timer like this one by the sink to help kids take enough time when brushing their teeth or washing their hands.
READ NEXT: How To Actually Be Ready For Kindergarten
10. POTTY TRAINING
Potty training isn't fun for anyone. But luckily, there are ways to make it a little less painful.
I've potty trained all of my children using the method in this book. (It works great by the way!) One trick in this method is to set a timer for them to "try" every 20 minutes. Every time the timer goes off, we get them excited to run to the potty.
11. PRACTICING A SKILL
When kids are learning a new skill, repetition is key.
Setting a timer will help kids focus all of their attention on the task at hand – piano practice, sports drills, dance routines, or whatever they are working on. This is great for kids who like to doddle or who become frustrated with the difficulty of the new skill.
Start in smaller increments until they're ready to go for longer periods of time.
USE A TIMER TO HELP KIDS WITH TRANSITIONS
Moving from one activity to another can be difficult, especially for kids. Their frustration can manifest itself in the form of avoidance, resistance, negotiation or even a tearful meltdown.
Try using a timer to help with these transitions:
12. ENDING ACTIVITIES AT HOME
As much as kids love surprises, they don't love surprise endings – especially to fun activities.
To help them prepare for the transition, give them a 2 or 5 minute warning when it's almost time to wrap things up. Setting a timer will also help with tears since it's the timer that ends the activity, not you.
13. WHEN IT'S TIME TO LEAVE
Have you ever tried to leave a park or play place only to be met with a tearful tantrum? I'm sure we've all experienced one of those!
Just like when we're at home, kids need to be prepped to end an activity in public. So give that 5-minute warning and consider setting a timer. (Though I have to admit, I always end up letting things stretch a little longer than I tell my kids.)
14. SCREEN TIME
Ok, I have a confession. I'm not one to stress out about screen time.
We don't make our kids "earn" it, but we do try very hard to teach them good habits when it comes to technology. And that includes self-control.
Our kids love playing games and watching TV, but they understand that whenever they do, they have to set a timer (the length depends on what's going on that day). When the timer goes off, it's time to be done. No questions asked.
It's helped our family fight screen addiction and the behaviors and safety issues associated with it.
15. OUTSIDE PLAY
Sometimes, we just need to kick our kids outside for a while. It's good for them and it's good for us to have a little break.
But if they're having a day where they keep asking to come in every few minutes, set a timer. It doesn't have to be long, but it'll help them stay outside so they can reap its benefits.
READ NEXT: Fun Outdoor Sensory Scavenger Hunt For Kids
USE A TIMER TO IMPROVE BEHAVIOR
A timer can quickly become a mom's best friend, especially if it promises to help improve behavior.
Well, it can! We can use timers to help improve attitudes, promote good behavior and even assist in emotional regulation. Here's how:
16. ALONE TIME
If kids are starting to get cranky, especially with siblings, it might be time for some alone time. Set a timer for 30 minutes (or however long you'd like) and have everyone find their own area in the house to play.
This is basically a miracle worker in our house, especially on days when we're cooped up and can't go anywhere.
17. QUIET TIME
Quiet time is a little like alone time, except kids can play together.
I love using quiet time in the afternoons when we need a chance to recharge for the rest of the day. The kids can choose their activities, as long as they're quiet. No silly or loud playing until the timer goes off.
Quiet time is also helpful for toddlers who no longer nap in the afternoon. It's a time for them to play while taking a break from the regular stimulation of the day.
I try to include a little quiet time in our daily routines – especially because that's often the only time I can get things done!
READ NEXT: Block Scheduling 101: What It Is, Why It Works And How To Get Started
18. CREATIVE TIME
I usually don't do this one during the school year, but in the summer, our kids set a timer each day for 30 minutes of creative time. Some days we do it during quiet time, and other days we do it in the morning.
Creative time is a chance for kids to focus on one specific activity. This could be coloring, playdough, building with sets, or anything that gets the creative juices flowing.
19. MOMMY TIME
It can be hard for moms to get distraction-free time alone with a child, especially when they have multiple kids. But giving individual kids our full attention, even if it's only for a short time, is an incredible way to bond with them.
It's also an excellent tip for kids who have a tendency to be whiny, clingy or have angry outbursts.
So set a timer and spend some one-on-one time with a child. Do whatever they want to do, and make sure they know they have your full attention during that time.
This might seem impossible with multiple kids. But something as simple as a once-a-week "date" with mom is more powerful than we realize.
20. NOT MOMMY TIME
On the flipside, we have times when we really need to focus on something and get it done…and kids can make that pretty hard.
Setting a timer can help kids understand that they need to go find something to do for a little while so you can work, clean or tackle your to-do list. They'll whine and interrupt a whole lot less if they know they can talk to you again when the timer goes off.
Do you have any other tricks to help kids focus more?
OTHER HELPFUL POSTS:
want to remember this?
Share this article: