How To Get Things Done (Even When The Kids Are Home)
Feeling like you can't get things done lately? Stop feeling guilty when you can't "do it all", and try these things instead.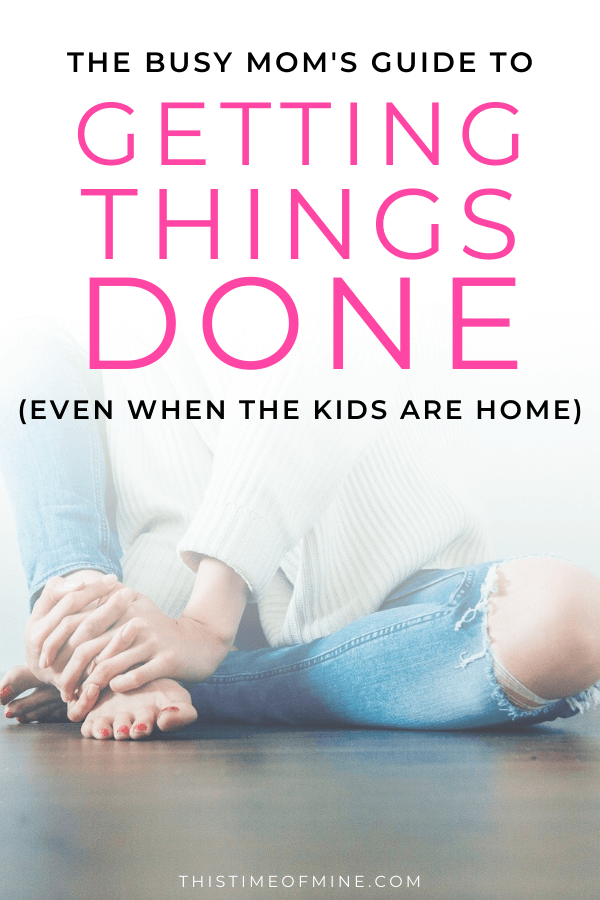 I don't know about you, but lately it's been a lot harder to get things done.
The kids are home from school, and I'm now juggling multiple schedules in addition to my other responsibilities. How do I keep up?
Over the years, I've started to learn that sometimes, life is a tradeoff. It's not always about balancing "all the things" in an effort to do it all. It's an ongoing effort to focus my best energies on the most important priorities at any given time.
Because when it really comes down to it, you can't do it all. That's impossible.
If you find yourself in a similar situation or are generally feeling like you can't get things done, I want to share some tips that will help. They will help you get more out of your time so you can still do "all the things" – or at least all the things that matter.
IS IT REALLY POSSIBLE TO GET THINGS DONE WHEN THE KIDS ARE HOME?
Absolutely!
Try these 10 tips:
1. CREATE A MORNING ROUTINE
I know, waking up before your kids might not sound ideal, but trust me when I say – it makes a difference. Having even a little bit of time to yourself will set the tone for the whole day.
When coming up with a morning routine, try to include at least some physical activity. It can be anything from a quick stretch to a full workout.
Also, try to fit in some time for reflection and planning. Go over your to-do list, read something educational or uplifting, or simply meditate.
There's no exact science to the "perfect" morning routine. Just try to find something that will help prepare you for the day ahead.
Here is the morning routine I swear by. It helps my day go so much better and keeps me from feeling overwhelmed.
2. SIMPLIFY YOUR HOME MANAGEMENT
It doesn't matter if you're a mini Martha Stewart or if taking care of the house makes you feel like a hot mess, there are always ways to simplify and make it easier.
The goal is to work smarter, not harder.
Find ways to automate whenever you can. This means putting systems in place that will get things done with very little effort or brainpower. Then you'll have time and energy to focus on other things.
When it comes to cleaning, food, and money, it's imperative to find something that works for your personality, ability, and schedule. If something is causing constant stress…it's time to tweak how it's done.
For example, I absolutely hate grocery shopping. Now I order online and pick up at the store, which has saved me time and money.
Here are a few more ideas for simplifying your home management:
3. LOWER YOUR STANDARDS
…or at least adapt your standards to fit your current circumstance.
Don't worry. I'm not suggesting to throw everything out the window and adopt a completely new lifestyle.
But I do think it's time to embrace the chaos…if only a little.
For years, I held to the mindset that I should be able to do everything the same way as before I had kids – house, relationships, you name it. Then, I'd find myself running around, stressed and anxious and not really accomplishing anything. My relationships with my husband and kids were suffering, as was my health, and I needed a change.
I finally realized that doing things differently didn't mean I was failing. I was learning to change and grow. My routines and responsibilities now serve me and make my life easier, rather than being the source of my stress.
And even though I still like a clean house and try my best to stay on top of it, it's not perfect. I know my house will be clean again someday. But it will also be empty.
So I'll take what I've got for now.
4. BLOCK SCHEDULE YOUR DAY
Block scheduling is a time management system that allows you to plan your days in blocks, rather than by the clock. It's flexible enough to account for life's hiccups, but structured enough to keep you productive.
It's really quite amazing how much easier it is to get things done when the day is planned according to blocks. Head here for a deep dive into block scheduling and how to make it work for you.
Bonus Tip: Block scheduling isn't just for adults! We use it to plan all of our routines for the family. Want to learn more? These posts are a great place to start:
5. WRITE TO-DO LISTS THAT WORK
When done well, writing to-do lists are a great way to get things done. When done poorly, they can leave us feeling unaccomplished and stressed.
Writing a to-do list that's a mile long does little more than take up space on paper. We only have 24 hours, and some of them should be spent enjoying life and sleeping.
So stick to 1-3 of the most important things that need to be accomplished per day, the things that matter the most. And then be intentional about getting them done.
No matter how the day goes, you will at least have accomplished those things. You can have more than that on the list, of course. But they'll be bonuses.
Click here for more tips on how to write to-do lists that work.
6. WRITE EVERYTHING DOWN
Free up mental clutter by doing a brain dump.
Simply write down everything that's swimming around in your head so you can start to organize your thoughts and prioritize what needs to be done.
It's a very effective method for battling overwhelm.
I write everything down in a plain notebook – grocery lists, daily to-do lists, routines, quotes, softball gear I need to get, deadlines…everything.
Often, things become much more manageable once it's on paper. When it's in my head, it always feels like so much more than it usually is.
7. SET REMINDERS FOR EVERYTHING
Another way to free up mental clutter is by setting reminders for everything on your phone. It's a busy mom's secret weapon to remembering it all.
Here are a few examples of what you can set reminders for:
Birthdays
Text a friend to check in on them
Wash the sheets
Put the chicken in the freezer by Thursday
Water the plants
Important dates
Etc.
Don't have time to set a reminder right away? Try this simple memory trick.
8. LIMIT YOUR MEDIA INPUT
I hate to say it, but media has a tendency to be both a mood and time suck.
That's not to say it is't good to be informed or entertained. But be careful with how much time you spend consuming media. Too much and it will negatively impact your productivity, energy and overall happiness.
If you ever find yourself feeling overly anxious or stressed, try a short social-media fast. It's the best way to reset and get back on track.
9. BE INTENTIONAL ABOUT SPENDING TIME WITH YOUR FAMILY
The key is not to prioritize what's on your schedule, but to schedule your priorities. – Steven Covey
Moms are the ultimate multitaskers. But here's the thing about multitasking…it's a myth. It doesn't work. All it does is help us do things with partial focus.
Of course, it's not possible to give our full attention to our families at all times. We still have things to do, which is why much of the time spent with our families is when we're also cooking dinner, cleaning up or getting everyone ready for bed.
But there's something to be said about scheduling intentional, distraction-free time with them, even if it's only for 15 minutes. Then you can feel better about giving full focus to some of the other things on your to-do list.
10. INVOLVE THE KIDS
This last tip is important. Don't try to do it all alone.
Get the kids involved with cleaning, cooking, food prep, helping siblings, and whatever else they can. Not only will this lighten your load, but it will also teach them important life skills, give them a chance to be self-sufficient and help strengthen their relationships with their siblings.
Want the kids to get into a good habit of cleaning? Try these posts:
SO HOW DO I DO IT ALL?
You don't! It's as simple as that. Because "doing it all" implies an unreachable ideal.
You can, however, do everything you want and need to do. You just have to get creative.
Following these tips is an excellent place to start. From there, you'll be able to stop prioritizing what's on your schedule and get better at scheduling your priorities as Steven Covey says.
You've got this!
want to remember this?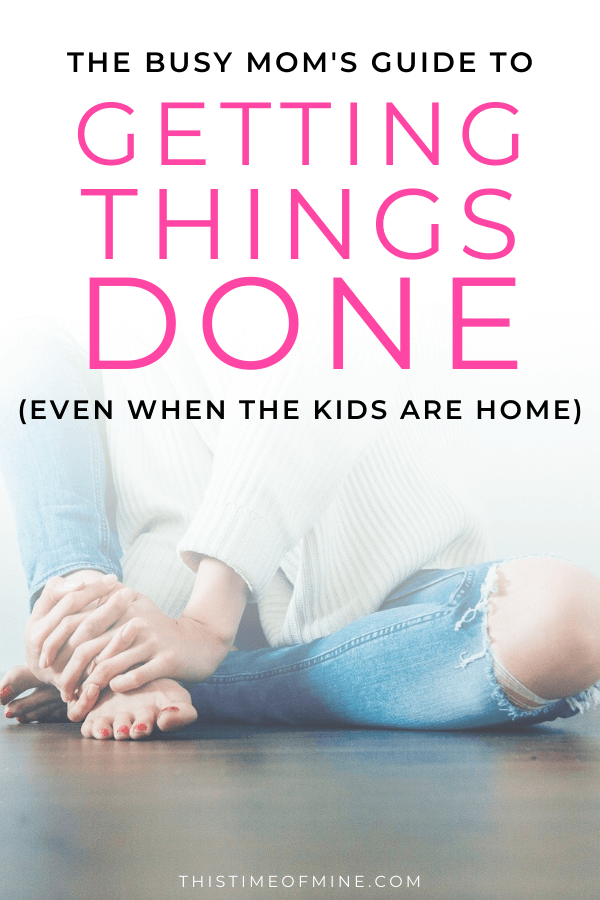 Share this article: