30 Quick And Easy 15-Minute Cleaning Tasks
Got 15 minutes? Find out how to speed clean your way to a clean house with these quick and easy 15-minute cleaning tasks!
Having a clean house is great. But finding the time to clean it? That can seem pretty impossible, especially with kids.
Luckily, it's totally doable to stay on top of it all by doing just a little at a time. We don't have to dedicate hours of time to cleaning. We just have to break it up into manageable pieces.
That's great news for me because there's a direct correlation between the state of my house and my mood. I just function better when I'm not drowning in a messy house.
Now, my house is far from perfect. But I'm glad to say I've learned to focus on what I can do – when I can do it. And it's made all the difference.
There are some cleaning tasks that make a bigger impact than others. And that's what I'm sharing today. Because I want you to be able to enjoy a clean house too, and not have it be overwhelming.
This post contains affiliate links. For more information, see my disclosures here.
QUICK TIPS
I want cleaning to be as easy (and fast) as possible. So to make sure these cleaning tasks truly take 15 minutes or less, try these 3 tips:
1. Use a timer
We always move faster when there's a timer ticking. That's great news so we can get on with our day!
2. Use time-saving products
Everyone has differing opinions on cleaning products. But there are a few that make things go so much faster:
E-Cloths (My all-time favorite for cleaning mirrors and windows)
Swiffer dusters, including ones with extendable handles like these
Disposable wipes (Clorox, Lysol, etc.)
Daily shower spray (I love this easy recipe from Two Twenty One.)
3. The 15-Minute Cleaning Tasks Cheat Sheet
I'm a list kind of girl. They keep me focused and moving.
I keep this list handy so I'm ready to go whenever I have a 15-minute window. (Grab yours here.)
Just remember that it's ok if some of the items on this list take more than 15 minutes at first. The more you do something the faster you'll get at it.
READ NEXT: 15 Things To Clean For An Illness-Free Home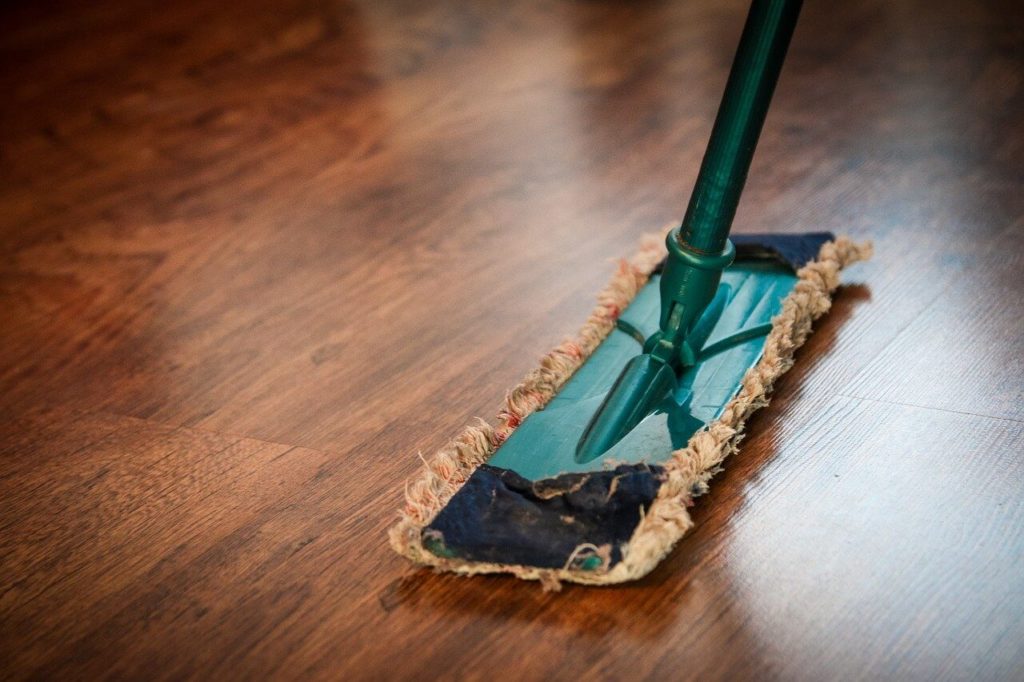 Quick and easy 15-minute cleaning tasks
Here are 30 simple cleaning tasks you can do in 15 minutes or less.
1. Clean one bathroom
Cleaning a bathroom doesn't have to take forever. Grab this checklist and get the bathroom cleaned in no time.
2. Go through mail or a paper pile
Step one: throw most of it away. Paper piles are much less intimidating when they're narrowed down to the items you actually need. What remains is much more manageable.
3. Dust surfaces
Run your favorite duster over the flat surfaces in as many rooms as you can, such as desks, dressers, and bookshelves. Use an extendable duster to reach fans and a clean paintbrush for fabric lamp shades.
4. Throw out expired food in the fridge
Sometimes, the fridge requires a good deep clean. But most of the time, a weekly cleanout will do!
5. Clean out utensil drawer
Take everything out of the utensil drawer and clean out crumbs and other debris that has collected.
6. Wipe down the kitchen trash can
Even if you use trash bags, trash cans can get pretty gross. Grab a Clorox wipe and wipe it down, inside and out. If you store the trash can in a drawer or cabinet, make sure to wipe that area as well.
7. Wipe down kitchen appliances
Repeated use (and little sticky fingers) can leave kitchen appliances grimey. Wipe down the surfaces to get them shiny again, paying special attention to handles and the tops of the doors.
8. Wipe down kitchen cabinets
Wiping down the kitchen cabinets will keep them from collecting dust and food. Especially cabinets with grooves or patterns.
9. Wipe ENTIRE kitchen counter
Take a little extra time and give your kitchen counters a good wipe down. Remove everything so you can reach corners and other areas that are usually covered up.
10. Clean microwave
Wipe down the inside of the microwave with your favorite cleaning product. If food is stuck, put some vinegar in a microwave-safe dish and turn the microwave on for 3-4 minutes. The steam will loosen it up!
11. Start a load of laundry
Keep laundry from adding up (or start on the mountain that's collected) one load at a time.
12. Sort clean laundry
Even if you don't have time to put laundry away, sorting it will save you and your family time the next time someone needs something.
13. Clean out purse or diaper bag
A lot can collect in a woman's purse or diaper bag! Take a few minutes to empty out crumbs, receipts and whatever else has ended up in there.
14. Vacuum rugs
Sometimes, vacuuming just isn't a 15-minute cleaning task. But a few rugs? That's a great place to start.
15. Sweep front porch
Your front porch is the first impression of your home. Keeping it swept will keep it clean and welcoming.
16. Dust under couches
Hunting for dust bunnies isn't something we usually have time for. But all it takes is a couple of minutes to run a microfiber mop under couches and similar furniture.
17. Clean mirrors
Mirrors love to collect dust and fingerprints. So give them a quick wipe down with these cloths. You'll be surprised at how quickly they can be clean again.
18. Clean the inside of eye-level windows
You can have clean windows all the time if you have the right tools. It's so quick and easy.
19. Vacuum couches and chairs
Use the hose attachment of your vacuum to clean up dust, hair, crumbs and whatever else likes to collect on couches and chairs.
20. Vacuum some bedrooms
Depending on the size of your house, you might not be able to vacuum everything in 15 minutes. But do as much as you can. You can do more areas next time.
21. Change sheets and vacuum one bed
Not all deep cleaning has to be saved for spring. You can keep on top of the mattresses by vacuuming them with the hose attachment every once and awhile. You can do one bed at a time to keep it quick.
22. Vacuum the car
Whether you do it at home or at a car wash, vacuuming the car makes a huge difference in how clean it feels.
23. Wipe down the inside of the car
Wipe down the steering wheel, cup holders, and all the surfaces in the front of the car.
24. Pick up floors throughout the house
Nothing makes a house feel messier than clutter all over the floor. Set a timer for 15 minutes and pick up as much as you can, especially in the high traffic areas.
Quick tip: Consider having "catch-all" baskets in different areas of the house. If you don't have time to put everything away, you can put them in a catch-all basket for later!
25. Put items away from catch-all baskets
If you have more than one catch-all basket, put as much away as you can in 15 minutes. You can do more later.
26. Open curtains and blinds throughout the house
Bring in the sunlight! Go throughout the entire house and open all the blinds and curtains.
27. Wipe doorknobs and light switches
Stay on top of germs. Take a Clorox wipe (or something similar) and go over all the doorknobs and light switches in the house.
28. Clean garbage disposal
Pour ½ cup of baking soda down the drain. Follow with 1 cup of white vinegar. After it sizzles for a bit, turn on the water and garbage disposal until it's rinsed clean.
29. Empty dishwasher
Empty the dishwasher so you can fill it later or throughout the day.
30. Load dishwasher
A sink full of dishes might seem like a lot of work. But it usually takes less time than we think to fill up the dishwasher.
15-MINUTE CLEANING TASKS CHEAT SHEET
Cleaning doesn't have to be overwhelming! Doing small tasks in short increments makes it possible for anyone to have a clean house. Even if you have kids. (You can grab a free copy of this cheat sheet in The Parenting Library.)
And to learn even more about creating simple systems in your life to help you stress less, be sure to grab The Peaceful Parent Starter Guide.
Do you have any 15-minute cleaning tasks to add to this list?
want to remember this?
Share this article: