How To Create The Perfect Daily Routine For Your Kids
Looking for a simple daily routine for your kids? Find out how to use block scheduling to create perfect, yet flexible routines that stick!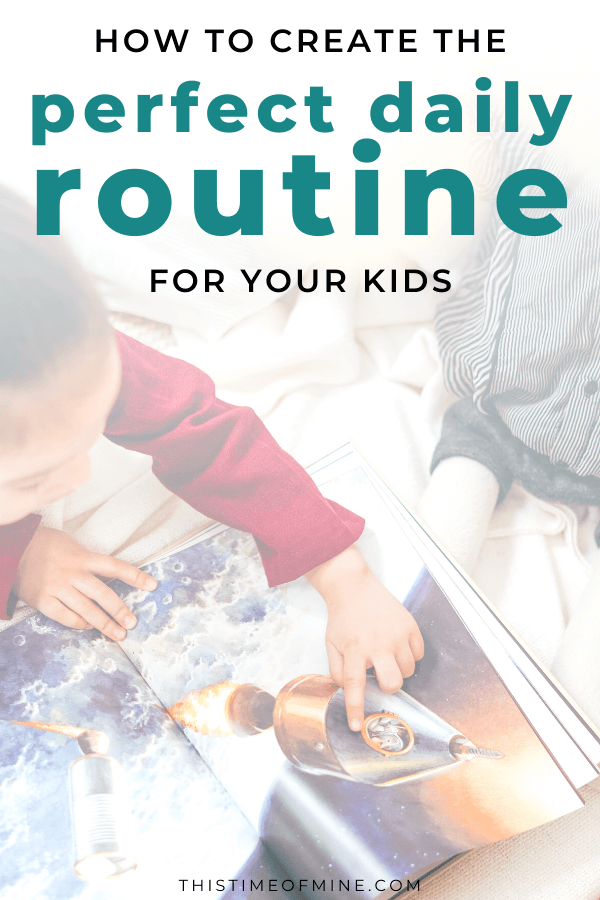 We know our kids need routines. And whether they want to admit it or not, our kids know they need them too.
But when there's no school, it's tempting to throw routines out the window. After all, don't they deserve a break?
Well, yes…and no.
It's true that during school breaks, kids don't need rigid schedules. But they do need a basic daily routine.
It's what will keep the whole family sane.
Luckily, it's possible to come up with a daily routine for kids that's simple enough to be flexible, but structured enough to work for the whole family. It'll make sure the important things get done and out of the way and leave plenty of time for fun.
And best of all, it'll keep you from becoming overwhelmed with all the kids home from school!
So if you'd like to hear less whining, fighting and "I'm bored" statements, grab some paper, set aside some quiet time, and let's dive in!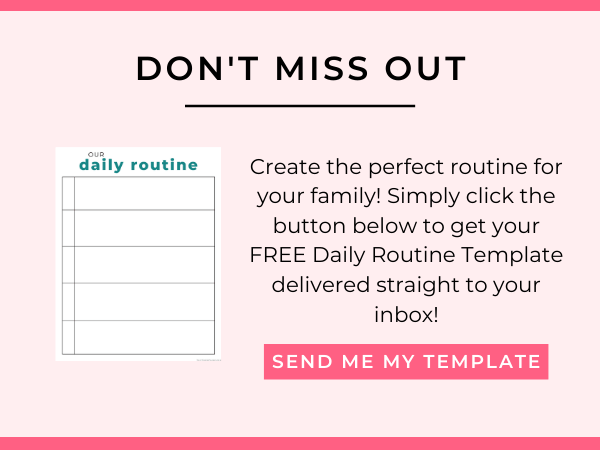 READ NEXT: A Simple Daily Schedule For Kids During School Closures (From A Mom Of 4)
4 TIPS FOR CREATING THE PERFECT DAILY ROUTINE FOR KIDS
Before starting the planning process, it's important to remember 4 things:
1. A "perfect" routine gets easier to create with practice.
Don't be discouraged if it takes several tries to create a routine that works. It takes time to figure everyone's rhythm and how long things take.
The more you create these schedules, though, the easier it'll get.
You'll be able to build on the knowledge you've gained – including what works and what doesn't – until you find something that feels manageable for everyone.
2. A "perfect" routine often needs tweaking.
When you finally come up with something you like, try it out for a few days. If something doesn't work, don't throw the whole thing out yet!
Before deciding that routines don't work for your kids, take a good look at the routine. Can some things be moved around a little? Do some things need a little more time?
Tweak the schedule a little, try it out for a few more days, and then tweak it a little more until you come up with something sustainable.
3. A "Perfect" routine shouldn't be rigid
I love block scheduling for one reason: It focuses on bigger blocks of time, rather than specific increments of time.
This is what keeps me from feeling stressed or overwhelmed. And it's the reason our family has able to stick to routines for so long.
When a routine starts to stress me out, I look it over and see what needs to be changed. Almost 100% of the time, it's because I've come up with something too rigid. So I tweak it a little and I'm usually able to come up with something that works.
NOTE: Block scheduling is an excellent productivity tool that I use for my own schedule. But I use it differently when coming up with a daily routine for my kids. Rather than being strict about moving between blocks at the right time like I do for myself, I use the blocks to create a natural rhythm to our day.
4. A "perfect" routine is one that changes.
This last tip is important.
Life is always changing. Therefore, our schedules are always changing. So when a routine stops working, that doesn't necessarily mean it wasn't a good routine. It just means it's time to come up with a new one!
I come up with new routines for our family every semester and summer break. I've also had major overhauls to my routines each time I've had a baby.
And that's perfectly fine with me.
What worked during one season of life won't always work when things change. But each time I sit down to create new a daily routine for my kids, I'm able to pull from what's already been working. Then I can change what I need to meet the demands of a new schedule.
It's a pretty quick process now.
READ NEXT: Winning The Battle: How To Get Kids To Clean Their Rooms
This post contains affiliate links. For more information, see my disclosures here.
CREATE A DAILY ROUTINE FOR KIDS IN 6 STEPS
Ok, it's time to create that perfect routine. Here's what you'll need:
2 blank pieces of paper
A pencil
STEP 1: WRITE EVERYTHING DOWN
Take the first piece of paper and write a list of everything you'd like your kids to do in a day.
This is your chance to brainstorm. There's no order to this list, you're just doing a big brain dump. If it helps, you can divide the paper into columns, one for each person.
Start with the "necessary" things – the ones that have to get done every day.
Here's what my list might look like:
Breakfast
Lunch
Piano practice
Reading
Alone time with mommy
Get ready for the day
Learning time
Etc.
Next, list anything else – the "extra" things you'd like to fit in.
My list usually looks something like this:
Friends
Outings
Errands
Etc.
READ NEXT: Get To Know The Magic Of Independent Playtime
STEP 2: OUTLINE THE DAY
Now, grab a fresh sheet of paper. It's time to write everything down in order.
I tend to plan our daily routine around meals. I started out that way when I had newborns and it kind of stuck throughout the years. It's the easiest way for me, so that's how I'll explain it here.
On this blank piece of paper, write "breakfast", "lunch" and "dinner" spaced evenly down the page. Then, between each meal, start plugging in the items from your first list in the order you'd like them done.
Make sure to check off each item from the original list so nothing gets forgotten.
STEP 3: FIND THE NATURAL BLOCKS
Part of block scheduling is dividing the day into 2-4 hour blocks. As you look at your list, are there any blocks that occur naturally?
For example, do you have a baby that naps for a couple of hours in the afternoon? Or do you have a daily sports practice? What will the other kids do during that time?
As you discover these blocks of time, draw horizontal lines to section them off. Next, assign estimated times to each block in 2-4 hour increments.

STEP 4: WRITE OUT THE NEW BLOCK SCHEDULE
Now that you have the day organized into blocks, it's time to create the final draft of this new daily routine.
Using this template, name each block. Then write down the things that will be done in each block.
TIP: It's easier for us if our daily routine doesn't have too many steps. If there are a few things that need to happen, but they fall under a general category like "morning routine" or "learning time", I just write the category. That way, there's less for us to read.
It's up to me to teach my kids what's expected for each category. For example, this is the morning routine we use.
READ NEXT: School Is Out! Here Are The Best Tips For Parents
STEP 5: DISPLAY THE NEW DAILY ROUTINE FOR THE KIDS TO SEE
Now that you've got a great daily routine, it's time to hang it up so everyone knows what to expect.
I always laminate my lists with this laminator and laminating paper. Then I hang it with tacky putty.
If you'd like even more flexibility, try laminating a blank copy of the chart. You can then use a dry erase marker to fill it in as needed.
BONUS TIP: If your kids prefer, create a separate chart for each person! You can get more specific this way.
I use 2 charts. One for my older 2, and one for my younger 2. That way, I don't have to fill the older 2's chart with things like "nap" and "independent playtime".
STEP 6: TEST OUT THE NEW ROUTINE
Remember, a good routine might need some tweaking. So try this one out for a few days. If it needs any changes, repeat the steps above and simplify wherever you can!
EXAMPLES OF OUR DAILY ROUTINES:
It helps to see examples, doesn't it?
Here are a few that have worked great for us. (We have 4 kids, ages 10-2.)
DAILY SUMMER ROUTINE
MORNING (8-10)
PLAYTIME (10-12:30)
Outing/swim lessons (or free time)
Lunch
QUIET TIME (12:30-3)
Learning time
Alone time with mommy (1 kid per day)
Reading time
Free time
AFTERNOON (3-6)
FAMILY TIME (6-8)
Dinner
Clean up
Play/relax as a family
Get ready for bed
READ NEXT: 20 Brilliant Uses For A Timer That Will Help Kids Focus
SCHOOL YEAR ROUTINE (for my younger 2 that aren't in full-time school yet)
MORNING (7-10:30)
Get older 3 kids to school
Help mommy clean up
PLAYTIME (10:30-12:30)
Outside or free play with mommy
Books
Pick up 4-year-old from preschool
Lunch
Play
QUIET TIME (12:30-3:00)
2-year-old down for a nap
4-year-old T.V. time
4-year-old quiet time
AFTERNOON (3-6)
Pick older 2 up from school
Homework for older 2
Read books with younger 2
Free play
Dinner
EVENING
Clean up
Play/relax as a family
Get ready for bed
These are just basic skeletons for our day. They don't include things like once-a-week events or appointments.
They also don't include specifics such as what we'll be doing for learning time each day or who gets alone time with me. I let my kids know those things each day so I don't clutter up the routine chart.
READ NEXT: How To Simplify The Before And After School Routines
Daily Schedule during school closures
Currently, our schools are closed due to the global pandemic. Here is the exact schedule we're using to fit in "school" and fun.
FINAL THOUGHTS
Routines have been my saving grace as a stay at home mom. They keep the days from dragging and help us get in everything we need – including fun time!
My hope is that you will be able to come up with routines that are simple and sustainable so your family can reap the benefits too.
Be sure to grab this Daily Routine Template. Use it as a guide or download it for your own use.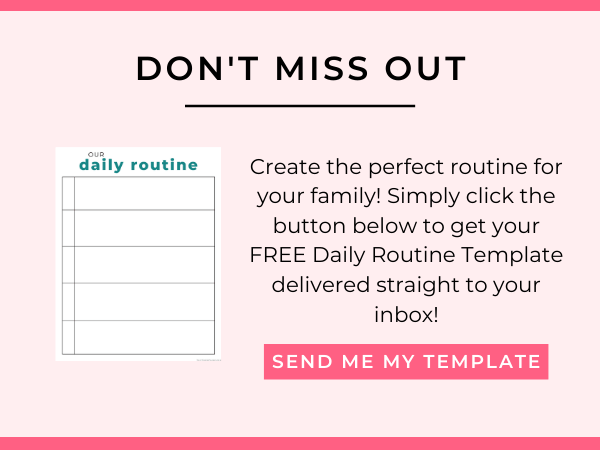 Want to know how block scheduling can work for you? Learn all about what it is and how to use it to boost your productivity here!
want to remember this?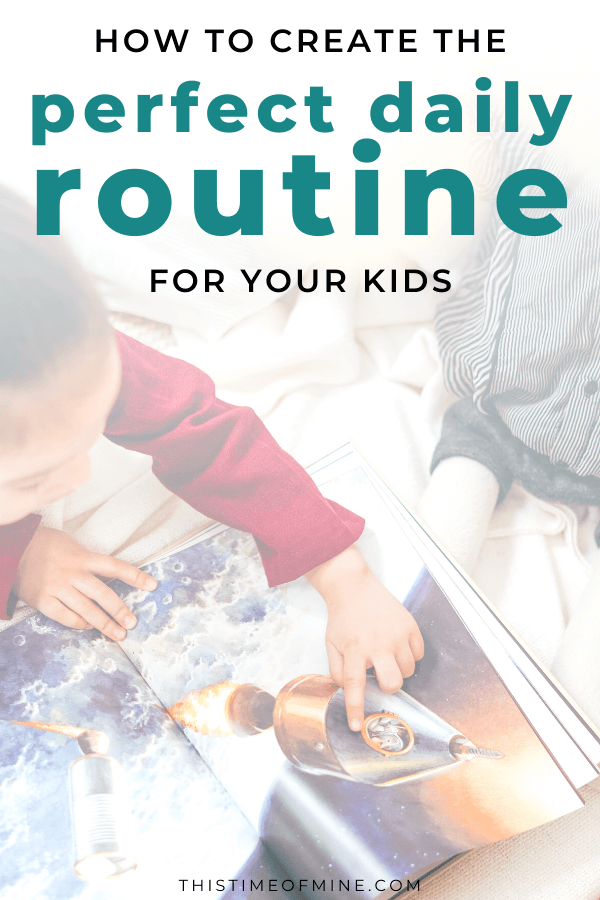 Share this article: