80+ Awesome, Cheap And Easy Outdoor Activities For Kids
The weather is warming up and kids want to be outside! Keep them smiling all summer long with this giant list of cheap or free outdoor activities for kids!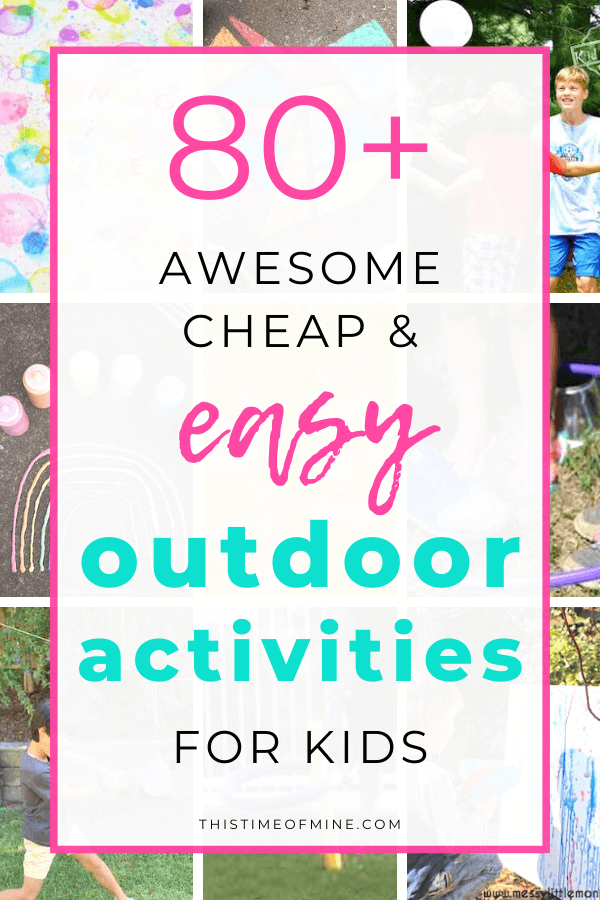 It's finally starting to warm up and our kids are spending more and more time outside. And when they're looking for something new to try, I love having a big list of ideas in my tool belt.
These awesome activities are fun for kids (and families) of all ages. They work for birthday parties, family reunions, or simple backyard fun.
And best of all…they're super cheap and easy to put together!
Many of these activities include water, but not all of them, making this the perfect list of outdoor activities for kids that will work in the spring, summer, and fall!
OUTDOOR ACTIVITIES FOR KIDS BY CATEGORY
I love huge lists of ideas, but I don't love sifting through them. So to make it easier for you to find exactly what you need, this list of 85 activities is broken into categories:
I hope this list is helpful to make outdoor play even more fun!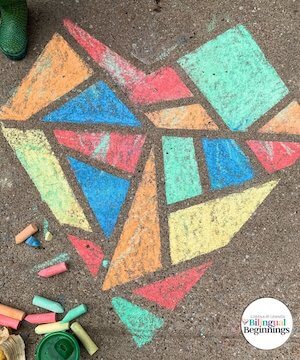 Photo: Bilingual Beginnings
OUTDOOR ACTIVITIES FOR KIDS: SIDEWALK CHALK
1. Chalk Mosaic
Grab some masking or painter's tape and outline any shape on the sidewalk. Next, add tape lines throughout the shape in any pattern. Then, kids can color each section a different color. When the tape is all removed, they'll have an amazing-looking mosaic like this one!
2. Sidewalk Board Game
This is a twist on the classic game, Chutes And Ladders. It gets everyone moving and all kids need to know are colors! Learn how to make the game board and dice here.
3. Make A Maze
Use chalk to make a giant maze like this one. Then, kids can walk, ride scooters, or make play cars travel through it.

4. Obstacle Course
Kids love obstacle courses, so give them a new kind to try! Draw a simple course like this one to get them hopping and moving.
5. Bullseye
Toss a sponge or beanbag onto a target like this one to see which circle they land in. This game helps kids have fun and keep their brains active during the summer months.
6. Shadow Drawing
For this activity, kids will trace the outline of shadows they see. It can be a friend standing tall, a bush, or a toy. Take it a step further and turn it into a fun art project like this one.
7. Jumping Game
Here is another way to keep brains sharp over the summer. Kids will love jumping during this game.
8. Walk The Line
Draw lines on the sidewalk so kids have a path to follow. Draw straight lines, curved lines, lines in a spiral, and more.
Photo: The Best Ideas For Kids
OUTDOOR ACTIVITIES FOR KIDS: SIDEWALK CHALK + WATER
9. Puffy Sidewalk Paint
Turn sidewalk chalk into puffy paint! Kids will love this easy DIY recipe.
10. Chalk Paint
Take sidewalk chalk to a new level with this simple recipe. It's easy to make and easy to clean up.
11. Splatter Paint
Use this easy recipe to make spray chalk paint. Pour it into squirt bottles and let kids see what they can create.
12. Chalk Ice Painting
Cool playtime down with some ice. Dissolve cornstarch and leftover pieces of chalk in some water before freezing in ice cube trays with popsicle sticks. Once frozen, the hot sidewalk will melt the ice and create fun patterns.
13. Wet Chalk
Soaking chalk brings it to a vibrant new level. All kids need is a cup to dip it in before drawing their creations.
14. Chalk Water Bombs
Combine sidewalk chalk and water balloons for this fun activity. Kids will love the patterns they make. Grab the recipe here or here.
Photo: Kid Friendly Things To Do
OUTDOOR ACTIVITIES FOR KIDS: BALLOONS
15. Just Keep It Up
This game is great for parties and works for kids, teens, and adults. Learn how to play here.
16. Trampoline Fun
Fill the trampoline with balloons. It's like a giant version of a ball pit and will keep kids entertained all day long.
17. Balloon Rockets
Run a piece of string through a straw before tying it between two trees. Next, tape a balloon to the straw. Blow up the balloon and then release to turn it into a rocket. See an example here.
18. Balloon Tennis
Tape popsicle sticks to paper plates and get ready for some balloon tennis. Pass the balloon back and forth with these "racquets".
19. Balloon Pop
Find out how to make your own balloon pop here. Kids will love popping the balloons with a dart.
20. Penguin Waddle
Have kids race each other…with a balloon between their legs. Their goal is to run as fast as they can without dropping the balloon.
Photo: Hello Wonderful
OUTDOOR ACTIVITIES FOR KIDS: WATER BALLOONS
21. Water Balloon Pinatas
Swap out the traditional pinata for some water balloons. They make a fun game for parties or a hot day.
22. Parachute Fun
Grab a flat sheet and put some water balloons in the middle. With everyone holding a side of the sheet, have fun bouncing the water balloons around (or launching them).
23. Water Balloon Parachutes
Kids will love this fun experiment. Make parachutes with water balloons and grocery bags. Get the instructions here.
24. Water Balloon Volleyball
Grab some towels and water balloons for this classic water balloon game. Break into teams of two, each with a towel. Place a water balloon on one team's towel. Their job is to toss the water balloon over the net and another team has to catch it with their towel. (This can also be played without a net). Learn more here.
25. Water Balloon Toss
Use a foam core board to create this target for water balloons. Kids try to throw their balloons into the different holes for points.
26. Water Balloon Toss 2
Have two people stand facing each other. One person tosses a water balloon to the person in front of them. Then they both take a step back. Repeat until the water balloon drops. See how far apart they can get!
27. Paint Balloons
Fill balloons with air instead of water, then dip them in paint. Attach them to a canvas or large piece of cardboard. When kids pop the balloons, they'll make a neat picture. Learn more here.
28. Water Balloon Baseball
Try to burst the water balloons in a classic game of baseball. Swing the bat hard to send water flying.
READ NEXT: How To Create The Perfect Daily Routine For Your Kids
Photo: Messy Little Monster
OUTDOOR ACTIVITIES FOR KIDS: SQUIRT GUNS
29. Squirt Painting
Make some awesome designs by filling squirt guns with paint. See how here.
30. Knock The Cups Down
Use cup stacking for a fun learning game. Kids try to knock down the cups with a squirt gun.
31. Bowling
This game uses empty coke bottles, pool noodles, and a yoga mat for a fun twist on bowling.
32. Car Race
Use water guns to spray toy cars and make them move. Race a friend to see who wins!
33. Target Practice
Using styrofoam, ping pong balls, and golf tee's, this game makes for great target practice and learning fun.
34. Cup Racing
Poke a hole in the bottom of a plastic cup and put a string through it. Then tie the string between poles or trees. Use squirt guns to move the cups along the strings. See an example and find out how to turn it into an obstacle course here.
Photo: Fun Loving Families
OUTDOOR ACTIVITIES FOR KIDS: SPONGES
35. DIY Sponge Bombs
Make these easy sponge bombs with a few colorful sponges. Kids will love throwing them around.
36. Sponge Toss
Line up a few buckets filled with water and have kids stand at one end. See which bucket they can throw their sponges into. Learn more here.
37. Sponge Toss 2
Grab a giant sponge (like the ones for cleaning cars) and soak it in a bucket of water. Kids will get nice and wet as they toss it back and forth.
38. Fill The Bucket
For this game, kids will need 2 buckets and a giant sponge. One bucket will be filled with water and the other will be empty. Kids have to run from one bucket to the other, dipping the sponge in the first bucket and squeezing it out in the second until the second bucket is full. Race against the clock or break into teams.
39. Dodge Ball
Everyone will love playing this game. Mixing dodge ball with sponges is a great way to stay cool and have fun.
40. Sponge Bullseye
Draw a big circle on the sidewalk with chalk. Draw a few smaller circles inside to make a "target" (use different colors). Have kids toss a wet sponge onto the target and try to get a bullseye.
41. Sponge Relay
This spongy relay will get kids laughing (and wet). It makes for a great party game.
42. Cooling Necklace
For a fashionable way to stay cool, make a necklace from sponges. Simply cut up a few sponges and lace them onto a string before tying the string into a necklace. Dip in water for a unique way to cool off.
READ NEXT: How To Get Things Done (Even When The Kids Are Home)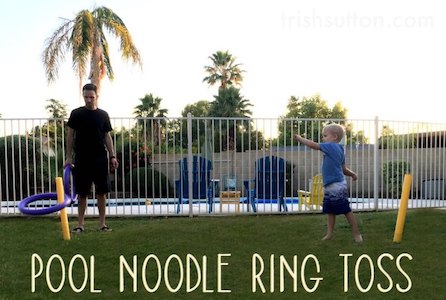 Photo: Trish Sutton
OUTDOOR ACTIVITIES FOR KIDS: POOL NOODLES
43. Ring Toss
Set up a simple game of ring toss in the backyard using only pool noodles. Learn how here.
44. Make Bubbles
Cut up an old pool noodle into 12 inch pieces. Next, pour bubbles into a shallow dish. Kids simply dip one end of the noodle into the bubbles and blow for a unique bubble wand.
45. Noodle Water Wall
Use pool noodles to make a water wall like this one. Kids will have fun pouring water down each tube.
46. Balloon Keep It Up
Use pool noodles to keep a balloon from hitting the ground. Cut the noodles in half to make it easier for kids to use – just be ready for it to turn into a fun swordfight!
47. Obstacle Course
Over, under, around! Set up an obstacle course like this one to get kids moving and burn some energy.
48. Race Track
Grab a pool noodle and cut it in half down the center. Make a race track like this one by elevating one end. Kids can race cars, marbles, and small balls down this track.
49. Pool Noodle Toss
This activity is easy to set up and gives kids a chance to practice aiming while throwing balls, water balloons, or whatever they want.
OUTDOOR ACTIVITIES FOR KIDS: CUPS
50. Duck, Duck, Splash
Kids will love this twist on the classic game, Duck, Duck, Goose. Be prepared to get wet!
51. Fill The Cup
This is a fun game that could be done as a relay. Each person holds a cup and stands in a line, one in front of the other. The first person in line has water in their cup. Their job is to "pass" the water to the person behind them by pouring it over and behind their head. The person behind them has to catch the water in their cup, and then do the same thing. The team with the most water in a cup at the end wins.
52. Fill The Cup 2
This game is also great for relays. Each team has a bucket of water and a cup. One person from each team lays on the ground away from the bucket with another cup on their stomach. The goal is for each team member to fill their cup, one at a time, from the bucket and run to pour it into the cup of the person on the ground. The team with the fullest cup wins.
53. Blow The Cup
Set an empty plastic cup on a table. Kids take turns blowing up a balloon and releasing its air on the cup to see how far they can move the cup.
54. Move The Cup
This game is just like the one above, except use a squirt gun to move the cup. Make it even more fun by breaking into teams and turning it into a race.
55. Cup Stacking
Use plastic cups for a fun cup stacking challenge. This game can be played indoors and outdoors.
56. Bowling
Stack the cups again, but this time, roll a small beach ball to knock them down!
Photo: NoBiggie
OUTDOOR ACTIVITIES FOR KIDS: KIDDIE POOLS
57. Giant Bubbles
Fill a pool with this recipe. Have kids dip a hula hoop into the pool and gently raise it to make giant bubbles.
58. Water Balloon Painting
This tutorial will show you how to make a unique painting using water balloons – that are still filled with water! Kids will have fun moving the pool around to make their creation.
59. Time To Relax
No water needed for this activity! Fill the pool with blankets and pillows instead for a comfy area to relax and play.
60. Playing With Foam
This is a great sensory activity! Fill the pool with this DIY foam recipe. Add toys or kitchen items like measuring cups and muffin tins.
61. Bubble Bath
Make a giant bubble bath. Fill the pool with water and bubble bath (or dish soap!) for a fun way for kids to cool off.
62. Water Kickball
This game is similar to baseball, but instead of throwing, the pitcher rolls a large ball to the "batter". When the batter kicks it, they run to each base, and the bases are kiddie pools. Make it even more fun by using soft plastic pools with Slip N Slides in between each base.
63. Water Balloons
Fill a kiddie pool with water balloons for sensory fun that will also keep them cool.
READ NEXT: How To Get Kids To Clean Up Without A Fight
Photo: The Inspired Treehouse
OUTDOOR ACTIVITIES FOR KIDS: HULA HOOPS
64. Rabbit Hole
This group game is a fun way for kids to practice teamwork. They'll love the challenge!
65. Hula Hoop Lasso
For this game, tie a string to a hula hoop and spread out some balls in the yard. Kids hold onto one end of the string and toss the hula hoop to "lasso" the balls and bring them in.
66. Hula Hoop Pass
For this activity, kids will hold hands in a line. The person at the end of the line starts. The goal is to get the hula hoop from one end of the line to the other. Each child has to go through the hula hoop and can't let go of anyone's hands!
67. Ring Toss
Stick some pencils in the grass and put cut pool noodles over them. Use hula hoops for some good ol' fashioned ring toss.
68. Human Ring Toss
This is the same game…except instead of pool noodles, the goal is to get the hula hoops around human targets!
Photo: Living Well Mom
OUTDOOR ACTIVITIES FOR KIDS: ART & NATURE
69. Bubble Painting
This is a fun alternative to water coloring. These bubbles make interesting patterns and will keep kids entertained for a long time.
70. Giant Bubbles
These bubbles are enormous. They make for a perfect way to spend some time outside.
71. Rainbow Bubbles
Use a plastic bottle, this recipe, and a sock to make an amazing rainbow bubble snake!
72. Shadow Art
Grab a piece of paper, a pencil, and some toys. Line the toys up next to the paper and trace the shadows.
73. Painted Rocks
Gather some rocks from around the yard and decorate them with paint. Make it even more fun by hiding them around the neighborhood for friends to find.
74. Sun Art
Make a beautiful art project with construction paper and leaves. The sun will dye the paper in the shape of the leaves. Get the instructions here.
75. Nature Name
Gather sticks, rocks, leaves, and other materials from around the yard. Then kids can use them to spell out their name.
76. Bird Kites
This craft is perfect for a windy day (or fast runners). Learn how to make these simple kites here.
77. Paint With Water
Art projects don't get any easier than this one. All kids need is a paintbrush and a cup or bucket of water. They can "paint" on walls, sidewalks, or fences outside.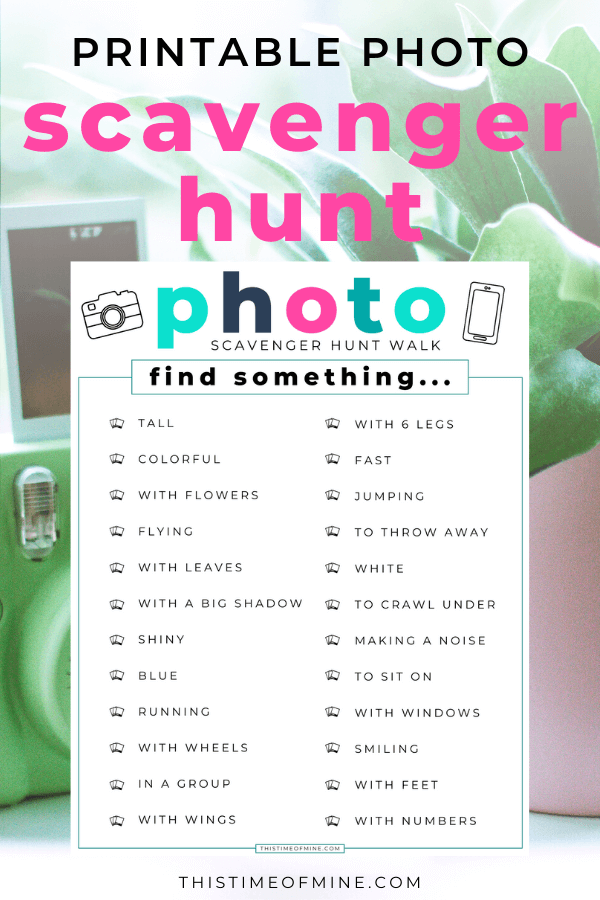 OUTDOOR ACTIVITIES FOR KIDS: SCAVENGER HUNTS
78. Photo Scavenger Hunt
Give kids a chance to capture their world in pictures with this hunt.
79. 5 Senses Scavenger Hunt
Challenge kids by having them search for items by sense.
80. Color Hunt
This easy hunt is a fun way to search for color in nature.
81. Sketching Scavenger Hunt
Give kids a chance to practice their drawing skills with this scavenger hunt.
82. Nature Bingo
Kids will love hunting for items outside to get a bingo.
83. I Spy
I spy something…outside! This game is always a hit.
84. Sensory Scavenger Hunt
Each item on this list gets kids moving and is a chance for some sensory fun.
85. Neighborhood Scavenger Hunt
Turn your next walk into an engaging activity with this scavenger hunt.
Photo Scavenger Hunt
Before you go make sure to grab a copy of this Photo Scavenger Hunt. You can download it to print, or even just keep a copy on your phone for the next time you're outside with the kids!
WAIT, CAN'T GO OUTSIDE TODAY?
Don't worry, I've got you covered. Try these indoor activities:
want to remember this?
Share this article: