Find and Sketch Nature Scavenger Hunt For Kids (Free Printable)
Help kids connect with nature in a whole new way! This Nature Scavenger Hunt printable has kids draw what they find for a creative twist on a favorite game.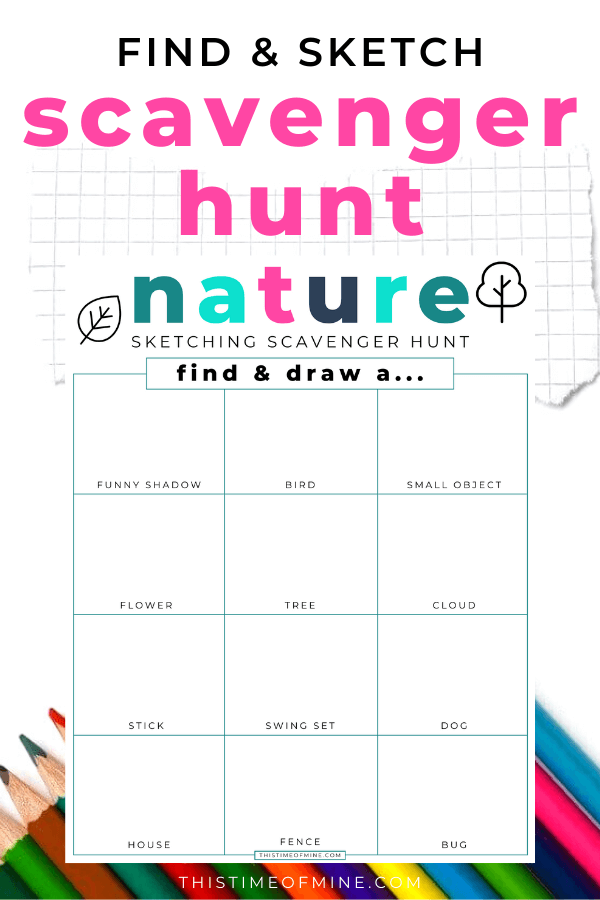 Kids love to draw. They also love to be outside.
That's exactly what inspired this Nature Scavenger Hunt. Combining the two gives kids an opportunity to turn a traditional scavenger hunt into something both fun and artistic.
It's an easy, no-prep activity that will get them looking at nature in a whole new way…and capturing it in a drawing.
Sketching scavenger hunts are an excellent way for kids to burn off some energy while being creative.
They can explore their drawing skills and look at nature a little closer. (Be sure to scroll down for more fun ways to use this printable.)
This activity is also fun in groups. Kids love comparing what they find and draw.
READ NEXT: Indoor Bucket List: 20 Super Simple Activities To Try At Home
WHAT YOU'LL NEED
A clipboard (or something hard to draw on)
Something to draw with (crayons, colored pencils, markers, etc.)
That's it!
Kids can do this on their own or with friends. They could also bring you along for the fun. It's up to you (and what you have going on that day).
Don't want to print it out? That's ok! Download it and use a phone or tablet. Kids can use any blank paper to sketch their findings.
Want to reuse the printable? Simply laminate it and use dry erase markers.
READ NEXT: How To Get Things Done (Even When The Kids Are Home)
HOW THIS NATURE SCAVENGER HUNT WORKS
Unlike traditional scavenger hunts, kids won't be crossing items off a list. This time, they get to draw!
Each square has an item that kids can find and sketch in the backyard, on a family walk, at a park, or anywhere outside.
And when they're done, they'll have a beautiful picture to keep!
ALTERNATIVE IDEAS
Want to mix it up a little? Here are a few more ways to use this printable:
Make it a race. Kids can break into teams, each with their own copy, and see who can get done first.
Turn it into a photo scavenger hunt. Rather than drawing each item, have kids take a picture of it. They can attach the pictures to the printable for an easy art project.
Create a comic strip. After drawing the items, have kids cut out each square. They can paste each square onto another paper and write a fun story or comic strip about the items.
READ NEXT: 80+ Awesome, Cheap And Easy Outdoor Activities For Kids
FREE PRINTABLE: NATURE SKETCH SCAVENGER HUNT FOR KIDS
Before you go, make sure to grab your copy of this Nature Sketch Scavenger Hunt. Then you'll be ready the next time you need a quick and easy activity your kids will love.
WANT EVEN MORE SCAVENGER HUNTS?
For even more ways to have fun, try one of these other scavenger hunts!
want to remember this?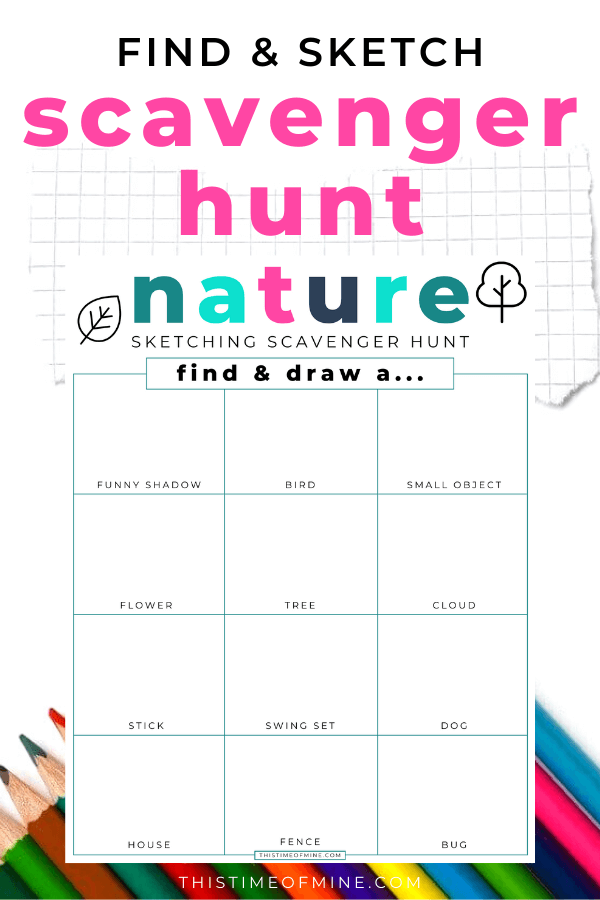 Share this article: