Fun Outdoor Sensory Scavenger Hunt For Kids (Free Printable)
Got wiggly kids? Get them outside and moving with this simple and fun Outdoor Sensory Scavenger Hunt Printable that can be used again and again!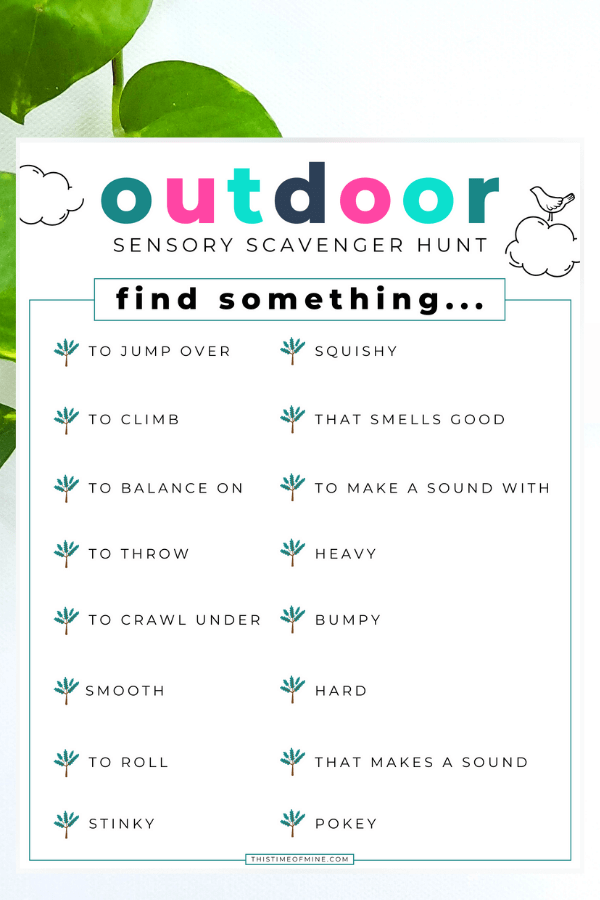 Kids love to explore the outdoors. And what better way to do that than with a scavenger hunt!
I love scavenger hunts because they give my kids something different to do that keeps them busy for a while. And my kids love them because they discover things they otherwise wouldn't have been looking for.
Well, the weather's finally warmed up and we've been outside a lot lately. And since we can't really go anywhere due to the current pandemic, we've been trying even harder to stay creative with our outdoor fun.
Which is why an outdoor scavenger hunt is currently right up our alley!
This one is great because it involves sensory exploration.
It gets wiggly kids finding, touching and manipulating objects in ways that get their brains thinking and their bodies moving, all without any activity prep! It's also simple enough for toddlers to enjoy, yet vague enough to challenge older kids to explore the world around them…Especially when they drop the "I'm bored" bomb.
And the best part about this scavenger hunt is that it can be used again and again. Use it in the backyard, at the park or even on a camping trip!
Be sure to scroll to the end for even more ways you can use this activity.
READ NEXT: Indoor Bucket List: 20 Super Simple Activities To Try At Home
WHAT YOU'LL NEED
A crayon or marker
The great outdoors
That's it!
Kids can get outside and do this on their own, checking things off as they go. Or they could bring you along for the fun. It's up to you (and what you have going on that day).
Don't want to print it out? That's ok! Download it and use a phone or tablet.
Want to reuse the printable? Simply laminate it and use a dry erase marker.
READ NEXT: How To Get Things Done (Even When The Kids Are Home)
HOW THE OUTDOOR SENSORY SCAVENGER HUNT WORKS
This scavenger hunt is simply a checklist. Kids can check off the items as they find them.
Kids can also make it a race. They can break into teams, each with their own copy, and see who can get done first.
ALTERNATIVE IDEAS
Want to mix it up a little? Here are three other ways to use this printable:
Turn the outdoor scavenger hunt into a photo scavenger hunt. Kids can take pictures or videos of each item they find (with your help if needed).
Make it a sketching scavenger hunt. This idea is similar to the photo hunt, except kids draw each item they find. All they'll need is a small notebook and a pencil.
Take it indoors. Too wet or windy to go outside? Every item on this list can be found indoors too!
Want more ideas for indoor fun? Be sure to check out this Indoor Bucket List.
READ NEXT: 80+ Awesome, Cheap And Easy Outdoor Activities For Kids
FREE OUTDOOR SENSORY SCAVENGER HUNT PRINTABLE
Before you go, make sure to grab your copy of the Outdoor Sensory Scavenger Hunt. Then you'll be prepared for the next time you find yourself with wiggly kids needing something fun to do!
WANT EVEN MORE SCAVENGER HUNTS?
For even more ways to have fun, try one of these other scavenger hunts!
want to remember this?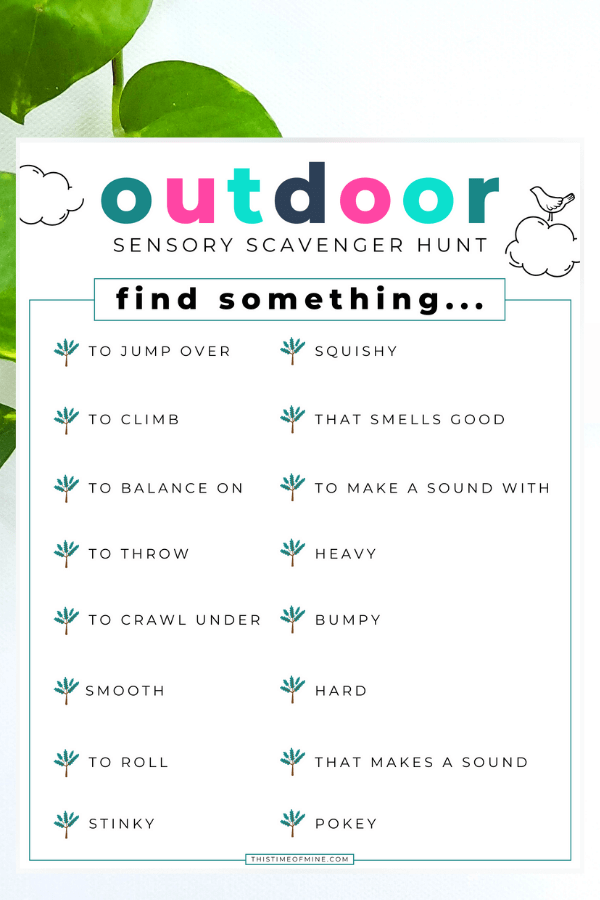 Share this article: