How To Write To-Do Lists That Actually Get Done
Do you ever feel overwhelmed with all you have to do? Find out how to write to-do lists in a way that will help you beat stress and get everything done!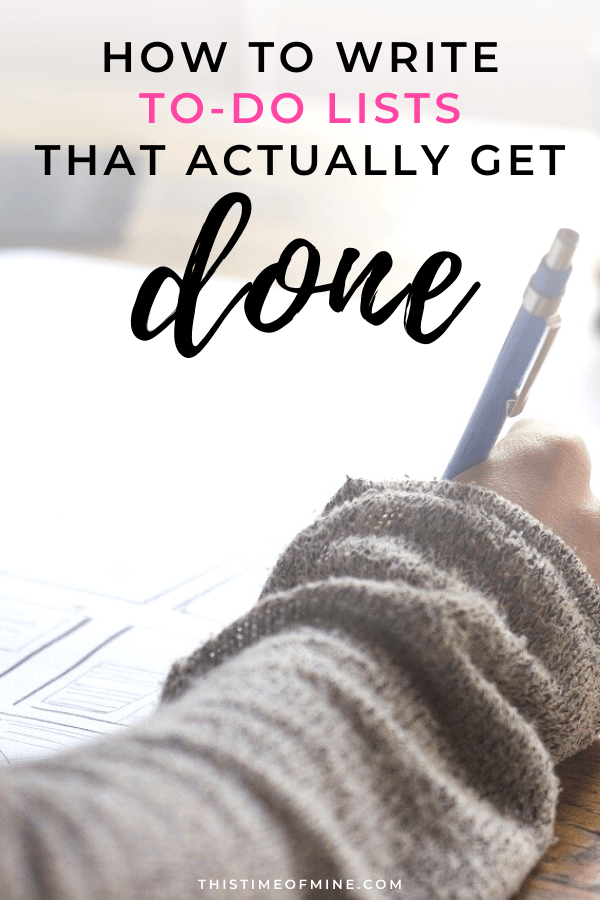 In theory, to-do lists are an effective tool for getting things done.
But how many times have you written one, only to leave half of the items untouched?
As moms, it's easy to become overwhelmed with all that we have to do. And the feeling of never being able to catch up is all too common.
But whether you consider yourself a natural list writer or not, I want to show you how to write to-do lists that work. Lists that can work for any type of mom and won't leave you feeling like you're drowning in never-ending tasks.
WHAT YOU NEED TO GET STARTED
You only need 2 things to be an effective planner: A blank notebook and something to write with.
That's it! No fancy supplies needed.
In fact, I use a simple notebook to organize my whole life…to-do lists included! And these to-do lists have been my secret weapon when it comes to staying on top of it all.
Now, there are 4 tips for writing to-do lists that actually get done. So grab a blank notebook and let's dive in!
TIP #1 WRITE A MASTER TASK LIST
Have you ever felt stressed at how much needs to be done only to realize later it wasn't as much as you thought?
This happens to me all the time! Which is why I love the concept of a brain dump – a powerful technique for calming an overwhelmed mind.
A brain dump is when you write down everything that's swimming around in your head. Once it's out on paper, it frees your mind and can make things feel a lot more manageable.
From there, you can come up with an action plan and eliminate the less important things.
Which brings us to the first tip for successful to-do lists: Write a master task list.
At the beginning of each week, do a brain dump. Write down everything you can think of that needs to be done (or that you've been meaning to get around to).
Bonus tip: Write this list on Sunday night so you can be ready to go by Monday morning.
Write "MASTER TASK LIST" at the top of a blank page. And then let your thoughts flow. Don't be discouraged if your list seems too long to complete. The first step is to just get it all out of your mind and on to paper.
After writing this list, if there's anything you see on there that isn't worth making it happen, cross it off now. Simplifying your schedule is important as a mom. Stick to the things that are either absolutely necessary or make the biggest impact on you or your family.
Also, if there's anything on that list that requires a deadline or is extra important, put a star next to it so it stands out.
TIP #2: MAKE A WEEKLY TO-DO LIST
Having a master task list is great. But unless you make specific plans for accomplishing these tasks, there's a good chance they won't all get done.
So we're going to break your master task list into manageable pieces by creating a weekly to-do list. Not every item on the master task list will make it onto this list, and that's ok. I'll explain what to do with the leftovers in just a minute.
But first, here are two ways to create a weekly plan:
1. WRITE OUT A WEEKLY TO-DO LIST
On the next page in your notebook, write "THIS WEEK" at the top of the page. Next, break the page into sections and label each with a day of the week. Then go through your master task list and assign tasks to specific days.
Be aware of your other obligations throughout the week so you can avoid over-scheduling any particular day. It's important to be realistic when going through your master task list.
This is my preferred way of writing my weekly to-do list. I like having everything written down in order. It's less for my brain to sift through.
2. LABEL THE ITEMS ON YOUR MASTER TO-DO LIST
An alternative to writing a completely separate list is to simply label the items on your master task list.
Using each day's abbreviation (M for Monday, etc.), assign the tasks to specific days. Again, be aware of your other weekly obligations to avoid overwhelming your schedule.
EXTRA ITEMS ON MY WEEKLY TO-DO LISTS:
Before we head into the 3rd tip, I wanted to share 2 items that always show up on my weekly to-do lists in addition to my "to-do's".
DINNER:
Each week, I dedicate a page in my notebook to my weekly meal plan. I usually just plan out dinners (our breakfasts and lunches are pretty basic) and write down groceries.
But on my weekly to-do list, I also like to add which dinner goes to which day. That way, I'm ready for nights that require longer prep or crockpot prep.
CLEANING TASKS:
There are certain cleaning tasks that get taken care of every day: dishes, laundry, etc. But I'm in a stage of parenting where I don't have a full day to dedicate to deeper cleaning like I used to. I often solve this problem by speed cleaning.
Another way I take care of this is by picking 2-4 bigger cleaning or organizing tasks I'd like to tackle in a week. Then I assign them to a specific day in my weekly to-do list.
I don't have a cleaning task for each day because real life doesn't always allow for dedicated cleaning time every day, not right now anyway. So I stick to 2-4 tasks spread throughout the week.
TIP #3 WRITE DAILY TO-DO LISTS
Now that your week is planned out, it's time to make a plan for each day, using your weekly to-do list as a guide.
There are two ways to do this:
1. WRITE YOUR LIST IN ORDER
At the top of a new page, write the day of the week. Then write down everything you need to do that day. Remember to refer to your weekly list to see if there's anything that needs to be added.
Next, write your to-do list again, but this time in order.
Of course, if you don't want to write the list twice, you can just write it in order the first time. But I find that writing it twice helps me organize my thoughts and prevents me from overscheduling my day.
2. WRITE YOUR LIST ACCORDING TO A BLOCK SCHEDULE
My all-time favorite way to organize my day is with block scheduling. It's the most powerful time management strategy I've come across and I've been using it for years. It's extremely flexible and helps me get so much done.
I especially love it as a mom because my schedule changes often due to school semesters, summer breaks, nap schedules, and other things. So when it's time for me to tweak my schedule, I'm able to easily figure out the best way to organize my day.
Once I've got my schedule down, I usually go back to my notebook and write my daily to-do list there.
To write your in blocks, write the day of the week at the top of the page, followed by everything you need to do that day.
Then write your list according to your block schedule. It's similar to writing your list in order, as explained above, except that you'll draw a line between each block to keep it visually organized.
TIP #4 WRITE YOUR TO-DO LISTS AT NIGHT
Writing your lists in the morning might seem like the most productive thing to do. But writing them in the morning wastes time you could be using completing the items on your list!
So as part of a simple night routine, write down your to-do list for the next day. And on Sunday evenings, write out your weekly lists. That way you're ready to go when the day starts.
Looking for a way to make your mornings even more productive? Try this routine.
BONUS TIP: RE-WRITE YOUR MASTER TASK LIST WEEKLY
One last tip I want to share with you has to do with your master task list.
Earlier, I mentioned that it's ok if some items on this list don't get assigned a specific day. Here's what you can do.
As you go throughout your week, you can refer to this master task list whenever you have time to squeeze something extra in. But at the end of the week, if there are still items on this list, now's your chance to cross them off.
How?
Each week, you need to write a completely fresh master task list. If there are items left undone from the previous week, transfer them to the new list and cross them off the old list.
Starting fresh each week will keep you from feeling overwhelmed.
And if you notice items that keep getting transferred each week, it's time to decide what to do with them. Can you make a specific plan for them to happen? Or do they just need to be removed from your to-do lists?
Remember to simplify your schedule. Try to stick to the things that are most important or that make the biggest impact on you or your family (including fun things!).
READ: The Importance Of Routines And Why They Matter
ARE YOU READY TO START CRUSHING YOUR TO-DO LISTS?
It's easy to feel overwhelmed with all that you have to do as a busy mom. But if you can find ways to break it all down, you'll be able to do more and stress less.
And even if you don't feel like you're a natural planner, I promise that these simple tips for writing effective to-do lists will help you stay on top of it all.
And for more ways you can use a notebook to organize your life, head to this post:
How A Blank Notebook Will Skyrocket Your Productivity
Are you a list-writer? What are your favorite tips for managing all you have to do? I'd love to hear about them in the comments below!
want to remember this?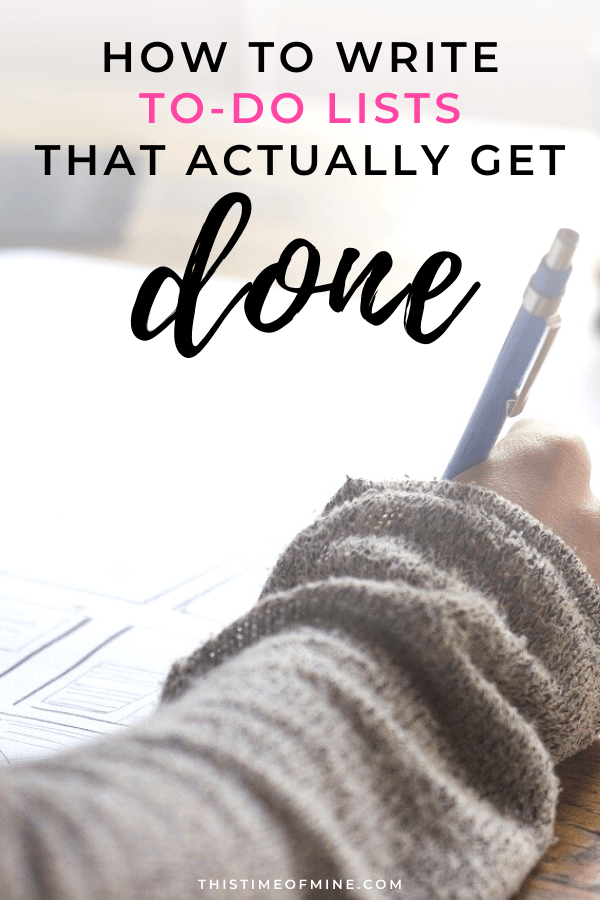 Share this article: