Why You Need Meal Planning And How To Make It Easy!
Say goodbye to the dinnertime hassle! Meal planning is a surefire way to make your evenings run smoother and will even help you save time and money. And if you need ideas to make it easier, this post has you covered!
It's 4:30 and the kids are hungry. You know it's time to start thinking about dinner, but the pantry's empty and all you have is some cream cheese and an overripe banana. Fast food for dinner anyone?
If you're anything like me, you've experienced this before.
But the dinner time headaches don't have to be a daily occurrence. You can help your evenings go a little smoother simply by taking the guesswork out of what's for dinner.
Meal planning might seem like an extra chore you don't have time for.
It's true that it requires some conscious effort. It might even involve a learning curve.
But with a little practice, you will learn to efficiently plan ahead. And almost immediately, you will start to see the benefits of setting aside that time each week.
DO I REALLY NEED MEAL PLANNING?
Yes! In addition to having less of those 4:30-empty-fridge-panics, you will:
Save money. Eating out adds up fast!
Save time. No more wasting time on extra trips to the store or trying to figure out what to make.
And your whole family will benefit. Find out why family meals are so important.
There are definitely nights when takeout is the easiest (or most desired) option. But having a plan will help those nights be the exception, not the rule.
HOW TO MEAL PLAN
Okay. So we've talked about why meal planning is great. Now let's talk about how to do it along with some tips to make it even easier!
PLAN 1 WEEK AT A TIME
Carve out time once a week to plan. Just once. Then you're set for the whole week!
And since the goal here is to save time and money, this also includes going grocery shopping once a week. Again, the key word here is once!
Several "quick" trips to the store add up…in minutes and in dollars. Did you know that most people tend to buy more than they came for each time they go to a store? (*guilty*)
So use this time to plan out your meals and your groceries for the week.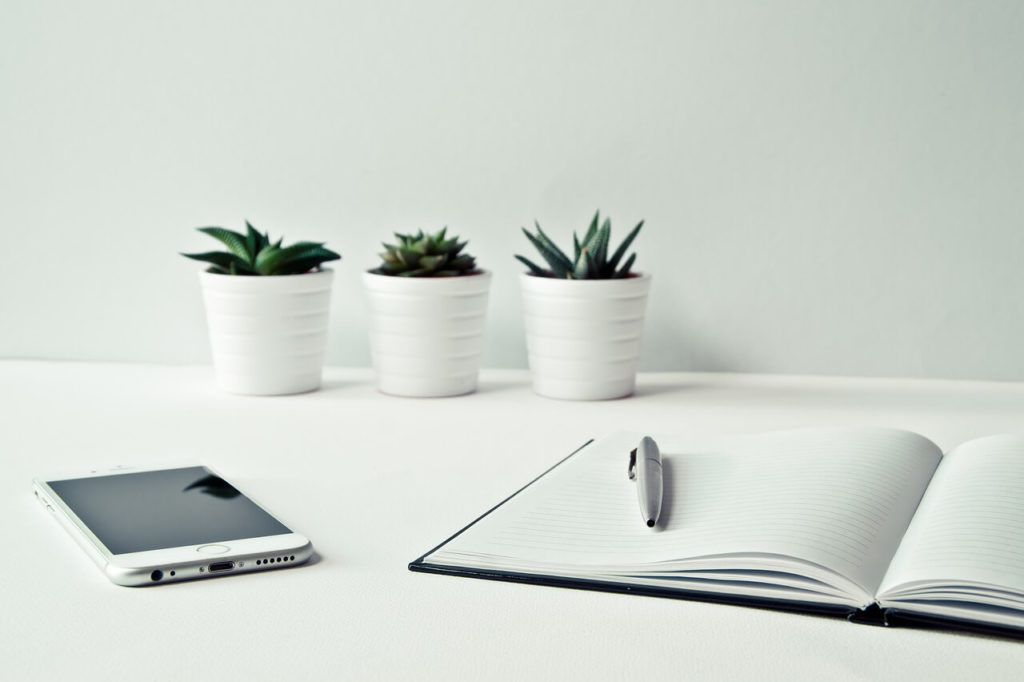 WRITE IT DOWN SOMEWHERE SAFE
When you're planning meals and groceries, write out the week in a place you can refer to easily and often. This means NOT on a random piece of scrap paper.
I used to do this all the time only to lose the random piece of paper by the middle of the week. Then I'd be stuck with a kitchen stocked full of ingredients and no clue what I meant to do with them.
Now I write it all in my notebook, my brain on paper. I have everything in there and bring it with me everywhere. So I always know where to find my weekly meals and grocery lists – along with everything else!
Maybe you have room in a planner or maybe you keep a list on your phone. Wherever you write it down, just make sure it's in a place you can refer to easily throughout the week.
Bonus tip: Don't forget to check your list for days you need to pull something out of the freezer or stick something in the Crock Pot early!
TIPS TO MAKE IT EASIER
Yes, the goal with meal planning is to save time and money. But it's also meant to make your life easier! Here are 6 things to keep in mind:
1. WHAT ARE YOUR GOALS?
When you're planning meals for the week, try to be as realistic as possible. On paper, it may look great to have beautiful, perfectly balanced meals every night. But is that sustainable for the week?
I'm a busy mom of 4 children. They have after school activities. And my husband's work schedule is different every day (meaning, sometimes he's not around during meal time). So I have to be thoughtful in my planning. No fancy dinners for this family on crazy nights!
I have become a HUGE fan of 30-minute meals, meals with very few ingredients, Instant Pot and Slow Cooker meals. Super Healthy Kids is my main go-to for recipes that fit all of these criteria. Their meals are also inexpensive, healthy and KID FRIENDLY. Big win.
So is your goal healthy? Fast? Easy? Budget-friendly? Something else? There are so many wonderful food bloggers that can help with any goal you have. Many even have meal plans you can purchase!
Whatever your goals are, a quick internet search can help you find meals that will work for your family.
Bonus tip: To save even more money, plan your meals around sales. Check out the weekly grocery ads as you plan.
2. PLAN MOSTLY DINNERS
Unless you have special dietary needs, it is a great time (and money) saver to plan mostly dinners. Pick one or two things you will have for breakfast and lunch for the week and rotate. It's much easier!
This goes for snacks as well.
3. PLAN NIGHTS OFF
Sometimes, you just need a break. If your budget will allow it, plan for nights off from cooking. Get some take-out or hit the drive thru. When you're mostly consistent with dinners, it's totally fine to enjoy the treat!
Or if you'd rather stick with homemade, plan for leftovers or a freezer meal.
4. PLAN TIME TO PREP
This is a huge time saver. If you can find the time to chop up the week's veggies or pre-portion the meat ahead of time, your dinner prep will go even faster during the week.
I love to batch cook chicken and ground beef. When meat goes on sale, I will grab a bunch. When it's ready, I portion it into small Ziploc baggies and then put those bags in a freezer bag or two. Then my freezer is stocked and ready to go.
For chicken, I do 3 things. Sometimes, I throw several breasts into the Crock Pot, then shred and pre-portion into 1 or 2 cups. Other times, I will grill a few breasts and chop them up before freezing. Or I will simply put each breast uncooked into its own small Ziploc before putting in a freezer bag.
For ground beef, I brown it and pre-portion it into half and whole pounds. I either do a basic seasoning or a taco seasoning.
Freezer cooking is another great way to prep meals in advance. If you're making a casserole or other big meal, double it and freeze half of it. And don't forget to add instructions for reheating (or cooking if it's only prepped).
Crock Pot meals are another popular option for freezer cooking. Make a few by putting the ingredients into gallon freezer bags along with instructions, and you're set!
5. DON'T REINVENT THE WHEEL
Meal planning can quickly become tedious if you're having to come up with things from scratch every week. Don't hesitate to reuse what works!
KEEP A ROTATING LIST
If you don't already have one, try creating a rotating recipe list. It's basically a list of all the meals your family likes (and will eat). When you're planning for the week, glance through this list instead of reinventing the wheel each time.
ASSIGN THEMES
To make planning easy, give each night a theme. Here are a few ideas:
Crock Pot
Soup and Salad
Italian
Mexican
Family Favorite
Freezer Meal
New Recipe
Leftovers
Weekly Tradition (ours is Tuesday pizza night since that's our busiest night)
WEEKLY TRADITION
This is a night where instead of a theme, it's a meal. Once a week, on the same day, we have pizza night. Every week. We usually stick with the same thing.
But pizza is versatile enough that when we need a change, we can mix up where it's from and what's on it or even make it from home!
For me, it great for meal planning. I know I have at least one night a week I never have to figure out what's for dinner! And my kids love the predictability of it.
Try your own pizza night, taco night, or whatever else your family loves.
6. GIVE YOURSELF GRACE
The last tip is just to be realistic. Sometimes you will plan one thing only to eat something else every single night. And other times, you just won't get around to planning.
But that's life, isn't it? We try our best and that's all we can do!
GIVE IT A TRY
Meal planning takes a little getting used to. But once you've got the hang of it, you'll find it easier to add it to your routine.
And don't worry if you're not planning gourmet meals every day. Sometimes, they'll be more convenient than healthy. Just do what works for your family.
But at least give it a try. You'll be glad to have a plan in place. You'll find yourself with more time, more money and less of those 4:30 empty fridge panics. 
What are some of your favorite ways to plan for dinner?
want to remember this?
Share this article: