How To Help Kids Set Goals (In 4 Easy Steps!)
Want an effective way to teach grit and resilience? Help your kids dream big as they learn to set goals with this proven 4-step method.
"What do you want to be when you grow up?"
It's a question kids get asked more times than they can count.
But what about right now? Do kids need to wait until they grow up to be or achieve something big?
Nope!
They can dream big right now, starting today. Better yet, they can start making those dreams a reality by learning how to set and achieve goals – the right way. And over time, they will grow to be confident and resilient, knowing they have a powerful skill that allows them to accomplish anything they set their minds to.
But there's a downside.
Did you know that 92% of people never achieve their goals? Yikes! No wonder goals can seem so daunting.
Luckily, there is a proven strategy for setting and achieving goals. It's a simple 4-step process that makes any goal possible for anyone of any age. And that's exactly what we're going to cover in this post.
Let's help your kids become part of the 8%. They have special gifts, skills, and talents that are waiting to be developed and enjoyed. And as they learn to set AND achieve the goals they dream up, they can work toward reaching their full potential at any age.
here's what you'll find in this post:
HOW CAN I HELP MY KIDS WANT TO SET GOALS?
Before we dive into the goal-setting steps, we need to go over something. As parents, we know the importance of setting goals, and we want our kids to accomplish big things.
That's great! But it's not enough.
You see, in order for goals to be effective, they have to mean something to our kids. Otherwise, they won't have the motivation to work on them on their own.
It takes time for kids to learn why goals matter, and it takes experience for them to learn they can apply that skill to anything, big or small. So how can we help our kids to want to set goals in the first place?
Here are some ideas to get you started:
GOAL SETTING TIP #1: TEACH YOUR KIDS THE IMPORTANCE OF A PLAN
There's a reason most successful people start out with a plan. Simply put, "A goal without a plan is simply a wish" – Antoine de Saint-Exupéry.
Picking the goal is the easy part. It's fun and exciting and the possibilities are endless. What comes next, however, can feel a bit like work.
But coming up with a game plan is essential. Without it, there's a good chance the goal won't ever become a reality.
After all, you can't build a house without a plan. You can't bake a cake without a plan. And you certainly can't achieve a goal without a plan. So if your kids are ready to set a goal, or even if they're struggling with something, want to learn something, or have something big coming up, they can be successful. They just need a plan.
Here's a simple plan to help your child start their first goal: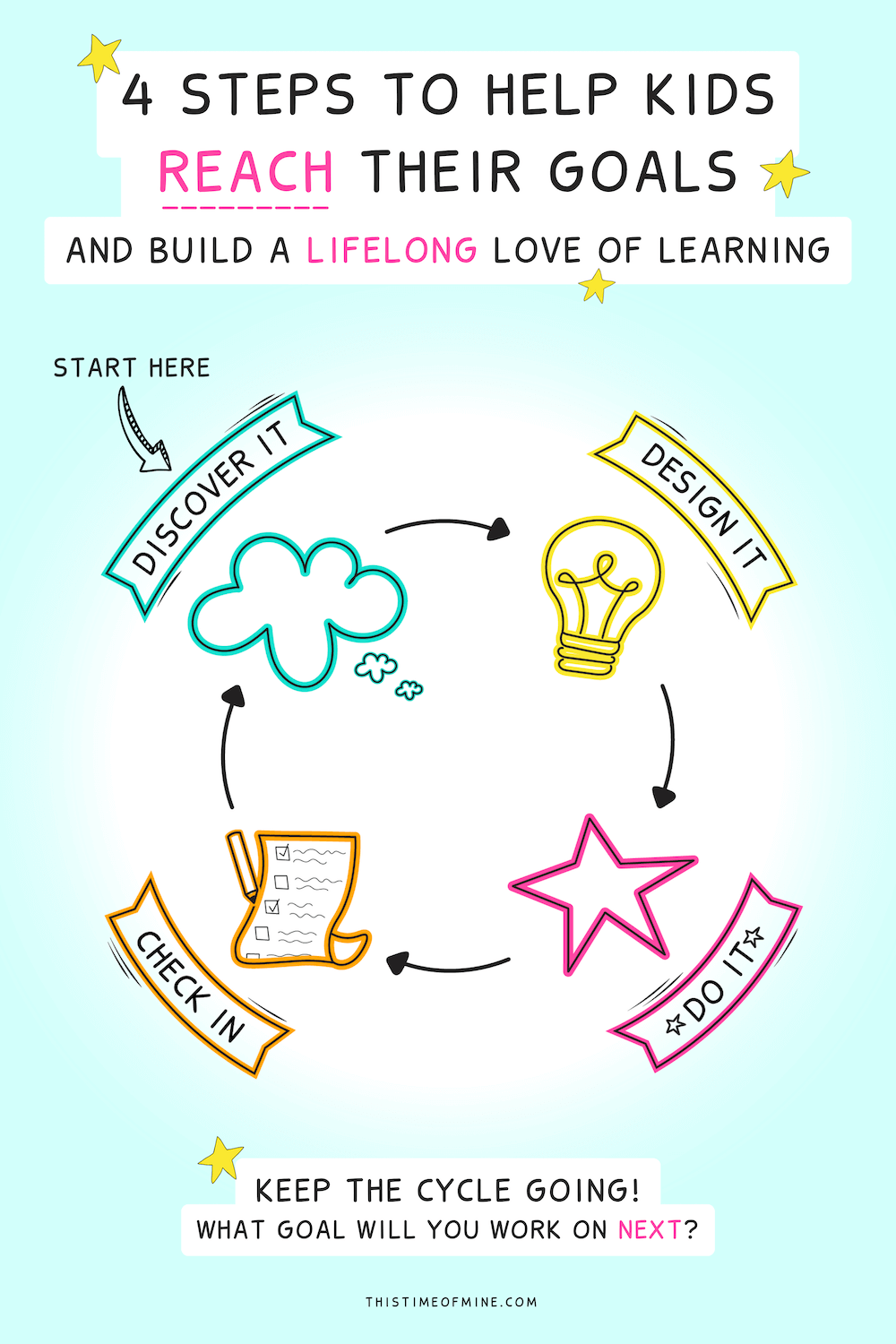 1. Discover It: Brainstorm ideas for goals. What does your child want to learn or try? What are they already good at? What would they like to improve? Start with one goal from this list.
2. Design It: Create an action plan for this goal. What steps or actions can they take? Who can help them?
3. Do It: Work on the plan. Record progress, and write down thoughts about what's going well and what isn't. Readjust the plan as necessary.
4. Check In: How did it go? What did your child learn? How did they feel about the goal? And most importantly, what can your child do to celebrate?
The guides and activities in our Goal Planning Kits make it easy for kids to work on each of these steps. They also give them something to look back on when they need to be reminded of their ability to achieve.
GOAL SETTING TIP #2: MAKE IT EASY FOR THEM TO REMEMBER AND TRACK THEIR GOALS
Ready for another statistic?
A study done at the Dominican University in California found that people are 42% more likely to achieve their goals simply by writing them down. That's a pretty big return for such a small effort. And it's something even young kids can do!
So pull out some paper and have your kids write down what they want to accomplish. Then have them put a visual reminder somewhere they can see often. Because for most of us, when something is out of sight, it's out of mind.
Another way to keep kids motivated is to have them track their progress. Daily tracking will help kids remember to work on their goals, see their progress, and celebrate how far they've come.
The trackers in our Goal Planning Kits for Kids make it easy to track and celebrate all the hard work your child does.
HOW TO HELP KIDS SET (AND ACHIEVE) GOALS IN 4 EASY STEPS
This post contains affiliate links. For more information, see my disclosures here.
When kids learn to set and achieve goals, they're developing a critical skill that will help them in all areas of their lives such as:
…And a lifelong habit of reaching for and achieving the things they want. Sounds pretty good, wouldn't you agree?
So how can we get our kids to start setting goals and reaping the benefits? Here are 4 research-based steps that will help you support your child as they learn: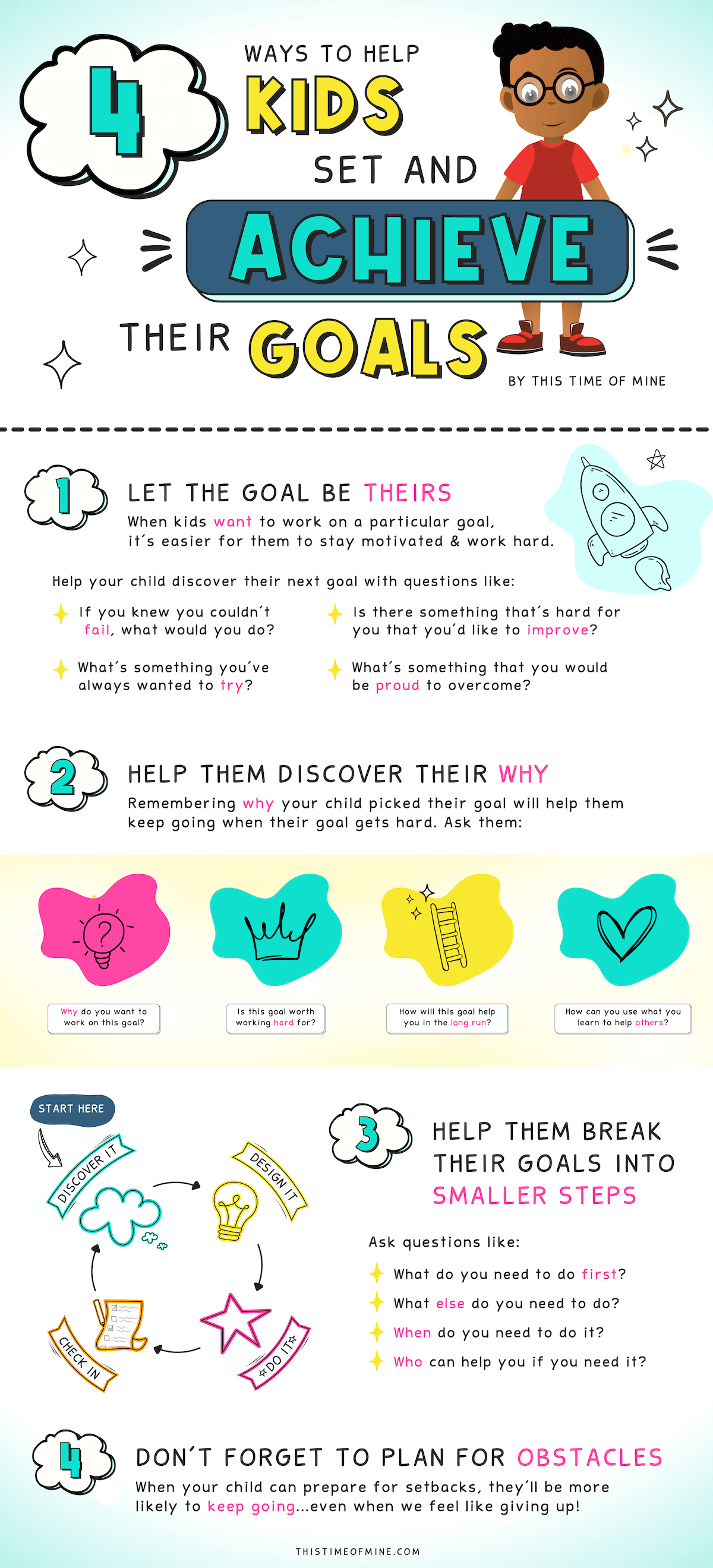 Step 1: LET THE GOAL BE THEIRS
If we want our kids to work on goals, they have to be excited about them. And that means letting them choose.
As parents, we tend to offer our advice and suggestions pretty generously. But when we do, we sometimes rob our kids of the opportunity to explore their own interests and talents.
That doesn't mean we can help them along the way, though. By asking questions, we can help our kids discover what goals they want to tackle. Try questions such as:
If you knew you couldn't fail, what would you do?
What's something you've always wanted to try?
Is there something that's hard for you that you'd like to improve?
What's something that you would be proud to overcome?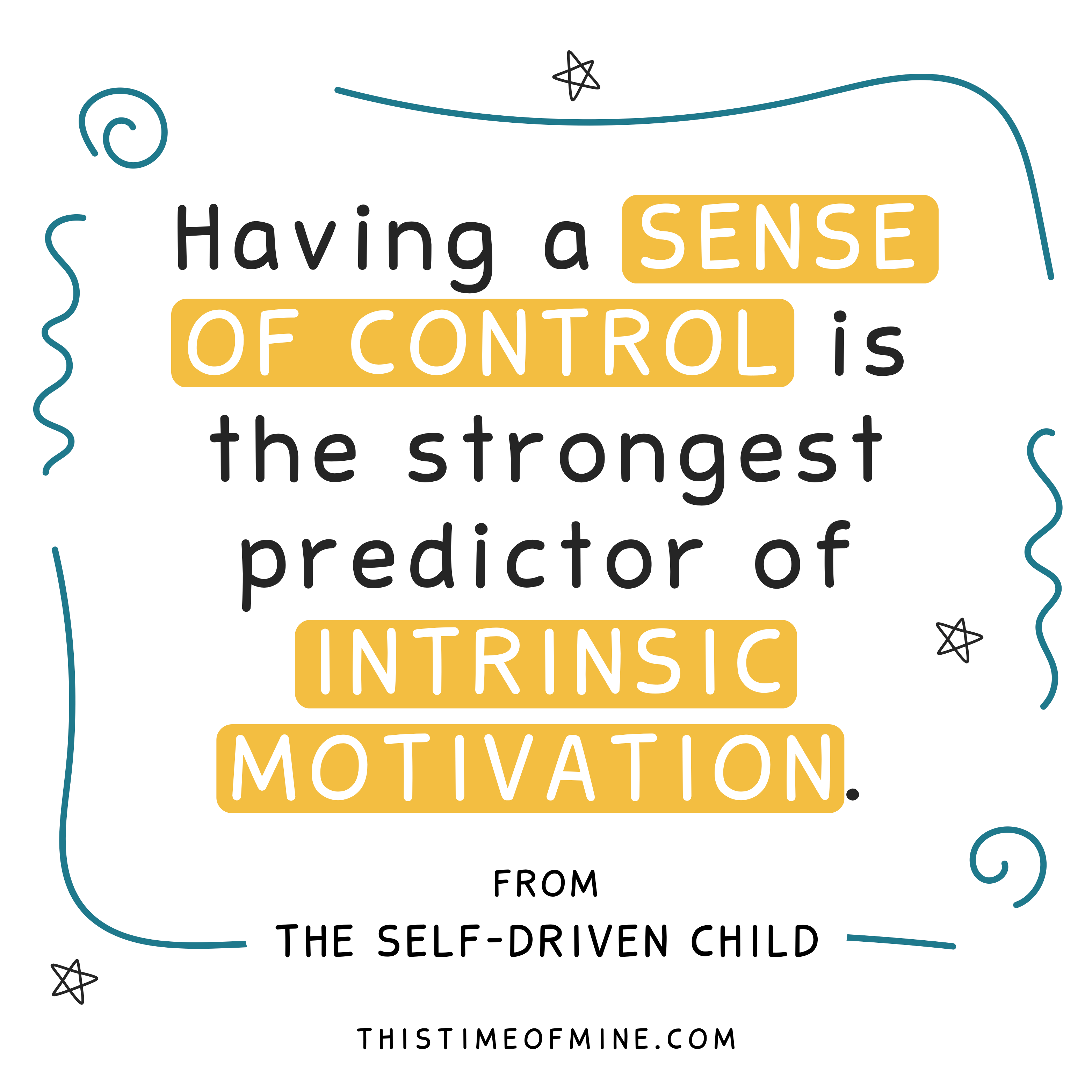 Now it's time for your child to pick ONE goal to work on. Once they've decided, have them summarize it in one sentence – and make sure it's specific.
For example, "I will do better on my next math test," isn't as effective as "I will study my flashcards for 10 minutes every day 00for 30 days".
They will have a much better chance of achieving their goals if they are specific and measurable (or trackable).
Step 2: HELP THEM DISCOVER THEIR WHY
Fact:
People always perform better when they have a reason for doing so. It doesn't matter how old they are, what position they are in, or what they are working on, people who have a purpose tend to be more successful than those who don't.
To help your kids figure out why they want to work on a particular goal, ask questions like:
Why do you want to work on this goal?
Is this goal worth working hard for?
How will this goal help you in the long run?
How does this goal relate to your bigger goals?
And to take it one step further, try asking:
How can you use what you learn to help others?
In his book "Find Your Why", Simon Sinek says, "The goal is not simply for you to cross the finish line, but to see how many people you can inspire to run with you".
When kids are able to add this last piece to their "why", they will find an even greater purpose in working toward their goals. And the bigger the purpose, the better the results.
Step 3: HELP THEM BREAK THEIR GOALS INTO SMALLER STEPS
Now it's time to come up with an action plan. And to do this, we need to take that big goal and break it into smaller steps.
Help your kids brainstorm all the things that need to happen for them to achieve their goal. Don't forget the little things!
Ask questions such as:
What do you need to do first?
What else do you need to do?
When do you need to do it?
Who can help you if you need it?
Once they have an idea of the steps they need to take, they can write them down in the order they need to be completed.
To help them visualize this process, have them fill out a simple goal-setting worksheet like this goal ladder. (You can grab a printable one in our Dream Big Goal Planning Kit here.) At the top of the ladder, they can write their big goal, then fill the spaces with the steps needed to work toward that goal.
Goals are meant to make us grow. They should be challenging enough to make us work hard, but still be within reach.
And the best way to keep our goals within reach is to break them down into manageable steps.
If your child gets discouraged during a goal, teach them that it's okay to not reach a goal right away. It's about the process of growing. And that's done by making progress and completing smaller, short-term goals.
As they up the ladder, rung by rung, they are getting closer to success, even if they have to change the plan as they go along.
Step 4: DON'T FORGET TO PLAN FOR OBSTACLES
In an ideal world, everything would go according to plan. But that's not always the case.
Setbacks and obstacles can (and often do) occur. But when we prepare for them, we're able to keep going. Even when we feel like giving up.
We can help our kids stay positive and motivated by asking them to think of potential problems that might get in their way. Take it a step further by having them write those solutions down in their action plan.
Remember, when setting goals, it's always okay to change the plan if something's not working. Most of the learning comes from the process, not the end result.
WHAT IF MY CHILD STILL WANTS TO GIVE UP on their goal?
Speaking of having a backup plan, parents need one too.
Here are a few tips to help a child who's feeling extra discouraged and wants to give up:
Remind them of their "why".
Help them brainstorm ways to deal with the obstacle.
Point out the progress they've made.
Share your own experiences of dealing with difficulty.
Teach them the importance of positive self-talk.
If they are receptive, offer your advice or suggestions.
Let them know that you notice their persistence and determination.
In the end, working on goals is about so much more than accomplishing a task. It's about building important skills that help kids learn effective and exciting ways to go after anything they're willing to work hard for. And as they get better at learning how to set and achieve goals, they'll also be developing a lifelong love of learning along the way.
Ready to help your child get started with Setting Goals?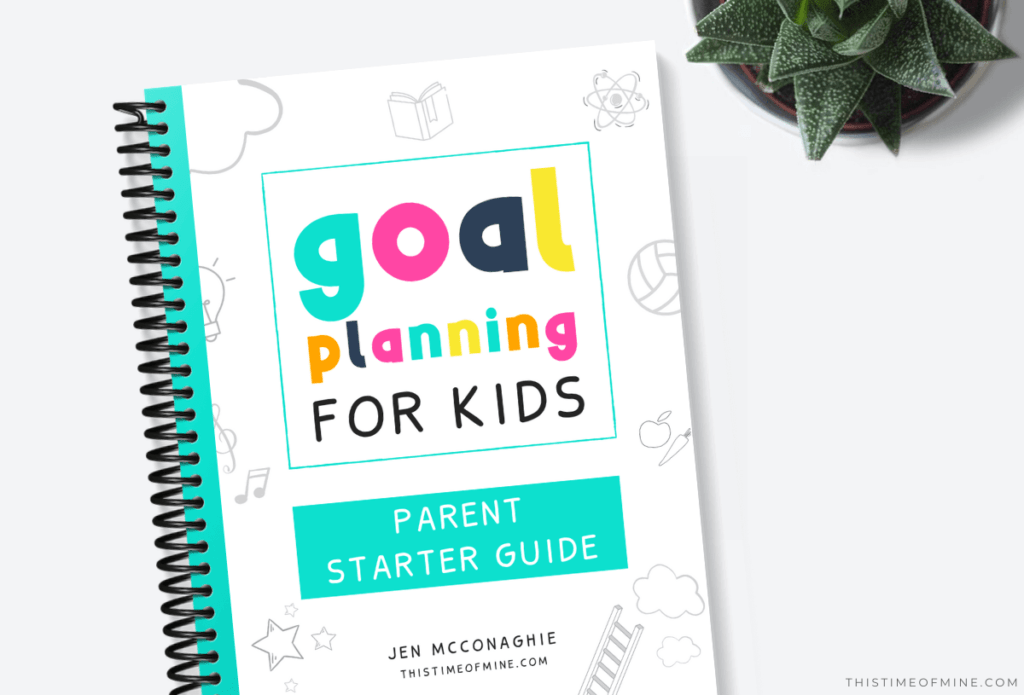 Our kids are capable, resilient creatures. And with loving guidance, we can help them solidify those characteristics with goal setting.
So to recap, here are the 4 ways we can help our kids set and achieve effective goals:
Let the goal be theirs.
Help them discover their why.
Help them break their goals into smaller steps.
Don't forget to plan for obstacles.
Bonus step: Have them write it all down and track their progress!
Ready to get started?
Be sure to grab the free Goal Planning Parent Starter Guide. Then your kids can get excited as they get ready to work on their big goals.
Good luck!
If you love this resource, be sure to check out the Dream Big Goal Planning Kit. In it, you'll find everything kids need to start setting goals, from goal ideas just for kids, step-by-step guides, goal trackers, and more!
OTHER HELPFUL POSTS:
want to remember this?
Share this article: