How To Actually Be Ready For Kindergarten
Is your child ready for kindergarten? Find out how to help your kids be ready by focusing on a few simple skills (that have nothing to do with letters or shapes)!
It happened. Your little baby is now old enough to start kindergarten.
Among the many emotions you're probably feeling right now, one of them is probably nervousness. Is my child ready for kindergarten??
A quick internet search for "kindergarten readiness skills" will probably bring lists and lists of academic skills that will probably just stress you out. Now, this post contains a list too. But lucky for you, it's not that kind.
This post isn't meant to create any feelings of inadequacy or stress. Instead, I want to help you think through 7 skills you may not have thought of that will really help your kids as they get ready for kindergarten. Skills that have nothing to do with letters, numbers, or shapes.
This post may contain affiliate links. For more information, see my disclosures here.
CAN YOUR KIDS…
1. …FIND THE BATHROOM?
When my son started kindergarten, he told me he was nervous he'd never be able to remember where everything was. It was a big school and he was brand new. But, he said he was glad he at least knew where the bathroom was!
After swapping first-day-of-school stories with some other moms, I found out that all of our kids found similar comfort in at least knowing where the bathrooms were! As random and funny as it seemed, we realized it was an important thing to know.
Having to go potty can make some kids feel vulnerable and embarrassed, especially when they're brand new and so little. So at least knowing where to go will help them as they build confidence in their new environment.
When you go to meet the teacher before school starts, take a second and point out where the bathrooms are. And don't forget to mention which one is for them! (Boys/girls)
2. …ZIP, SNAP OR BUTTON THEIR CLOTHES?
Speaking of going potty, are your kiddos able to take care of their clothes after they go?
If they've gone to preschool, chances are they may have already mastered this. But there are so many kids going into kindergarten who aren't 100% able to zip, snap or button their bottoms after going to the bathroom.
Don't worry, they're still little and there will most likely be adults that can help. But they'll feel even more confident if they're able to take care of that all by themselves. So spend a little time this summer refining that skill.
3. …SECURE THEIR SHOES?
Some schools require separate shoes for P.E. If so, kindergarteners will definitely need practice securing their shoes since they'll have to switch.
But even if that's not the case, chances are their shoes could come undone during recess or at any other time of the day. So let them practice tying or velcroing their shoes all by themselves.
I love slip-ons or velcro for my kids. They make things so much easier. Shoelaces can be annoying. Even my 4th grader still gets caught running around with her shoes untied. She's too busy playing and having fun to mess with practical things like that I guess!
4. …OPEN THEIR LUNCHBOX?
If you're sending lunches from home, go over how to open and close everything before school starts. (I love these containers because they're so easy to open.) Even if something is common sense, kids will still be distracted with all the fun and bustle of the big, new lunchroom. So it never hurts to practice!
I've also found that I need to make sure I remind my kids what to do when they're done eating. I like to remind them to throw things like opened yogurt cups away and to always close their lunch containers. This saves their lunchboxes from getting too smelly or gross.
RELATED: Top Lunchbox Supplies For The Best Lunches This School Year
5. …ZIP THEIR BACKPACK?
Getting new school supplies is fun and exciting for kids. So use that excitement to let them practice zipping and unzipping their backpacks and taking folders in and out. They'll be pros by the first day of school.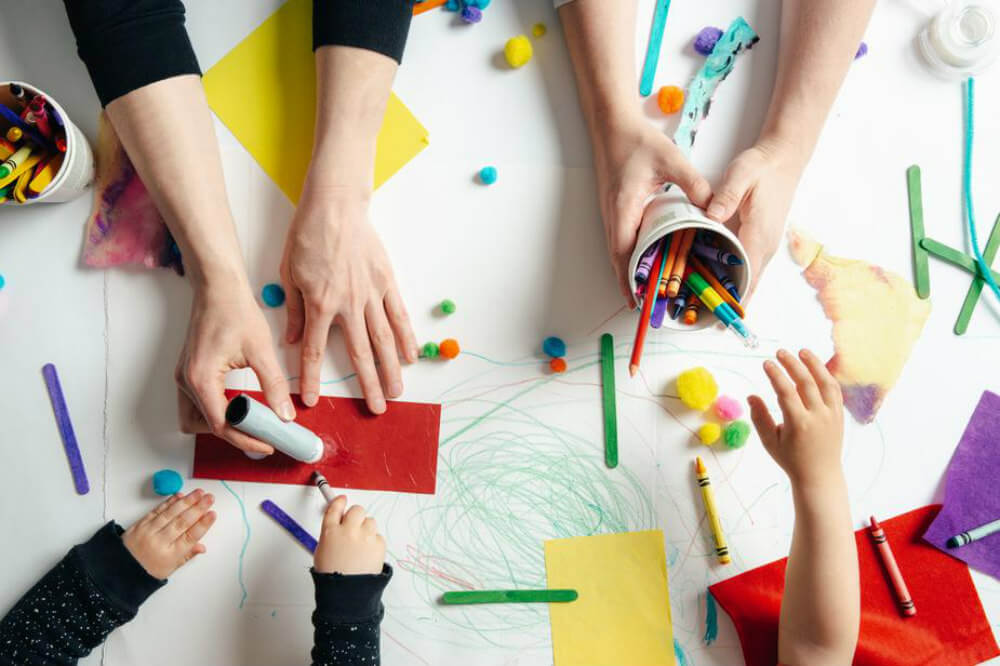 6. …ASK FOR HELP?
Whether kids are shy or outgoing, asking for help is a skill. Teach them that it's ok to speak up and ask for help, especially when they're unsure. Both of my school-aged kids struggled with this at first and they have two very different personalities.
It can be scary for kids to ask for help when they're new and unsure. So remind them that everyone's new and it's ok to not know something. You could even role play to encourage them to practice asking for help.
7. …APPROACH FRIENDS?
Our kids meet lots of new people when they start kindergarten. And as parents, we all hope that our kids will make friends.
But even though many kids seem like naturals at making friends, some still need a little coaching. Remind them that it's ok to feel nervous when they meet new people. And coach them on how to ask kids to play.
We had to do this a lot with my oldest daughter who was quite shy. She wanted to play with kids but was so shy she couldn't come up with the words.
Instead she waited and hoped that they would come to her instead. Many times they did. But sometimes they got caught up in their own playing and forgot.
So we helped her think through scenarios where she'd be the one to initiate. She was terrified at first, but we kept encouraging her each day before school. And thankfully she got better at it and made some wonderful friends that year.
CONCLUSION
Sending our children off to kindergarten can be an exciting, scary and even sad thing (why are they growing up so fast?). And as parents, it can be easy to stress about all the things they need to know before they start.
But I remember holding on to the advice more experienced mothers gave me and I'm giving that same advice to you: They're going to be just fine. There's a lot of change and learning that will happen, but they'll figure it out. And so will you.
And by simply checking in on these few skills, you'll be able to ease this wonderful transition for your child. They'll be ready for kindergarten and more able to focus on the fun things like numbers, letters, shapes, and FRIENDS!
What skills have you focused on to help your kids get ready for kindergarten? I'd love to hear about your experiences!
want to remember this?
Share this article: