How To Get Your Kids To Read This Summer (And Like Doing It)
Want your kids to read this summer? Make summer reading irresistible with these super-simple tips and this free Summer Reading Challenge.
Summer!
No more homework, no more reading…well, at least that's what our kids are thinking.
But what if there was a way to keep our kids excited about learning and reading – even during the summer months? Without it seeming like an assignment or a chore?
Wouldn't it be great to keep them from getting summer brain and even help reading become a regular part of what they love to do? Because reading is important, right?
I could go on and on about the importance of reading, but you already know about that. After all, that's why you're here. You know it's good for them and you want to find out HOW to make reading happen without it being a battle.
So here are 10 actionable tips you can try right away to encourage your kids to read this summer. Tips that will help reading become something they do independently and willingly, rather than it feeling like a burdensome chore.
And the best part is that they work for kids of any reading ability. The goal here is to make reading a habit. And the more they do it, the better they'll get at it.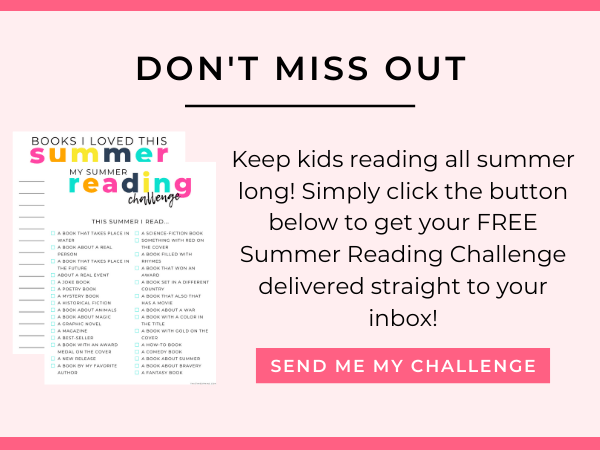 10 Tips To Get Your Kids To Read This Summer
As busy moms, we love things that encourage growth in our children, but we also love quick & easy ideas that help foster independence. And that's exactly what these tips will do.
They're powerful enough to encourage our kids to take initiative, but simple enough to not be stressful. Here are 10 ways you can get your kids to read more this summer:
This post contains affiliate links. For more information, see my disclosures here.
1. PICK THE RIGHT BOOKS
Our kids aren't going to read if they're not interested in the books they have.
For age-appropriate book lists and ideas, I love to reference this list by What We Do All Day. We also love to ask our local librarians for recommendations.
We pick a day each week to head to the library and replenish our stock. (My kids go through so many books…thank heavens for libraries.) And when we can't go to the library, we also have the option to go digital.
Most libraries have an online library resource, usually through an app. We're currently using Libby and have access to thousands of ebooks and audiobooks on our devices.
Here are a few more places to get books:
Amazon: Get access to any book along with recommendations by age and category, rating. Amazon also offers subscription boxes!
Epic: Get access to thousands of digital books for ages 12 and under for a small monthly fee.
Scholastic: Scholastic is an amazing resource for parents looking to build up their own library. Their prices are amazing and their selection is unbeatable.
2. ADD UNEXPECTED VARIETY TO THEIR READING CHOICES
I don't know about your kids, but when mine find something they like, that's all they want to read. They'll read the same books over and over (like my 10-year-old's current obsession).
They almost forget how exciting it is to discover a great new read. That's why I created this free Summer Reading Challenge. It's a list of 30 different types of books kids can read this summer from the color of the cover to the types of characters.

3. MAKE READING FUN
In addition to different types of books to read, challenge kids to read in different ways. Even if they've read the same book 1,000 times, it'll feel totally new if they're challenged to read it under a table or outside in the shade.
Write down a list of silly ways and places to read. And the next time they need to mix things up, challenge them to pick something from the list.
4. HAVE THEM KEEP TRACK OF WHAT THEY READ
One of the best ways to cultivate a habit is to track your progress. Give kids a chance to do that with a simple reading chart. They can either track how many books they read or how long they read.
Another way to track is to have them write down the titles of their favorite books. The more they read, the more they'll want to add to this list. Writing them down will help them remember the great stories they read.
You can get a printable favorite's list as part of the FREE summer reading challenge here.
5. OFFER READING INCENTIVES
Even the most reluctant readers can hop on board if they can work toward a reward. Challenge kids to read a certain amount of books or minutes to receive a reward.
It can be something as simple as staying up 30 minutes past bedtime, getting out of chores for a day, choosing an after-dinner treat or having some alone time with mom or dad.
6. MAKE A COZY READING AREA
Create an irresistible place to read. A place with a comfy chair or a few fluffy pillows, where books are easy to access. Even if kids don't always read there, it'll encourage kids to read more often than they might otherwise.
We recently turned our small, unused dining room into a reading room/office, but we also have a simple corner in each of our kids' rooms with a rug, a few pillows and a basket with a few books.
It doesn't have to be anything big. Just something designated as a "reading spot".
7. DO ACTIVITIES RELATED TO BOOKS THEY'VE READ
Did your kids just finish a book they really liked? Often there are activities you can do as a family to keep the excitement going.
It could be anything from watching a movie adapted from the book or visiting a museum with elements from the book (like dinosaurs or space). Kids can also make crafts or recipes related to their books.
8. USE READING TO ENCOURAGE RESPONSIBILITY
Do you struggle with kids and screen time? How about creating a screen time checklist?
Write down a list of things kids need to do before using screens (or playing with friends). Things like reading, chores, getting ready for the day, etc.
Once your list is ready, laminate it so it can be used all summer for kids to check things off as they go.
9. PICK A NOVEL TO READ ALOUD TOGETHER
This is one of our favorites. We love picking a longer book and reading it out loud to our kids over a few weeks. As our kids have gotten older, they've started taking turns reading too.
Here is a list of great family read alouds.
10. JOIN A SUMMER READING PROGRAM
Head to your local library or bookshop and join a summer reading program. Kids can work toward prizes all summer long.
EXTRA HELP: GETTING KIDS TO READ THIS SUMMER
Before you go, make sure to grab a copy of the free Summer Reading Challenge so kids can discover all kinds of great, new books.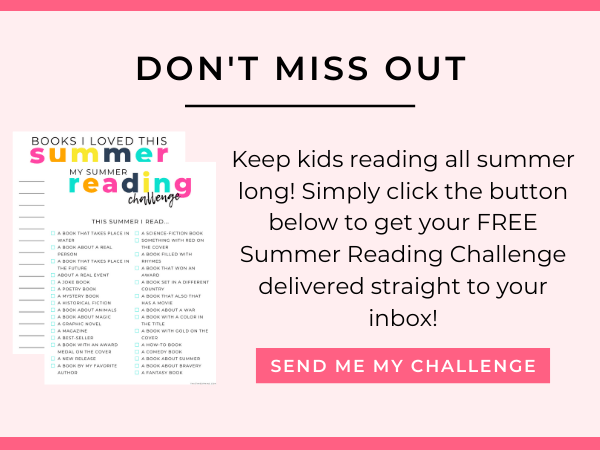 Want even more helpful resources?
In addition to the Summer Reading Challenge, you can also get 2 styles of reading charts, a Reading Bingo, Reading Coupons and a Screen Time Checklist as a part of The Ultimate Summer Boredom Kit.
It's got everything you need to get your kids to read this summer along with tons of other tools to make summer fun and stress-free for everyone.
LEARN MORE ABOUT THE ULTIMATE SUMMER BOREDOM BUSTER KIT HERE.
I hope these 10 tips will help make it easy and fun for your kids to read all summer long.
What are some of your favorite ways to encourage your kids to read?
OTHER HELPFUL POSTS:
want to remember this?
Share this article: