The Ultimate Summer Break Survival Guide For Exhausted Moms
Summer's here…are you ready? Find out how to stay sane and keep kids happy all summer long with the tips from this Summer Break Survival Guide.
Every year I get so excited when school ends.
I dream of relaxed schedules and slow, lazy days where we play all day and hang out by the pool.
But every year, after the "summer honeymoon" wears off, reality sets in. I always seem to forget that summer isn't easier. Not at all. It's just the same crazy in a different suit.
I still love summer break with my kids. That will always be the case. But it can get overwhelming fast.
Between bottomless tummies, muddy feet tracking through the house, and more sunscreen bottles than I care to count, summer gets downright messy.
For my house and my sanity.
I've learned that in order to enjoy summer break in all its glory, I have to be prepared. For all of it – the good, the bad, and the ugly.
We just need some summer break survival tips to get us through! Take it from a mom who's been there!
THE SUMMER BREAK SURVIVAL GUIDE
Here are 12 tips for getting through the summer and enjoying it too:
1. STICK TO BED TIMES
This one is so hard to do in the summer. It's too easy to relax our standards when the sun goes down later and we're out playing into the evening. But kids still need consistency. And parents still need an evening break.
Bedtime might be a little later than in the school year, but pick a summer bedtime for the kids and stick to it. Of course, it won't be perfect every night. But try to have the kids go to bed on time more often than not.
2. STICK TO WAKE TIMES
It's tempting to let mornings go in the summer. But try your best to start each day around the same time. It does wonders for everyone's moods and it will help your family get into a good summer groove.
READ NEXT: I'm Bored! 6 Tips For Beating Summer Boredom
3. SCHEDULE IN ALONE TIME
This one isn't just for us. It's for the kids too.
Got whiny, grumpy, bored, or testy kids? Time for some alone time! Seriously, it's a miracle worker, especially on long, hot afternoons.
Set the timer and have everyone pick a screen-free activity and a different location in the house. Having quiet time for 20 minutes to an hour is the perfect way to reset.
4. ESTABLISH A DAILY ROUTINE
Learn all about how to create the perfect daily routine here. For our summer routines, I also try to include things like simple morning routines, chores, reading, learning activities, and alone time.
Once you've established a simple routine, write it out, laminate it, and display it for everyone to see. (You can get a routine template here.)
5. TAKE IT EASY
I know way too many parents who overschedule their summers and spend the months stressed and trying to keep up. Sometimes, their summers are even busier than their school years!
Our summers always include a few activities and sports, and with 4 kids it still adds up. But I've learned that a jam-packed summer break isn't my kind of break.
Pick only the activities that are most important to you and your kids, and then leave time for just hanging out.
READ NEXT: How To Get Things Done (Even When The Kids Are Home)
6. SCHEDULE A FEW INTENTIONAL MEMORY MAKERS
With everyone together every day, it might not seem necessary to intentionally plan for family time. But don't let the whole summer go by without doing at least one thing your family can remember for the summer.
It can be anything big or small. And to make it even more meaningful, get the kids in on the planning!
7. HAVE OUTSIDE TIME EVERY DAY
Some summer days are so hot that no one wants to go outside. But even if our kids spend the day doing fun indoor activities, they can get stir-crazy. And we all know how that goes.
So kick them out, even if it's just for a few minutes or at night. They can play with water or in the shade, but let them burn off some energy by playing outside.
8. LET THINGS GO
This one's a little hard for my inner control-freak. But I've noticed the more I force myself to relax in the summer, the more I'm able to enjoy the moments.
The house gets messier, the kids get dirtier, we all eat more ice cream and popsicles than we should, and not everything goes according to plan. But that's ok!
Do what you can to keep life organized, but let the rest go. Pick your battles and embrace the summertime craziness.
9. ENLIST THE TROOPS
With everyone home during the summer, the house gets a whole lot messier. And I for one, don't want to take care of it all alone.
And besides, summer is the perfect time for kids to practice some responsibility.
So get kids doing some chores, cleaning their rooms and helping out with the daily pickup. And if you want to take it a step further, offer harder chores kids can earn money for.
I don't pay my kids for helping out around the house. But they can do extra things, like clean out the car, wash windows or mow the lawn to earn some extra cash.
READ NEXT: 30 Quick And Easy 15-Minute Cleaning Tasks
10. HAVE A RESPONSIBILITIES CHECKLIST
Write out a checklist of responsibilities for each child that they have to complete before playing with friends or screens. Then laminate it and stick it on a clipboard (or display it on a wall) for kids to check things off as they go each day.
This can include things like:
Having a daily checklist like this will help reinforce your daily routines. It will also help kids with responsibility, independence, and time management.
11. KEEP STRICT KITCHEN HOURS
If you want to maintain any sort of sanity (or budget) over the summer…stick to strict kitchen hours. Your kids will eat you out of house and home if you don't – trust me.
Set times for snacks, stick to regular meal times, and let kids know when the kitchen is closed.
12. INCLUDE SOME SIMPLE LEARNING ACTIVITIES
This tip is totally optional, but summer can be a great time to reinforce learning skills by doing things they wouldn't normally have time for during the school year.
Easy science experiments, cool YouTube art tutorials, simple worksheets or flashcards, or even a reading challenge. Anything to keep their brains active over the summer.
READ NEXT: How To Get Your Kids To Read This Summer (And Like Doing It)
SUMMER BREAK SURVIVAL IS POSSIBLE!
So, are you ready to take on summer?
I know it's a crazy time, but it can also be great with just enough structure to keep things moving forward. I hope these tips help you navigate this summer and try to enjoy it too!
To make it easy to get started, be sure to grab this FREE 21-Day Tiny Starts Challenge! It'll help your child discover exactly what steps they want to take to ROCK their habits this summer!
WANT EVEN MORE HELP?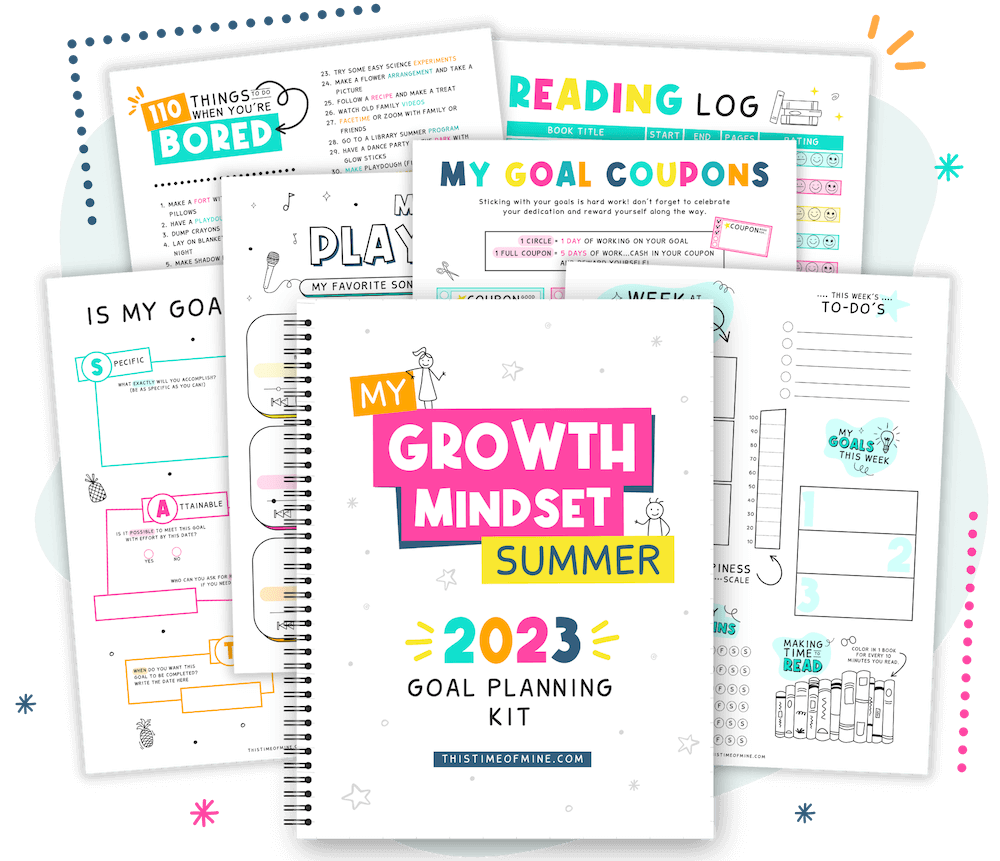 Does your child love visuals and printables to stay organized, on track, and having fun? Then you'll definitely want to check out the 2023 Summer Goal Planning Kit! It's jam-packed with everything your child needs for a creative, self-sufficient summer!
Here's what they'll find inside:
Smart Planning Strategies to build awesome routines and habits.
Step-By-Step Techniques for rock-solid goals your child can stick to!
1-Page Challenges And Ready-To-Use Trackers that make it easy to stay motivated and on track.
An Irresistible Game Plan to discover, create, and grow all summer long!
HEAD HERE to learn more and take a peek inside the kit!
Have a wonderful summer! You've got this.
Do you have any summer break survival tips to add to this list? Let me know in the comments!
want to remember this?
Share this article: