From Unused Dining Room To Hardworking Home Office And Reading Room – Phase One
Office, homework station, reading area, and more! See how we're turning our unused dining room into a cozy home office the whole family can use.
We recently moved into a 160-year-old house and have been busy dreaming up ways to make it our own. But although we love doing house projects, we've been trying to be careful here.
Unlike our last house, the structure, wiring, and materials are all very different than what's used in modern houses. So our goal is to keep our updates as simple and inexpensive as we can.
And this room was the perfect place to start.
It was originally meant to be used as a dining room. But it's nowhere near the kitchen! Well, with 4 kids, that just wasn't going to work.
We finally decided to turn it into our own home office that could also be used as a homework station, reading area, craft, and lounge room. And it has been 100% worth the change – especially now that we're suddenly "homeschooling" due to the global pandemic.
Be sure to scroll to the end for some tips on how to deal with the sudden change in schedule.
This post contains affiliate links. For more information, see my disclosures here.
This is just phase one for this room. But so far, we've gone from this:
to this.
Right now, the only major change has been the flooring.
The previous owners laid lock-system laminate flooring throughout the first floor but didn't get around to this room. So, to keep costs low and make this room match the others, we decided to lay the same flooring in here.
Someday we might go crazy and refinish all the wood flooring underneath. But we'll see…
READ NEXT: Our Small Dining Room Makeover: Little Changes With Big Results
The walls jut out in different places throughout the room, so figuring the layout was hard at first. But we were able to repurpose some old IKEA shelves that fit perfectly.
And since they house all the kids' books, we kept going with the "home library" idea – which was helpful for deciding what to do with another wall that had an awkward spot.
I'd been wanting an easy-to-reach book display for a long time and was so happy to finally have the chance to hang these acrylic shelves!
My kids liked reading before, but since turning this into a reading room, they're nonstop! They're always in here with a book. I love that they have a cozy area to channel their inner bookworms.
In the past, getting my kids to do homework was always a chore. They never had a centralized location where they could easily access everything they needed, which only added to the headache of having to do the homework in the first place.
But thanks to IKEA (again), we don't have that problem anymore. These IKEA PAX systems have been a dream come true for keeping all of our home office and craft supplies organized.
Each PAX system has drawers, shelves, and bins to keep everything organized. But my favorite part is having the doors. I don't want to see everything inside all the time!
READ NEXT: Small Walk-In Closet Makeover Using IKEA PAX
You can probably see that the doors aren't the same size, though. This is only because of the size we went with. In order to fit a 59-inch desktop, we needed the 29.5-inch PAX systems – which ended up being the only size that didn't come with even doors.
The uneven look has grown on me though, especially thanks to the door handles (also from IKEA).
If you look closely, you can also see "feet" under the PAX systems. Well, our house is old and the floors aren't level. We've had to get pretty creative with all of our furniture! We've also had to be diligent about securing shelving to the walls.
READ NEXT: Our Living Room Remodel: Before And After
The chairs and map are from Hobby Lobby. Everything on the desk is from Target. As for the rest of the room, it's a mix of things from Home Goods and Wayfair. (Except the cute little footstools. They were a surprising find at 5 Below of all places!)
Again, this is only phase one of our home office makeover. I love it so far, but here are some of my plans to keep going:
New paint color (something darker on top, maybe Benjamin Moore Hale Navy?)
New throw pillows
Add a different chandelier
Put the trim back around the desk area
Add crown molding to the PAX systems
Find a solution to my rug problem
Remember the part of the walls that stick out?
They're great for adding dimension to the room but make finding a rug nearly impossible! Which is why this rug looks disproportionate. But I'm determined to figure out a solution!
READ NEXT: A DIY Stair Makeover: Tutorial And Tips
My favorite part about this room is that we finally have a centralized place for all of our office, homework, craft, and reading needs! We can find everything whenever we need it and have plenty of room to keep it all organized.
Oh, and the windows. I definitely love the windows. That's one major perk of living in such an old house – all that natural light!
Have you ever completely repurposed a room or an area in your home? I'd love to hear how you used it in the comments!
ONE LAST THING…
Having a dedicated space for homework and reading has been a huge stress-relief in our home. Especially since COVID-19 has turned the world upside-down.
Here are some more posts that will help as you adjust to this temporary change in lifestyle – especially with kids!
want to remember this?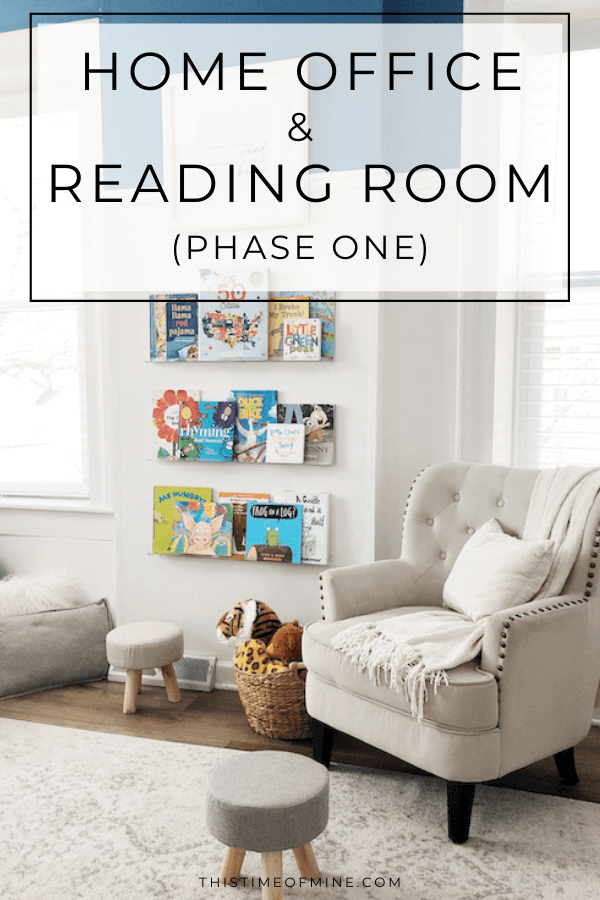 Share this article: