Small Walk-In Closet Makeover Using IKEA PAX
Need some closet inspiration? Thanks to IKEA and a little imagination, this small walk-in closet now has space for everything we need and more!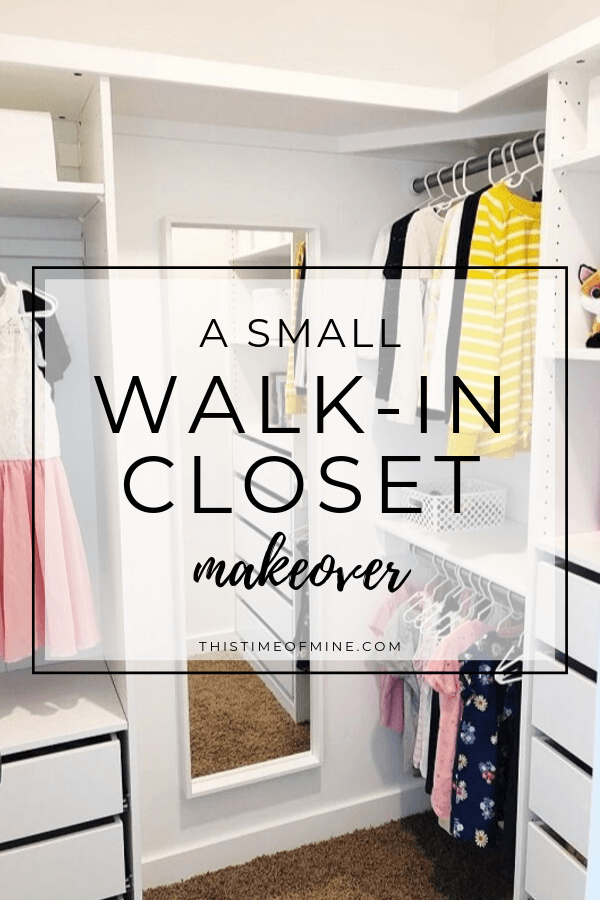 Confession: I have a small obsession with maximizing storage space. Each area I tackle is like a new puzzle, and I love it. (I know…nerd alert!)
I love when everything has a "home" and is easy to access. It allows me to keep my house picked up and organized (mostly). And it makes it easier for the rest of my family (ahem, my kids) to help out too. Big bonus!
So when it came time to design my daughter's closet, I pulled out the measuring tape and turned to my favorite place for all things organizing…IKEA.
This closet was a poster child for wasted space. There were just 3 shelves with hanging rods and nothing else. It seemed small and always felt cluttered.
I knew that even a small walk-in closet like this could hold a lot more. It just needed a little customizing.
This post contains affiliate links. For more information, see my disclosures here.
I guess I was pretty excited to get started, because I completely forgot to take a before picture! And I only took a few progress pictures. But here's an idea of what we started with:
Also, you can't see it very well, but this closet is where the attic access is. I had to keep that in mind when designing so we could still allow access to the attic.
Here are the basic builder-grade shelf/rod combos we started with:
After ripping them out, we repaired the walls and gave them a fresh coat of paint. We also ripped out the dim light cover and replaced it with a canned light. Because of the attic access door, there wasn't room for a fun light fixture.
Here's the only progress picture I took while we were actually building. (Like I said, I get so caught up in projects, I forget sometimes!)
We secured two PAX frames to the wall. The rest of the space was going to be for 2 hanging rods and a mirror.
We added a closet shelf (pre-primed) around the whole top and supported it with 1X2's and a corner brace. Then we installed a closet rod from the PAX to the wall along with a second shelf and rod below it for additional hanging space.
We finished the closet with a new door, trim and baseboards.
After filling in nail holes and painting, we finished assembling the rest of the PAX systems. Everything we used from IKEA (including the exact measurements) is linked at the bottom of this post. But here's a quick rundown of what we used:
Because of the attic access, we had to stick with the more shallow, 14″ PAX wardrobes. So here we have the smaller wardrobe with 3 KOMPLEMENT drawers and 2 KOMPLEMENT shelves.
With it being so shallow, a regular hanging rod wouldn't work. But typical IKEA…they've got a solution for that! We used this pull-out hanging rod which works great.
We also hung up this mirror.
These small drawers work perfectly for my daughter's shoes and swimsuits.
Here's what the closet looks like when you enter:
I love that we were able to fit in 2 more areas for hanging. Especially the one down low where my daughter can reach her most used clothes easily.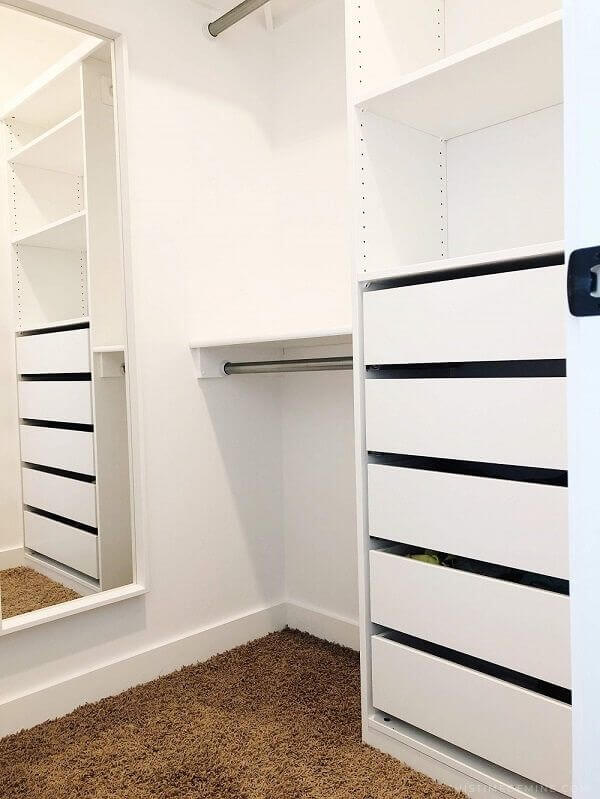 At first, I was nervous that the shallow KOMPLEMENT drawers wouldn't hold much. But turns out, they fit plenty! So it worked out great. We went with 5 drawers and 3 shelves for the wider wardrobe.
Also, we're planning on replacing this BROWN carpet. (Everything in this house started off brown. Check out what our living room used to look like!)
So, to make the future replacement easier, we cut out the carpet around the wardrobes when we installed them. Then we secured them to the subfloor and reattached the carpet with new tack strips.
Now I'm just counting down until we can get different carpet!
Here's a better shot of the corner support for the top shelf. Oh, and I forgot to mention the final 1X2 layer we added to the face of the top shelf. It gives it a nice, completed look.
And here's the last angle of the closet:
We put my daughter's things back in her closet, but there's still so much empty space in there! Before, it was a mess and there wasn't room for anything!
I like this much better. And I'm glad there's plenty of room for it to grow with her.
I'm so pleased with how this project turned out. It might still be a small walk-in closet, but it sure feels a lot bigger! It holds a lot more too.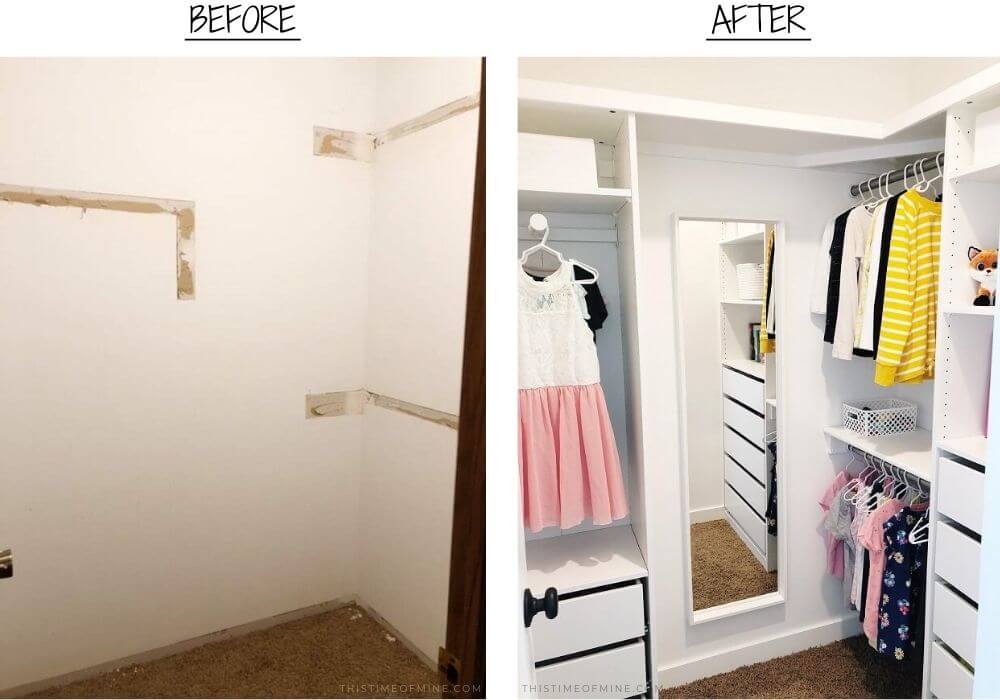 Here are the materials we used:
IKEA Pax System Materials
The pre-primed shelves came from Lowe's and we already had the closet rods. So there you have it! A small walk-in closet completely customized for around $375.
Have you ever tackled a project to maximize storage space? I'd love to hear about it!
want to remember this?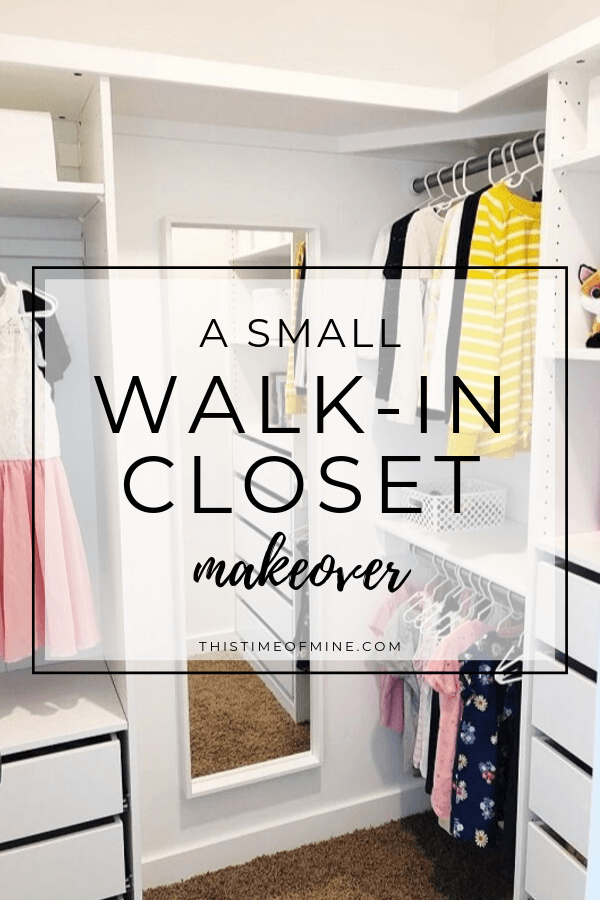 Share this article: