Our Living Room Remodel: Before And After
I'm so excited to share our living room remodel with you! This project was a long time in the making, but it was worth the wait!
When we first moved into our house, we knew some things had to change. The entire house, inside and out was…brown. Which is why it's been officially nicknamed "The Chocolate House".
It was incredibly dark with very little lighting and lots of popcorn ceiling.
I always find it amazing how much a room can change with some paint and proper lighting. And that's exactly what we had in mind when we tackled this room.
But house projects can take awhile when you have 4 young kids. So, it's been slow going!
But we finished it and I can't wait to share it with you! I'll show you how our living room went from this:
to this:
This post contains affiliate links. For more information, see my disclosures here.
The living room is the first thing you see when you enter our house, so it was the first project we tackled.
And if you'd like to see how we redid the stairway, check out how we did it for cheap by building around the existing newel post.
The first thing we worked on in this room was the fireplace.
Since it's a long and narrow room, we needed to try and maximize the width. So we ripped out the existing hearth and cut the wood floor in the corners to square it off.
We decided to keep the brick so we could match the depth for some built-in cabinets (and preserve the heat protection). We framed around it, squaring off the arched opening and adding a spot for a T.V. and built-in soundbar.
The measurements were based on a fireplace screen, T.V. and soundbar we already had.
This is just the start of the frame. I usually get so caught up in a project, I forget to take good "before" pictures!
Next, we started on the cabinets.
We also added benches to help fill the long, awkward wall. And the bench seats lift up adding even more storage. (I'm all about maximizing storage space!)
Then it was time to add in the sconces.
You've probably noticed by now, that we cut a lot of holes in the drywall. Holes in the ceiling, holes in the wall. Holes everywhere!
We ripped out the few, poorly placed canned lights and added lots more in better locations. We also took out the over-sized ceiling fan. (It was way too big for this small room!) The other holes in the ceiling made room for walls to be built around the cabinets and fireplace.
And the wall holes here used to be randomly placed light switches. We redirected those wires to the sconces, cabinet lighting, a new light switch (on the side of the fireplace) and an outlet inside each set of box shelves.
Also, we're total amateurs, learning as we go.
Although, my poor husband is now an expert drywall patcher. (#neveragain) But hey, now you'd never know how many holes used to be in the walls and ceiling!
Next came so much nail hole filling, sanding and painting!
Since my husband dealt with all the patching, I took over this part. Thank goodness for audiobooks! Big Little Lies got me through this bad boy.
I loved seeing the room lighten as I went. Before, there was just so much brown! Even the front door was brown! And it's not wood. It was painted brown. So we painted it black.
We ripped out the ruined window seat and put on one that matched our new trim style. We also painted the windows. They're wood, old and need to be replaced, but we're not quite ready for that yet.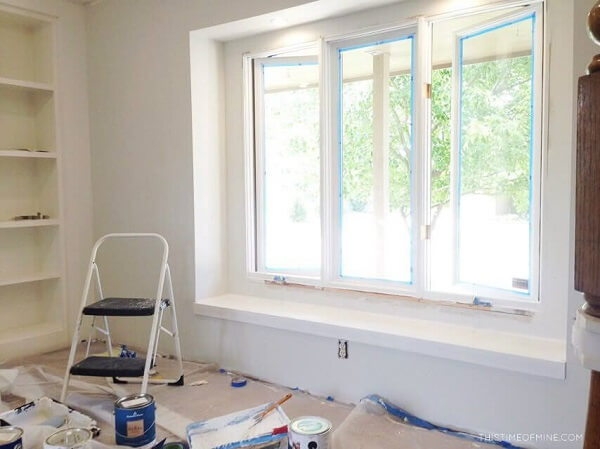 Next, we added mirrors to make the space look bigger and reflect more light.
That poor, old piano moved several times during this renovation! And yes, it weighs a million pounds.
Finally, it was time for all the new trim and crown molding. We also put decorative trim on the benches and small, white hexagon tiles in front of the fireplace.
We finished by adding these inset cabinet doors my husband built, hanging them first to make sure they fit. Then we sprayed them and added gold pulls.
This room was a lot of work, but it's been our favorite project so far. Probably because it was the hardest!
And since I'm a sucker for before and after pics, here are a few more. You can see how much lighter and brighter the room is!
A few final notes on the fireplace area:
The T.V. is attached to the wall with an adjustable mount. And when it's pulled forward, there's a hole below to access the soundbar and the Apple T.V. we put in there.
We also made DIY bench cushions with plywood and a 4-inch foam cushion and attached them to the bench lid with screws.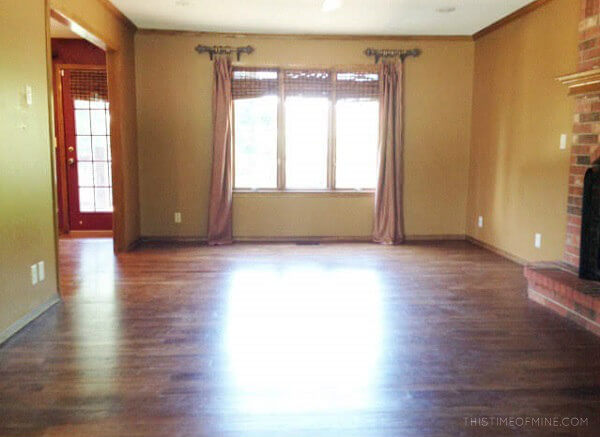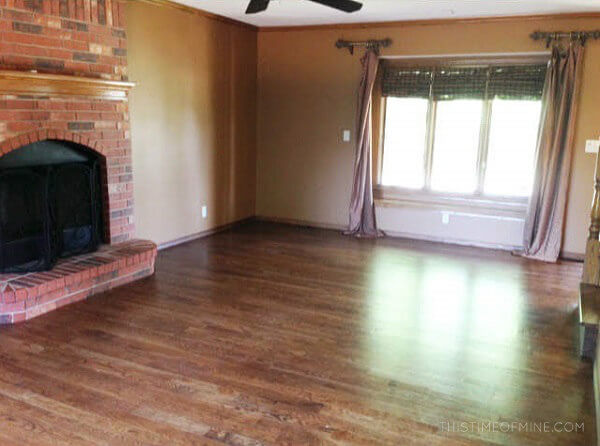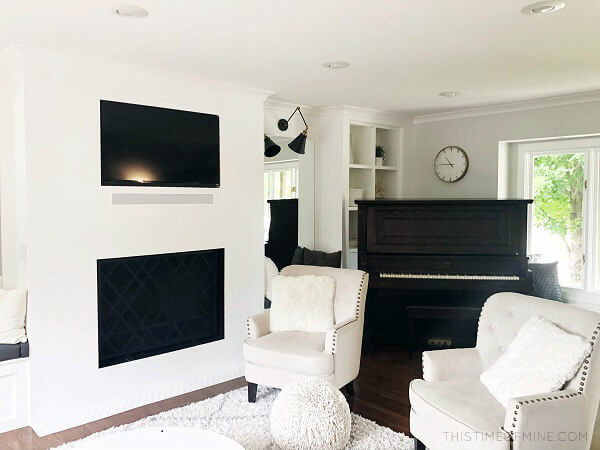 And some day, I'll get a different piano that doesn't cover up our built-in's, but until then, this trooper is staying with us!
Thanks for checking out our living room remodel! I love making spaces my own, no matter how slow.
We're no experts, we learn as we go. But we plan on scraping, sanding and painting our way through this whole house!
Oh, and if you'd like paint colors, here's what we used:
Gray walls: Benjamin Moore Gray Owl, lightened by 50%
White wall/fireplace: Benjamin Moore Chantilly Lace
Trim, shelves, cabinets: Benjamin Moore Chantilly Lace, semi-gloss
Door: Sherwin Williams Black Magic
Room Sources
Couch (similar) | Rug | Chairs (similar) | Coffee Table | Sconces (similar) | Cabinet Pulls | Curtain Rod | Curtains | Roller Shade | Mirrors | Fireplace Screen | Hexagon Tiles | Wall Clock | Picture Frames | Shelf Decor/Decorative Pillows: Target & Home Goods | Floor Pouf | Bench Cushions: DIY
What projects have you tackled? I'd love to hear about them! Leave a comment with your favorites!
want to remember this?
Share this article: