12 Things You Should NOT Say To Your Kids
It's time to kick mainstream parenting to the curb. Here are some common phrases to NOT use – and what say to your kids instead!
Parenting. Dang it's hard.
We cross our fingers and hope that our conscious efforts up to this point have been enough.
We want to raise kids who are confident in who they are. We want to empower them to be capable and caring. And we try our best to be the mindful parent we want to be.
But sometimes, what we (including myself) think is helpful can unintentionally undermine our efforts.
That's often because our understanding of parenting is embedded in the old way of doing things. We make decisions based on the way things have "always been done" or tell ourselves, "my parents did that to me, and I'm fine."
But there IS a better way.
Our parents and those who came before us didn't have access to the same knowledge we do. And to ignore the abundance of scientific research on brain development and emotional attachment would be to do our children a great disservice.
They deserve better. And we can do better. Even if that means learning a new way to talk and communicate with them.
The good news is that kids don't need perfection. Not even close.
They just need us to show up for them in a way that supports their emotional growth. And one of the best ways to do that is by becoming more aware of the way we speak to them.
So if you're raising kids, or have kids in your life, let's learn how to start moving away from mainstream parenting and take a more conscious, mindful approach.
We can start with these 12 common parenting phrases that are NOT helpful for kids – and learn what to say instead! (Be sure to bookmark this page so you can refer to it anytime you need a refresher!)
12 THINGS TO STOP SAYING TO YOUR KIDS
Confidence, emotional regulation, self-control, grit…traits like these aren't gifts we can give to our kids. (As much as we wish we could.)
They're traits that are learned through experience. By going through the ups and the downs – and having the emotional support to cope with it all.
By turning these common phrases around, you can support your child in a way that truly encourages their growth.
1. "YOU'RE OK!"
…You're fine. You're ok. Nothing happened.
This happens all the time in mainstream parenting. For example, when a child falls down and gets hurt, parents often rush in and tell the child that they're ok – even when they're clearly not.
In their efforts to encourage their child to keep trying, they're actually sending a confusing message. One that says, "Your experience of your reality is wrong. I need to tell you what to feel."
SAY THIS TO YOUR KIDS INSTEAD:
"Are you okay?"
"That looked like that hurt. Do you need a hug?"
It's okay to soothe your kids when they're having a hard time. In fact, the more you do, the more hearty and tough your kids will be!
Showing empathy doesn't create a victim mentality. It simply helps your kids feel seen and gives them a chance to practice moving from a reactive state into a regulated state so that they can eventually learn to do it for themselves.
2. "GO APOLOGIZE."
…Say you're sorry right now!
Time for a hard truth: Forced apologies don't teach empathy. They're nothing more than lip service.
But we care about more than the words. We want our kids to feel sorry and begin to understand how their actions affect others. Telling our kids to say sorry – especially when they don't feel sorry – won't teach them true remorse. And it won't encourage them to seek out ways to reconcile.
SAY THIS TO YOUR KIDS INSTEAD:
"I wonder how that made your brother feel?"
"How would you like to make things better?"
Asking questions shows your kids that you trust in their ability to learn to see things through someone else's perspective. It also gives them a gentle opportunity to practice empathy.
Another powerful way to help your kids is to model what apologies look like.
3. "WE DON'T DO THAT!"
…We don't hit. We don't run into the road. We don't talk like that in our family.
At first glance, this seems right. We're using inclusive pronouns and being very clear about the behaviors we don't want.
But focusing on the negative creates more negative. Without realizing it, we're reinforcing and drawing more attention to the very things we're trying to eliminate.
SAY THIS TO YOUR KIDS INSTEAD:
"It's okay to be upset. But I can't let you hit your brother."
"Please walk on the sidewalk."
"In our family, we speak kindly."
Reframing your words in this way paints a picture of success. It helps your children understand exactly what you do want them to do, and gives them clear directions that are easier to follow.
4. "IT'S NOT THAT BAD."
…It's not hard. It's not scary. It's not that big of a deal.
The truth is, our kids can't just stop feeling something just because someone told them to. It doesn't work that way. To them, it IS hard. It IS scary. And it IS a big deal.
And telling them otherwise can leave them feeling dismissed, guilty or flawed.
SAY THIS TO YOUR KIDS INSTEAD:
"I know this is tough. But you can do hard things."
"I get scared too. How can we make this less scary?"
"How can I help you?"
"I'm here for you."
Resiliency and emotional strength are learned through experience. And each time you show empathy and help your children navigate their way through difficulty, you are supporting them in a manner that will foster that growth.
5. "I'll JUST DO IT."
…You're taking too long. That's not how you do it. Why do I have to do everything for you?
It's always easier to do things ourselves – in the short run. But every time we step in or take over, we're unintentionally undermining our child's confidence. We're showing them that they're not capable enough and they need us since they're unable to figure things out on their own.
SAY THIS TO YOUR KIDS INSTEAD:
"I can see you're having a hard time with this. How can we make this easier for you?"
"Would you like some help?"
Letting your kids fumble their way to mastery takes a lot of time and patience. But in the end, it will give them confidence in their abilities, knowledge that they can fail and be fine, and trust that they can figure things out.
(It will also mean you don't have to do everything for them. Win-win!)
6. "WHY DID YOU DO THAT?"
…What were you thinking? What do you think you're doing?
Open-ended questions can be a great tool for teaching…unless they're laced with accusations. It's tough not to react emotionally when our kids misbehave, but questions like these will usually only lead to defensive remarks, excuses, or "I dunno…"
SAY THIS TO YOUR KIDS INSTEAD:
"Looks like the milk spilled. We don't want it to keep spreading. Here's a towel."
"That didn't work out so well, did it? What could you try next time?"
"Is everything ok?"
Kids make mistakes all the time. And you might get really triggered when your kids mess up.
But when we approach these situations with compassion rather than shame – remembering that they're still a work in progress – we create a healthy training environment. One that your kids can feel safe learning (and stumbling) in. 
7. "GO TO YOUR ROOM."
…Go to your room until you can calm down. I'm fed up with you.
In reality, we all need breaks when we feel out of control – our kids included. But when dismiss our kids in a way that makes them feel shunned or neglected, we're sending the wrong message. 
SAY THIS TO YOUR KIDS INSTEAD:
"You're pretty upset. Do you need a hug?"
"Do you need a break?"
"I can see you're having trouble. Let's take a break."
When your kids act out, it's important to remember that they aren't giving you a hard time, they're having a hard time. And because their brains aren't fully developed, they often need your help until they learn how to calm down on their own.
If your kids need some time alone, encourage them from a place of warmth. Not because it's a punishment or because you need a break from them.
8. "BECAUSE I SAID SO."
…I'm the boss. Don't ask questions. I make the decisions.
It's true that as parents we are in a leadership role. And yes, we are the boss. But a coercive environment where our kids are expected to blindly obey won't lead to more cooperation. And it won't create a cohesive family atmosphere.
SAY THIS TO YOUR KIDS INSTEAD:
"How can we make this work?"
"What do you think?"
"It's my job to keep you safe. I'm sorry, but I still have to say no because ___ "
You can be a clear leader and share a bit of power. You can let your kids' voices be heard without turning your home into a total democracy.
When your kids know where you're coming from and they trust that you'll take their thoughts into consideration, it will be much easier for them to obey, contribute, and respect the family's values.
9. "THIS IS YOUR FAULT."
…I can't believe you did that. I told you that was going to happen. Why can't you just ___ ?
As parents, we want to raise problem-solvers. But blame never leads to creative thinking. In fact, when we discipline with blame, our kids usually shut down. They're more focused on how "mean" we're being or how mad they are at us – not the problem we're trying to address.
SAY THIS TO YOUR KIDS INSTEAD:
"We all make mistakes sometimes."
"How can you make it better next time?"
"It's okay that you messed up. You can always try again."
Let your kids know that it's okay to make mistakes. Help them understand that your love for them isn't based on what they do or don't do. And communicate trust in their ability to figure out how to remedy the problem.
10. "YOU ARE MAKING ME SO MAD."
…Are you trying to make me yell? You made me sad. You're pushing my buttons!
It's hard to admit that our emotions are our own. It's much easier to assume they are the result of our childrens' behaviors. But they aren't.
And it's unfair for us to make our kids feel responsible for our behavior.
SAY THIS TO YOUR KIDS INSTEAD:
"I'm pretty upset right now. I need a second to calm down."
"I'm sorry I yelled."
"Can we take a deep breath together?"
Parenting comes with an array of emotions. Some of them will be triggered by your own childhood experiences. And others will be caused by exhaustion, overstimulation or even hunger!
But the good news is that you can still parent the way you want. You can apologize. You can model what it looks like to try again. And you can work on getting to the root of your triggers.
Every bit of work you do on yourself will benefit your children too.
11. "ACT YOUR AGE."
…Stop crying. Why are you so mad? Big kids don't ___
It's true that some emotions are uncomfortable to witness. But that won't stop our kids from having them – and that's ok!
SAY THIS TO YOUR KIDS INSTEAD:
"It's okay to feel sad…mad…disappointed…scared…"
"How can I help you feel better?"
Feelings are healthy at every age. And they need to be expressed. Sometimes feelings come out as laughter – and other times, they come out in less-pleasant ways.
And most of the time, when you allow your kids to have a good cry, to say what they're feeling, or to release their emotions in a healthy way, they will feel better.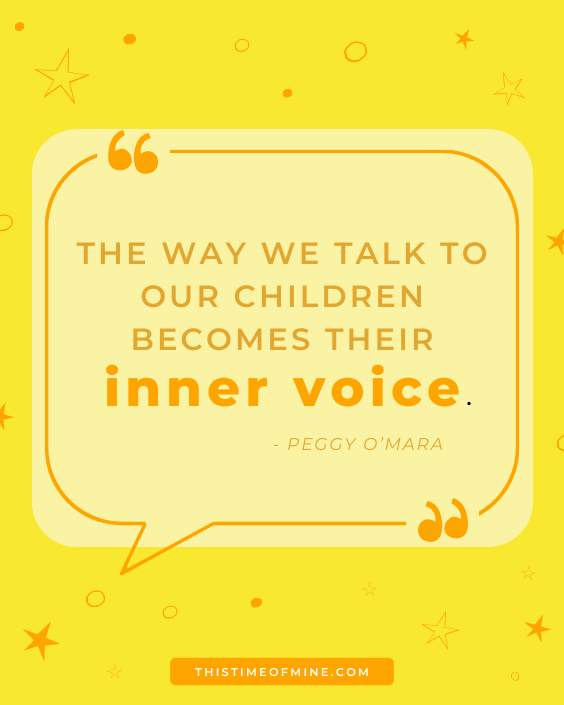 12. "YOU ARE SO ___"
…Why are you being so difficult? You're so bossy…messy…rude….loud… nosy…mean…shy…
Labeling. All of us do it – especially when our kids are driving us crazy.
But when we communicate to our kids that they are a problem, we're doing more harm than good. As parents, we can, in part, predict the future. Because what we say to our kids will eventually become what they think of themselves and influence how they behave.
SAY THIS TO YOUR KIDS INSTEAD:
"I can see you're having a hard time. Can I help you?"
"What can we do to help you be on time in the morning?"
"Thank you for picking up your room!"
"I saw you being nice to your sister, thank you."
"You can jump in when you're ready."
"Thanks for being so patient."
Kids tend to behave the way they feel. So if your child is acting out, there's a good chance they're not feeling so great on the inside.
There are three things that can help.
Peel back the layers and do a little detective work to try and figure out what's actually going on.
Put more emphasis on what they're doing well. (Even on the hard days!)
Lean into your child's unique personality. It's okay to be reserved, inquisitive, etc. Nurture those traits and help them find ways to turn them into strengths!
THE THINGS WE SAY (AND DO NOT SAY) TO OUR KIDS CAN MAKE ALL THE DIFFERENCE IN THE WORLD
Making the shift to becoming a more conscious parent takes effort and is something I'm working on daily. I know I'm not perfect, but being aware of what I say to my kids – and how it affects them – has helped me in my decisions.
BECAUSE I WANT MY KIDS TO KNOW THAT:
Their emotions are meant to be felt and expressed, not hidden.
Everyone struggles at times.
They are kind, good, and capable.
They can seek out help.
Their opinions and interests matter.
And that I, their mom, am there for them NO MATTER WHAT.
Are there any phrases you'd add to this list? Let me know in the comments below!
OTHER HELPFUL POSTS:
want to remember this?
Share this article: