10 Clever Ways To Do Affirmations With Kids
Wondering if affirmations can work for your kids? Try one of these fun ways to squeeze positive affirmations naturally into their day!
"I'm just stupid."
"I'm ugly."
"Nobody cares about me."
Have you ever heard phrases like these around your house?
If you haven't, give it time. In one way or another, negative self-talk like this is bound to come out eventually.
And when it does, most well-meaning parents jump to stop the negativity in its tracks. They quickly respond with phrases like, "What are you talking about? You're so smart," or "loveable" or "amazing"…
But truth be told, that child often means what they say.
At that moment, they actually don't feel smart, loveable, amazing, or anything positive for that matter. They just feel like "the worst kid in the world." (Actual words from my 11-year-old daughter's mouth.)
So how can we help our kids change their narrative?
One place to start is by using the power of positive affirmations.
Affirmations can be a powerful tool for kids, helping them to identify truths in themselves that will boost their self-esteem, inner creativity, perseverance, and overall well-being.
But let's face it – simply standing in front of a mirror repeating words over and over is boring and not exactly something kids would find appealing.
So let's make it fun!
Try one of these creative ways to fit affirmations naturally into your child's day.
WAIT! BEFORE STARTING AFFIRMATIONS WITH YOUR KIDS, THERE'S SOMETHING YOU SHOULD KNOW…
In order for affirmations to work, kids have to believe them!
If your child has been thinking a negative thought for awhile, chances are – that thought has turned into a firm belief.
Their brain has taken that repeated thought and built a strong connection, making it much easier to believe. In other words, a repeated negative thought (like "I'm a bad reader") can literally become hard-wired into your child's brain.
This is why having your child say a positive affirmation (like "I'm a GOOD reader") isn't going to do much good at first. Their brain will simply dismiss the words.
Unless you start with neutral statements.
When you help your child learn to replace their negative thoughts with neutral statements, it's less of a jump and much easier for your child to believe. For example, they can change:
"I'm ugly," to "I have a body."
"I'm no good at gymnastics," to "I'm learning gymnastics."
"I can't figure this out," to "I haven't figured this out yet."
Once your child learns to accept these neutral statements, they can use them to replace the negative ones.
And with those out of the way, their brain will finally be in a place to start accepting the positive thoughts that will bring them the confidence they need to make it through the difficulties they face.
But there's one more thing kids need in order to truly believe these positive affirmations: repetition.
New thoughts and actions create new neural pathways in our brains. And that's great! But in order for those pathways to become strong enough to stick around, we need to use them over and over again.
This means that the more our kids practice using positive affirmations, the more natural those thoughts will become. And with that kind of power, our kids just might surprise themselves with what they can do!
So here are some ways to make that possible and expose them to positive statements on a daily basis.
10 FUN WAYS TO DO AFFIRMATIONS WITH KIDS
Every day, our kids are faced with positive and negative thoughts. But it often seems more natural for them to hold onto the negative thoughts, especially ones about themselves.
This negativity bias, as neuropsychologist Dr. Rick Hanson calls it, means that for most people, our brains are primed to hold on to the negative. But luckily, we can train our brains to find the good and capture it – and affirmations are a great way to do this.
Try one of these 10 strategies to help your child get in the habit of using positive self-talk.
1. PUT AFFIRMATIONS ON POPSICLE STICKS
Grab an empty jar and have your child decorate it with the words "I AM". Then work together to fill several popsicle/craft sticks with positive "I" statements such as:
I am brave.
I am kind.
I can do hard things.
Etc.
Each day, they can pull out a stick for a quick self-confidence boost.
2. WRITE NOTES ON THE MIRROR
Help your kids use dry-erase markers or sticky notes to put positive affirmations on the mirror. This will make the words easy to see each day when they're getting ready or brushing their teeth.
When they look in the mirror, they can be reminded that their physical appearance is only part of who they are. There is so much they can offer the world.
3. PRINT INSPIRATIONAL POSTERS
Turn positive affirmations into art!
Print out pages like the ones in our Dream Big Goal Planning Kit or have your child type up their own inspirational messages. They can hang the pages up in their room where they can see them often.
4. WRITE POSITIVE MESSAGES IN HIGH-TRAFFIC AREAS OF THE HOUSE
Write out positive messages the whole family can see using sticky notes, printed pages, whiteboards, or whatever you have on hand. Place them in high-traffic areas such as:
The fridge
The door to the garage
The command center
The hallway
Etc.
Then everyone can see the positive reminders daily as they come and go.
5. SING ONE-LINERS
Singing is a sure-fire way to get motivated and energized, and a perfect way to banish a negative thought.
So help your child turn their favorite affirmations into songs! They can change the words to a tune they love or come up with something totally original.
And to make it even easier to remember, have them pick a one-liner (like "We are the champions") that they can use whenever they need a quick boost.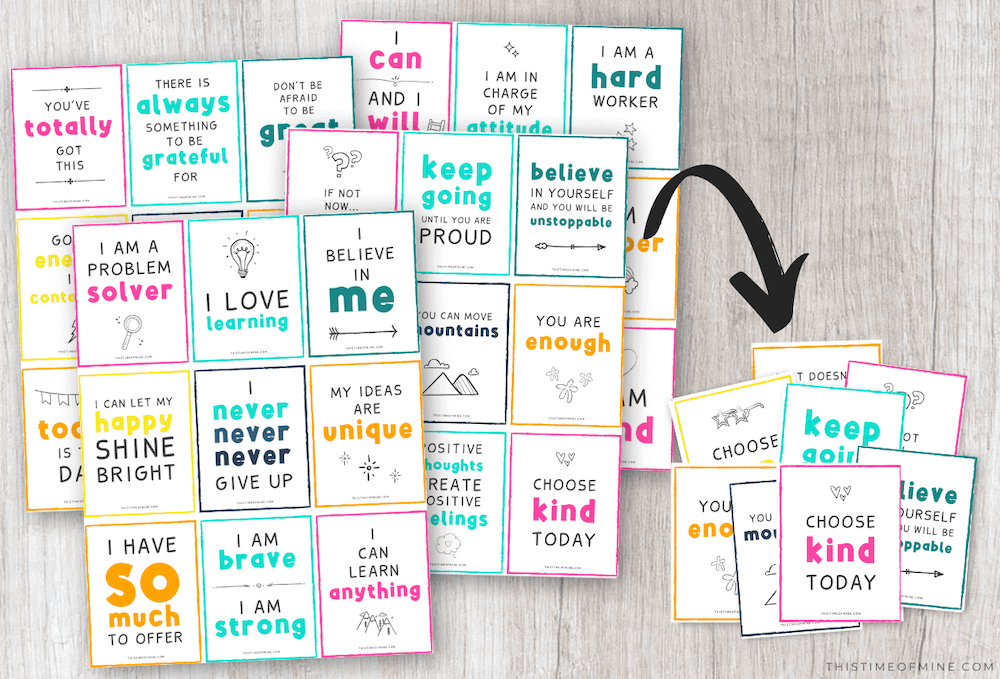 6. USE A DECK OF AFFIRMATION CARDS
A deck of cards can change the way your kids approach their day – especially when they're filled with short, empowering messages.
Affirmation cards (like the printable deck in our Dream Big Goal Planning Kit) can be used however your child wants, whether they want to pull several cards at once, read and discuss their messages with you, or pick one each day to focus on.
7. MAKE AFFIRMATION BRACELETS
Help your child write a positive statement onto a strip of paper. Then tape it around their wrist. Every time your child looks down at their bracelet, they will be reminded of what they're capable of.
8. CREATE AN AFFIRMATION BOARD
Visualisation is a powerful tool, and something your kids can enjoy.
Grab a poster board and help your child create a vision board using pictures and words that describe positive things they believe about themselves as well as things they'd like to learn or get better at. They can display their vision board in their bedrooms or somewhere they see often.
9. FIND ROLE-MODELS
Positive self-talk isn't just for kids. In fact, the world's most successful people use the power of affirmations and science proves that it works.
Help your child discover people they can look up to, and discuss ways in which they think these people used positive affirmations to help them keep working toward their goals.
10. REMEMBER, YOUR WORDS MATTER TOO!
Our kids learn how to interpret the world through us, and they believe what we say.
The oven is hot.
This is an apple.
A cow says, "moo."
It's no different when we tell them they are loved. Or determined. Or kind.
We can use the power of our words to help our children come to see in themselves what we see in them. (Head here for a list of affirmations to help your kids in any situation.)
Another fun way to affirm your kids is to leave notes just for them in their lunchboxes, on their pillows, or anywhere they would be surprised.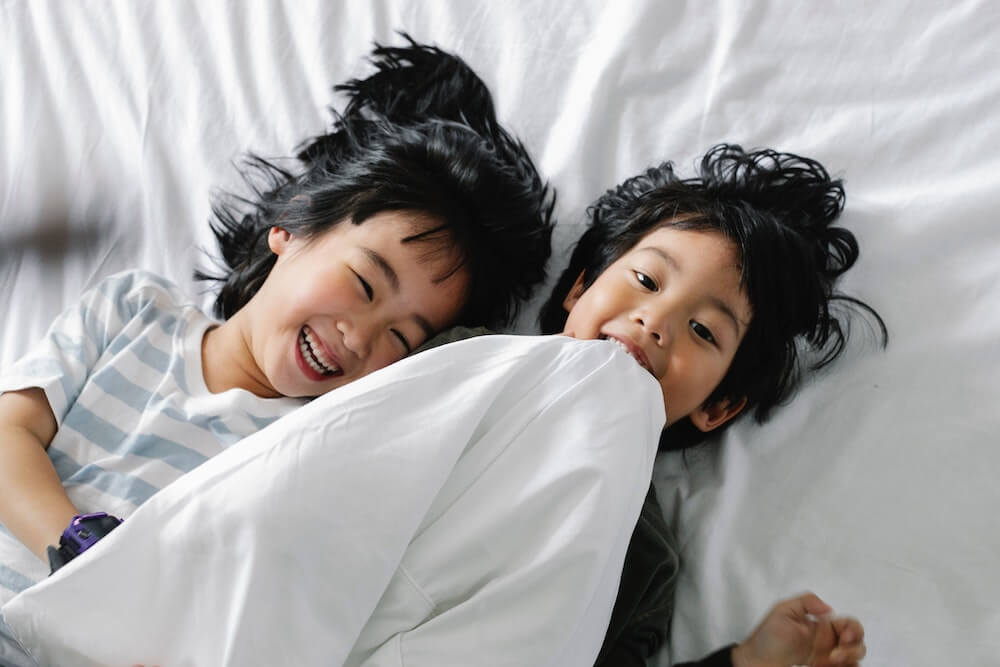 WORKING AFFIRMATIONS INTO THE DAILY ROUTINE
The more our kids are exposed to positive affirmations, the more they will come to believe in themselves and what they can accomplish. Here are a few more ways to incorporate positive affirmations into your daily routine:
Say positive statements together in the mirror while your child brushes their teeth or fixes their hair.
Teach them how to start a journaling habit by writing one positive thing about themselves each night.
Create a family slogan using positive affirmations and saying it out loud together each day.
Take turns sharing stories over family dinner or in a weekly family meeting about how positive self-talk helped each person during the week.
WHAT'S NEXT?
Once again, teaching your kids about the power of positive self-talk is a proven way to help them develop the resilience and confidence they need to make it through the challenges they face in life.
And the more they practice positive thinking, the more they will come to recognize the good they have to offer as they continue on the path to growing into emotionally healthy adults.
I hope the strategies in this post will help you in your efforts to get your kids doing affirmations in a fun and natural way.
And for a list of over 180 affirmations your kids can learn to say to themselves in any circumstance, be sure to head to this post.
Ready to take the next step in developing your child's confidence?
Help them learn how to start setting and achieving goals!
This free Parent Starter Guide will walk you through exactly how to help your kids get excited about setting goals and working hard. It also includes a printable goal ladder so they can start right away!
OTHER HELPFUL POSTS:
want to remember this?
Share this article: