How To Simplify The Morning And After School Routines
Looking to simplify the school rush? These free routine charts help kids do their morning and after school routines all by themselves!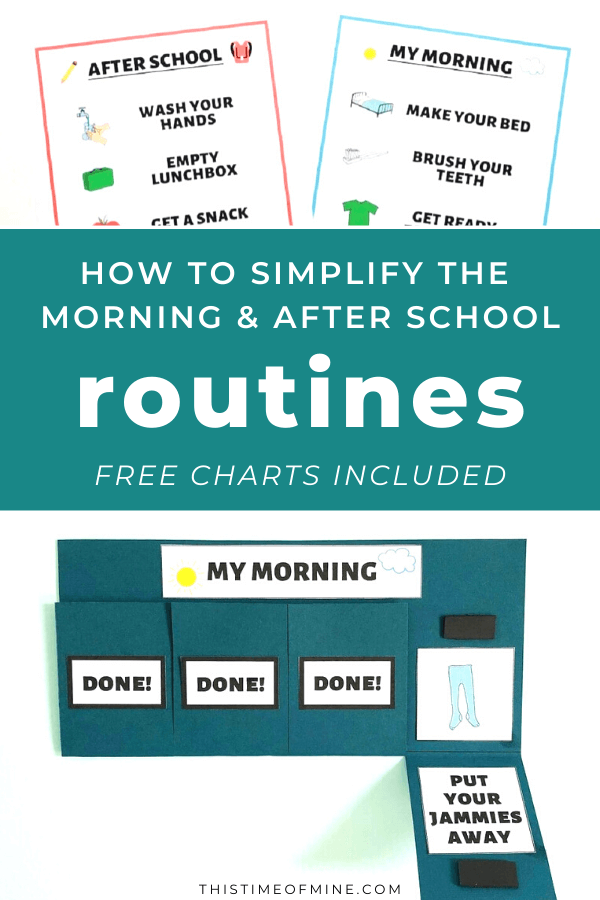 If you have children, then you may understand one thing:
Sometimes, getting children to follow directions is a bit like herding cats.
But before you give into the temptation to just "go with the flow" and deal with the craziness of parenthood, keep in mind that even the wrangliest of children can be taught routines. And routines are a family's saving grace.
Simple routines play an important role in the lives of adults AND children. They provide stability and order. And they set us up for success.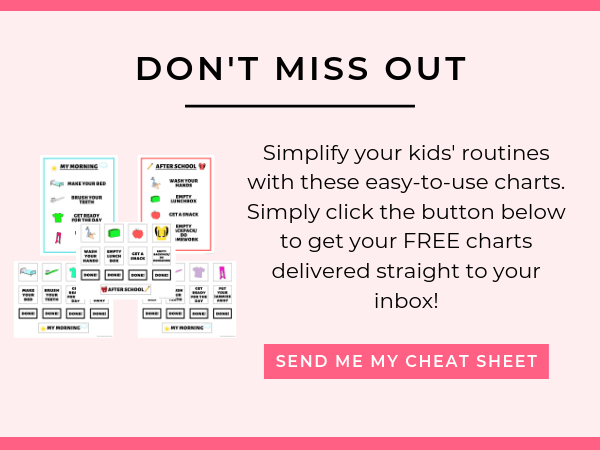 So today I want to share my favorite morning and after school routines for kids.
Before and after school are 2 of the busiest times of day for our family. Even with the routines we've established, they can sometimes still be a hectic, frenzied and hurried mass of sound and backpacks. But more often than not, they're pretty streamlined. (Crazy, I know.)
We've worked hard to establish these 2 routines and they've been serving us well. Now, we still have days where it doesn't all go according to plan. But overall, it's much better than if we had no routine at all.
Why are routines important?
Trust me when I say, routines are my saving grace.
As moms, we have a million things we're doing for our family…all the time. Which is why we need routines.
They make parts of the day "automated". And this leaves you with a little extra brain power to take care of the other 1000 things you need to get done during that time.
Routines also make it possible for even our youngest children to do some things on their own without your constant supervision (or nagging). And that means less work for you!
Of course, you'll still have to help them keep the habits with reminders and teaching. But established routines are easier to maintain than you might think. And in the long run, you'll be so grateful to have kids who know how to do things for themselves.
Routines are important for child development
One thing we know is that children do best when they know what is coming next. – Brenda Carrasquillo
Children thrive on routines.
They provide consistency and clear expectations. And that predictability leads to the feeling of security children crave.
Routines also:
There aren't many things kids can control in their little lives. But a simple routine? That they CAN control.
And kids are much more likely to stay engaged and follow through when they're given that power!
Want to learn more about how routines help children develop? Check out this article from Melbourne Child Psychology.
How to introduce routines
Do you want to know the secret to establishing successful routines?
Simplify them!
Routines that have too many steps or are too detailed just won't work. Would you be able to stick to a morning routine with 42 steps? Me neither!
Our kids are the same.
Simple routines are much more likely to stick because they're easier to remember. And since they're not overly detailed, the built-in flexibility sets kids up for more consistent success.
I find that my kids are much more likely to follow routines that only outline the most important things that need to be done. For example, things like "eat breakfast" or "go potty" never show up on our morning charts because they happen naturally. Routine or not.
Instead, our routine charts just involve the things I want them to learn to do on their own. Things like "make your bed" or "empty your lunchbox".
Take the time to teach each step thoroughly. Walk them through it. And if necessary, walk them through it again.
Be patient and understand that it takes time to learn good habits!
simple routine charts
To make learning the morning and after school routines easier, we use charts with pictures.
They work great with my oldest three (ages 4-10). Even though my older two can read, the visuals are still preferred. They can quickly see the picture and know what to do.
There are 2 types of charts here.
The first one is just in list format. It's a great one to laminate and hang in an area that it can be seen easily.
The second one is a flip chart. This is the one we use most. My kids love flipping up each step. (I know the feeling. I love crossing things off of my to-do lists. DONE!)
Click here to grab your copy of these routine charts.
This chart is great for 2 reasons:
It provides quick and easy visual reminders of what's expected.
It provides the feeling of accomplishment when they "shut the door" on each task.
NOTE: If you have a kid who isn't in school yet, the morning routine still works GREAT!
Each routine has only 4 steps.
We're keeping it simple!
Side note: When my kids were tiny, we just had the morning routine. We made it into a poem so it was easy for them to memorize. We weren't as creative with the afternoon routine, but it still works…
MORNING ROUTINE
Make your bed
Brush your teeth
Get ready for the day
Put your jammies away
AFTER SCHOOL ROUTINE
Wash your hands
Empty lunchbox
Get a snack
Empty backpack/Do homework
My older two also have to practice the piano every day. We usually try to fit it in after breakfast. But if there isn't time, they just practice after school. Because we need the flexibility here, it doesn't show up on either chart.
You can apply this same concept to any extra chores or other things your kids need to do.
MAKE YOUR ROUTINE CHARTS
Now it's time to make the charts!
First, decide which format you'd like. (Or choose both!) Then check out the instructions below.
This post contains affiliate links. For more information, see my disclosures here.
Routine charts – list format
If you'd just like the list format of these routine charts, you can get them here. Before hanging them, I'd recommend laminating them. (This is the laminator and laminating paper I use. I laminate everything. I love it.)
Routine charts – flip format
If you'd like to try the flip charts, these are so easy to make!
For the words and pictures, you can use the free templates I provide at the bottom of this post, use your own handwriting and drawing, or even use a combination of printed and handwritten! You can customize this to fit your needs!
For the actual flip part of the chart, here are the materials you'll need:
First, print the blank template onto your colored cardstock paper. Then print the rest of the pages (words and pictures) on regular paper.
You could also print the words and pictures onto white cardstock or laminate the regular paper to make them extra sturdy!
After you cut everything out, use the glue stick (or hot/super glue if you laminated) to place the words and pictures onto your printed template.
Next, create the flaps by cutting along the smaller lines and folding along the middle line.
Now it's time to finish the flaps.
Glue the "DONE" pieces onto the other side of the flap. Next, take your magnetic tape and cut 8 pieces.
Remove the protective liner from one piece and press the adhesive side down on your first flap.
Place a second magnetic piece on top of the first piece. Then remove the second liner and close the flap pressing firmly on the magnets. (Now your magnets are lined up!)
Repeat with the remaining 3 flaps.
Tip: Keep the flaps closed for 24 hours so the adhesive can cure. If the magnets come off after that, just add some super glue and it'll be fine!
These flip charts have made life so much easier for us in the mornings. My kids love opening and closing the flaps.
And they (almost) always remember what to do in the mornings! I love it.
Here's the after school chart.
Try having your kids help you make these charts! They're simple and it'll help them feel in charge of their own morning and after school routines.
And if you'd like to add different steps to your charts, you can still use the blank template.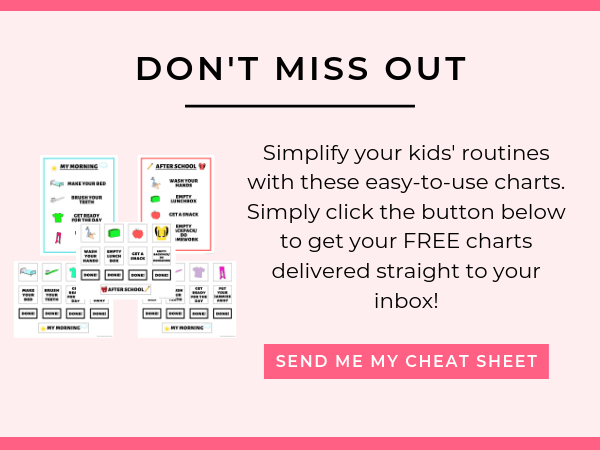 I hope you find these routine charts helpful.
Your whole family can benefit from establishing simple morning and after school routines like these. Even preschoolers (and even toddlers) can do it with a little help!
If you found these routine charts helpful, be sure to check out The Plan And Play Activities Pack for more tools to keep kids organized and having fun.
OTHER HELPFUL POSTS:
want to remember this?
Share this article: