30 Little Ways To Set A Good Example For Your Kids
Want to raise kind kids? Use these simple, everyday ideas to set a good example for your kids and teach kindness one good deed at a time.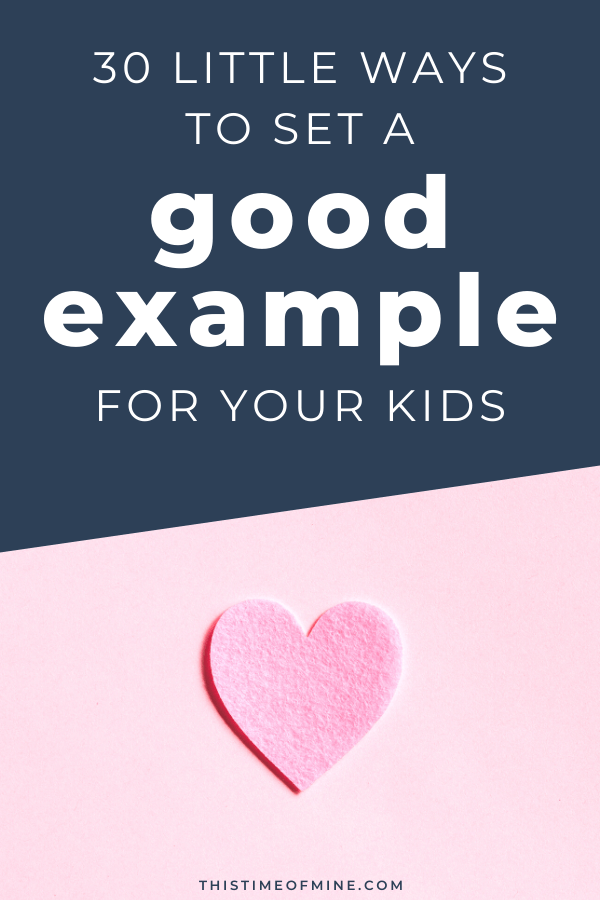 Years ago, an older mother gave me some advice I'll never forget. She said, "Be kind. But more importantly – let your children see you be kind."
At first, I didn't understand what she meant. After all, kindness doesn't need recognition, does it?
Well yes and no. It's true that we shouldn't parade our good deeds for the world to notice, but allowing our kids to see them? That's a different story.
You see, good parenting doesn't happen by chance. It's deliberate and intentional. And all it requires is for us to simply make conscious decisions about our parenting values and then align our actions with those goals.
If we want to raise kind kids, we can't leave it up to chance. Because although kids are naturally wired to be kind, they need us to guide them down the path that will help them stay that way.
And the best way to lead and teach is by example.
Here are 30 small and simple ways you can set a good example for your kids. They're easy to do and might not seem like much. But by performing small acts of kindness like these in front of your kids, you'll be planting seeds of kindness in their hearts.
They'll learn what kindness looks like, and gain the skills they need to mirror that kindness in their own actions.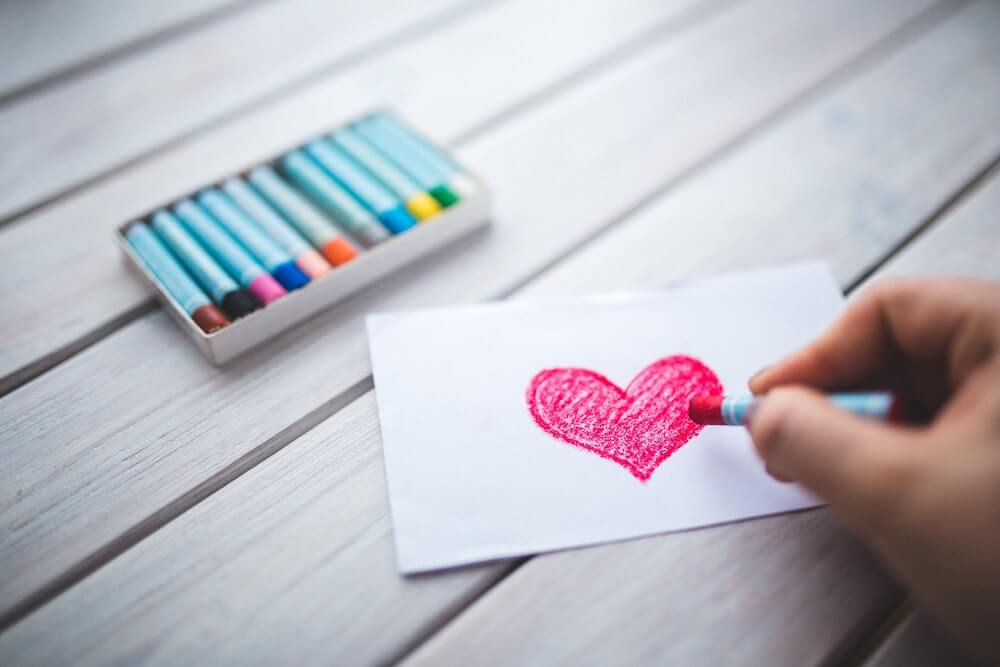 30 LITTLE WAYS TO SET A GOOD EXAMPLE FOR YOUR KIDS
You can set the tone for your whole family. Here are some easy ways to be an example and teach them to notice and be kind to others.
1. HOLD THE DOOR OPEN
You're busy and your hands are most likely full. But pausing for a second to hold the door open for someone behind you shows them and your children that you're willing to put others ahead of yourself.
2. SAY THANK YOU
Cashiers, tellers, food service workers and other store employees often get overlooked (or even treated poorly). Look them in the eyes and say thank you. You'd be surprised how often they are treated like they're invisible.
3. SEND A PHYSICAL CARD IN THE MAIL
There's a reason Amazon puts a smile on their delivery boxes. People love getting real mail. Join the fun and send a quick card with a sweet note to someone who could use a thank you or a pick-me-up.
4. DROP OFF A SMALL TREAT
Take a minute (and your kids) and drop off a small treat to a neighbor or a friend. It will brighten their day.
5. CELEBRATE "NATIONAL DONUT DAY"
Surprise someone with donuts on June 5th. Let your kids hand them the box of donuts. Head here for other fun and obscure holidays you could celebrate.
6. SEND A THOUGHTFUL TEXT
Ask your kids, "Who needs to know we're thinking about them today?" Then send that person a quick text or picture letting them know they are on your family's mind.
7. LET SOMEONE ELSE GO FIRST
The next time you're at the store, invite someone to go ahead of you in line – especially if they only have one or two items.
8. SURPRISE THE PERSON BEHIND YOU IN LINE
No one likes waiting in lines. One way to make it better is by picking up an extra treat at the store, paying for it, and then offering it to the person behind you in line. This excitement will help your kids get through the "torture" of waiting in line too.
9. OFFER TO RETURN SOMEONE'S GROCERY CART
The next time you're walking toward the store or are on your way to put your own shopping cart away, offer to take someone else's. This is especially helpful to older customers and other parents with their hands full. Your kids can even help push the carts!
10. SHOW UNDERSTANDING INSTEAD OF ROAD RAGE
Did someone just pull into your parking spot? Or cut you off? It's easy to spew angry words in the safety of your car. Instead, say nothing or offer words of understanding such as "They must be in a hurry. Good thing we could get out of the way!"
11. THINK OUT LOUD WHEN SOMEONE IS RUDE
If you happen to cross paths with someone grumpy, choose your words carefully after they leave. Acknowledge to your children that their behavior wasn't ideal, and then try to find perspective. You can model empathy by saying something like, "They must be having a bad day. I hope it gets better for them."
12. GREET EMPLOYEES WHEN YOU ENTER PLACES
Saying "hi" to greeters and other front-end employees only takes a second. But it's a great way to model being friendly and polite.
13. DONATE ITEMS AROUND THE HOUSE
Donating old toys, books and clothes is a great way to declutter. But it's also important for children to be in on the process. Help them understand that these items are going to help someone in need so they can take part in brightening someone else's day.
14. OFFER SINCERE COMPLIMENTS – OFTEN
Not all compliments have to be about appearance, though a genuine compliment is never a bad idea. You can also take notice of the efforts and achievements of the people around you – including your kids – and compliment them.
15. TAKE TIME TO ANSWER QUESTIONS
If someone asks for directions or needs an explanation, slow down and answer their questions fully. Show your kids that no matter how busy you are, you're happy to offer a helping hand.
16. HELP THE ELDERLY
Notice the older people around you, especially in your neighborhood. Brainstorm ways your family can help such as yardwork, taking trash to the curb, bringing groceries inside or even stopping by for a chat.
17. NOTICE AND THANK THE HELPERS
School custodians, crossing guards, bus drivers and other every day helpers can blend into the background. Show your kids how to notice the people around them and thank them.
18. VOLUNTEER IN THE COMMUNITY
Let your family be the volunteering type. Set the example by finding opportunities to serve at community, school or church events, and involve the kids whenever possible.
19. MODEL BEING A GOOD LISTENER
Show interest when people talk to you. Look them in the eyes, smile, and be engaged in the conversation.
20. TREAT EVERYONE THE SAME
Showing respect to everyone, regardless of their appearance or situation is an important thing for our kids to learn. But that lesson will only stick if they see us acting the same way.
21. SHARE SNACKS AT THE PARK
Meeting friends at the park? Bring extra snacks to share and spark generosity in your kids.
22. MAKE YOUR HOME WELCOMING
When people knock on the door or your kids bring friends over, make them feel welcome with a warm greeting.
23. DON'T FORGET INTRODUCTIONS
Help people feel comfortable when they're around you by making sure everyone knows each other and offering introductions. You can help your kids learn this skill too by giving them chances to introduce people, offer their own names, or ask others what their names are.
24. PICK UP LITTER
Whenever you see trash on the ground, pick it up (as long as it isn't super gross). Help your children learn that littering is bad and that they can help keep their communities picked up.
25. BE AWARE OF NEGATIVE TALK
Even if you try and see the positive side of life, some things will still get under your skin. But kids pick up on everything. Be aware of that and consider waiting to get your frustration out until they're not around.
26. SPEAK KINDLY OF OTHERS
When we openly speak about others, our children will see that we shouldn't only think about ourselves. We can talk about the good things we noticed about someone, or we can bring up concerns and brainstorm ways to help them.
27. GO ABOVE AND BEYOND
If you are asked to help or notice a need, go the extra mile, stay until the end, or follow up to make sure everything was taken care of. Involve your kids when you can.
28. PRACTICE GRATITUDE
The more you practice gratitude, the more you'll begin to notice the good around you. Share your findings and feelings with your children.
29. BE A FRIENDLY NEIGHBOR
In the midst of busy days and full schedules, it's easy to come and go without taking the time to notice and greet neighbors. Model being a kind neighbor by getting to know the people who live by you, stopping to talk to them, bringing dinner to new parents, helping with projects, or anything else that will let people know you're there for them.
30. BE PROACTIVE IN TEACHING KINDNESS AND RESPECT
It would sure be nice if our kids learned everything through osmosis. But as effective as it is to set a good example for them, we still have to be proactive when teaching our kids kindness. Here are a few simple ideas:
Hold family meetings and brainstorm ways to help others.
Talk to your kids about what kindness means.
Teach them how to address people respectfully.
Roleplay how to act in certain situations.
Ask your kids thought-provoking questions.
Walk through scenarios with your children so they're better prepared.
Have them set service goals.
WE CAN ENCOURAGE KINDNESS BY BEING A GOOD EXAMPLE
We live in a world where we're taught to be bold and headstrong. And although those qualities are admirable, they won't help us be happy unless we can also use them to be kind.
I love this quote from American philosopher, Dr. Wayne W. Dyer: "If you have the choice between being right and being kind, choose being kind." Sound familiar? It's found in the touching children's book, Wonder.
In the end, children don't need formal lessons to learn kindness. They can learn it in natural, everyday settings. And as parents, we can help reinforce this lesson as we set an example that our kids can follow.
And before you know it, your kids will be the ones to set an example for others to follow. Remember, they're naturally wired to be helpful and kind. They just might surprise you with what they can come up with!
OTHER HELPFUL POSTS:
want to remember this?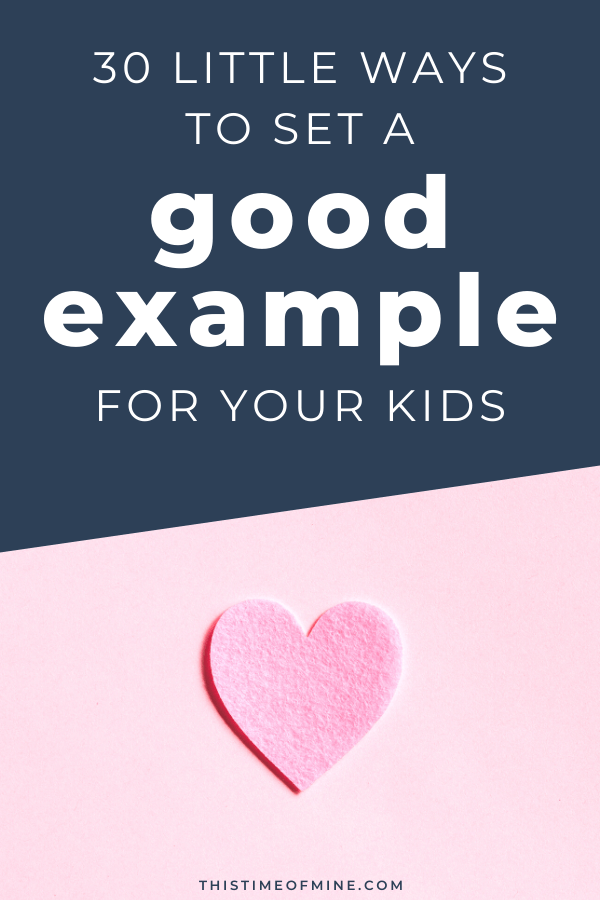 Share this article: