5 Simple Time-Saving Hacks For A Busy Time Of Year
Does your holiday season get busy? Try these simple time-saving hacks so you can enjoy more time doing the things you want to do with your family!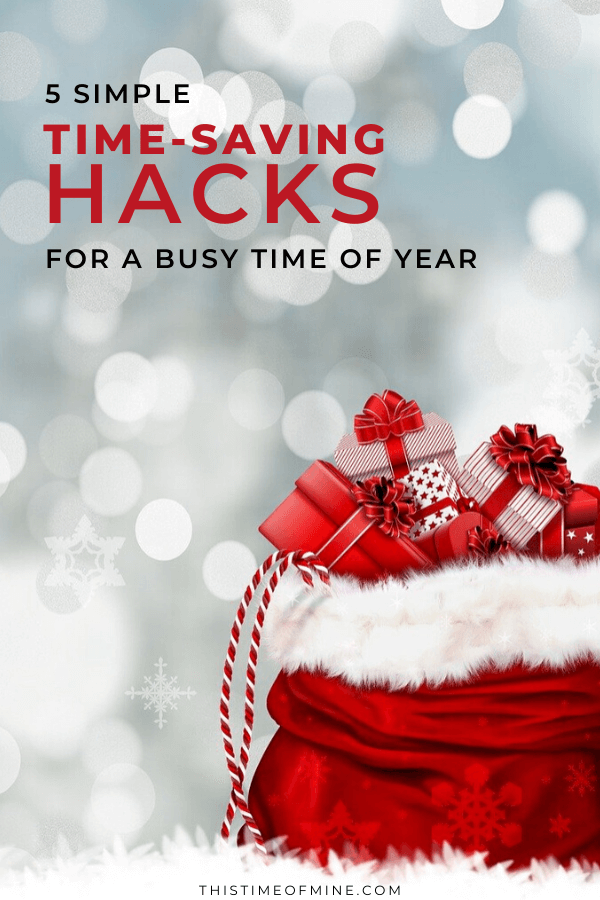 Holiday season.
It's a pretty well-known fact that life can get pretty busy around this time of year.
Between holiday activities, school concerts, Christmas shopping, and well, life with kids in general, time be in short supply.
And you have enough you have to do and think about.
So to help make things a little easier, here are 5 time-saving hacks that'll help you stay sane during this fun and busy time of year!
5 Time-Saving Hacks for a busy time of year
1. Have the kids shower early.
Like really early.
I'm a big fan of early bedtimes for my kids. But sometimes, that doesn't leave much time between dinner and bed.
Whenever I can, I love having my kids shower while I make dinner.
It gives the kids something productive to do so I can focus on not burning dinner. And they can focus something other than being hangry. (Because cooking with hangry kids around isn't fun for anyone!)
But the real reason I love this is because it frees up time after dinner.
Time for hearing about everyone's day. Time for reading stories. And time for just hanging out.
For example, each December, we do a "family time" advent calendar. (I'll get a post up on that soon!)
We do a Christmas-related family activity every day, from December 1st to Christmas. Anything from making paper snowflakes to watching a Christmas movie with hot chocolate. It's one of our favorite things to do around the holidays.
And by having the kids get ready for bed early (except brushing their teeth), we have more time to spend together before bedtime.
2. Prep EVERYTHING for the kids the night before.
Before the kids head to off to bed, make sure everything is ready for school the next morning.
Lunches packed? Check.
Backpacks by the door? Check.
Winter gear by the door and ready to go? Check.
Whatever your kids will need, make sure it's ready to grab the next morning.
That way, if…ok, when you all oversleep (which definitely happens with us more and more toward the end of the semester), your morning will be just a tiny bit less chaotic.
Want even more tips for making school mornings run smoothly? Try this morning routine for kids!
3. Order your groceries online.
I don't know why I put off trying Walmart's Grocery Pick Up for so long. What was I thinking?
Especially at this time of year, the stores get packed and I HATE spending so much time grocery shopping.
Now, I place my order the night before and pick it up after morning school drop off. It's amazing!
And not only does it save me a ton of time, but it's saved my grocery budget too! (Which is also great for this time of year.) I love being able to see EXACTLY how much my total will be as I fill up my online cart.
4. Cook extra at dinnertime.
Evenings often fill up toward the end of the year. And rather than resorting to fast food for dinner (which often takes just as much time), try filling up your freezer instead.
If you're cooking a meal that easily doubles, do it! Then stick the 2nd half in the freezer – with reheating instructions if necessary.
You'll be so glad when dinnertime rolls around and you can enjoy a hot, homemade meal that you've already prepared.
Bonus tip: Save even more time by planning your dinners out for the whole week. Use this meal planning template (and don't forget to try ordering your groceries online. It's the best!).
RELATED: Why Eating Together Is The Most Important Habit Your Family Needs
5. Pick one 30-minute cleaning/organizing task a day.
This time of year is about enjoying fun activities out and at home. And it's a lot more fun to be at home when you're not dealing with a super messy house.
But rather than using your evenings and weekends to catch up, try speed cleaning throughout the week! That way you can fill up those evenings and weekends with family time instead.
What do I mean by "speed cleaning"? Essentially, you set the timer for 30 minutes (or whatever time you choose) and tackle one task or area to clean or organize. This should be something other than your regulars like loading the dishwasher, etc.
Want to know the best part about speed cleaning?
You don't even have to do it every day to reap the benefits. Just a few sessions throughout the week can help save your sanity during this busy time of year.
Tip: Try this speed cleaning cheat sheet to help you get the most out of your time.
Ok, so to recap…5 time-saving hacks that will help you during this busy time of year are:
Have the kids shower early.
Prep EVERYTHING for the kids the night before.
Order your groceries online.
Cook extra at dinnertime.
Pick one 30-minute cleaning/organizing task a day.
You deserve to enjoy this time of year. Busy or not! So it's important to get the "have-to's" out of the way so you can enjoy the "want-to's". These tips help our family immensely and I know they'll help you too!
want to remember this?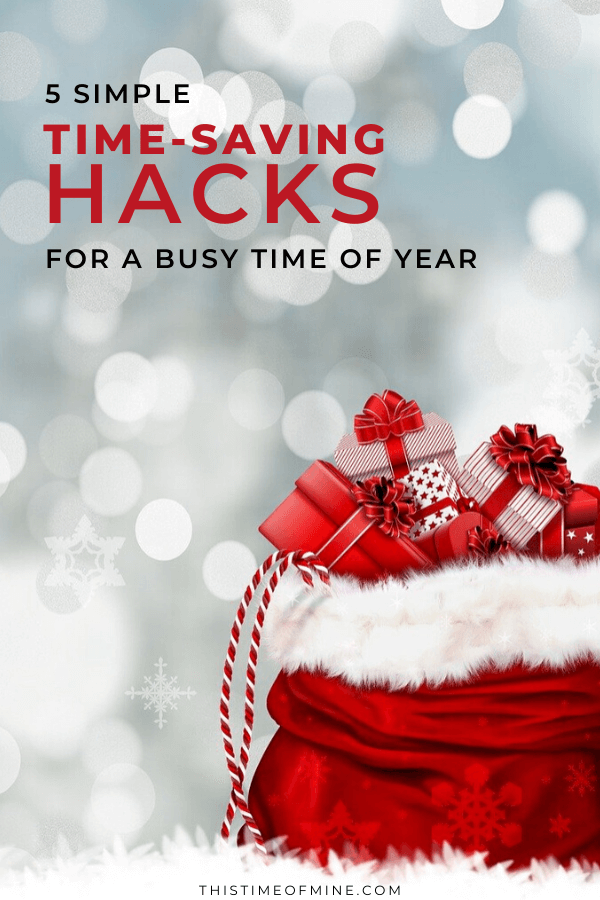 Share this article: