20 Amazing Benefits Of Independent Playtime
Want a parenting tool that will boost your child's development AND help you squeeze some guilt-free break time? Scroll through this post to learn all about the benefits of Independent Playtime so you can start using it too!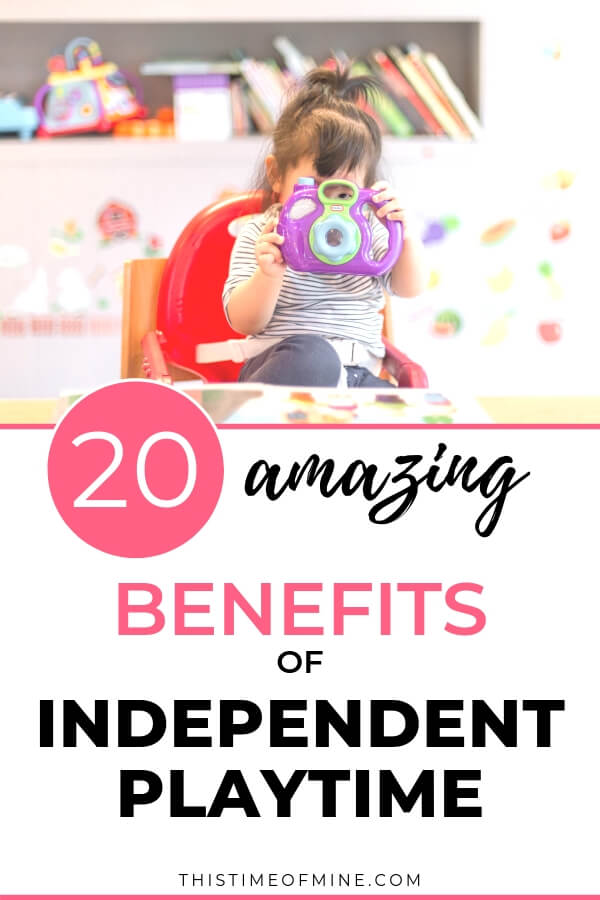 Did you know that allowing children to play alone is good for their development? And that it allows you to squeeze in a little guilt-free break time too?
If you're curious about how it can help your child, you're in the right place! Keep reading to learn about the many benefits of Independent Playtime so you can start adding it to your daily routine.
OVERVIEW
This is the 2nd post in the Independent Playtime series – a series where you'll learn all about Independent Playtime and how to use it.
In the last post, we learned exactly what it is (and what it isn't), and what it's main purpose is. Today, we'll go over why it's so beneficial for your child.
Oh, and let's not forget about you! This is a win-win deal here. So we'll talk about how it benefits you too!
FIRST, INDEPENDENT PLAYTIME IS "ALONE" TIME
In order for your child to benefit the most, keep this in mind…Independent Playtime is alone time. And not just for you.
Starting around the time your child can sit alone, playtime needs to be in a location where she can't see or hear you. I know, you might be thinking this part is unnecessary. After all, can't she just play quietly near you?
At any other time in the day, sure. But this time is distinct and separate from your other routines and is meant for the benefit of your child. Trust me. It works.
(Learn all about how to implement Independent Playtime here.)
BENEFITS OF INDEPENDENT PLAYTIME
Need a little more convincing? Let me share with you 20 benefits of this structured solo time:
1. TEACHES BOUNDARIES
Childhood should be about freedom and play, not boundaries, right? No!
Boundaries are not a bad thing. Although they might initially be met with resistance, boundaries provide safety. And not just physically. They help children feel safe emotionally and in their environment.
2. TEACHES HOW TO HAVE FUN INDEPENDENTLY
Because your child is alone during this time, he is left to his own ideas. He will get better at finding ways to entertain himself and come up with his own plans.
3. FOSTERS CREATIVITY
"The most important aspect of this time is that your child is learning to focus on what he can do with the things he has." – On Becoming Preschool Wise
Limiting choices will foster creativity, not hinder it. Give your child a chance to unlock the potential of her imagination.
4. ENHANCES IMAGINATION
During playtime, your child will be able to discover new ways to play with her toys. She'll be free to expand her imagination while pretending, building, or whatever else her creative mind can come up with. The possibilities are endless!
5. INCREASES ATTENTION SPAN
Being able to stay focused on a task is a skill that needs developing. Children especially need chances to practice this.
Over time, you'll start to notice that the length of time your child can stay focused on one thing will increase. This, in turn, will strengthen his patience, problem-solving skills, imagination and creativity!
6. DEVELOPS PATIENCE
At first, Independent Playtime might seem like an exercise in patience for you and your child if she's resistant. But as she gets better at playing alone, she'll also be able to apply patience in other ways.
Because she has no other pressure to do anything else or to please anyone else, she'll be able to spend more time figuring things out. And as her patience increases, so will her problem-solving skills.
7. DEVELOPS PROBLEM-SOLVING SKILLS
Imagine, for example, your child has a set of blocks during playtime. He might initially become frustrated when the tower doesn't work out the way he wants it to. But with no other distractions, he's free to keep trying and testing out new strategies until he comes up with something that works.
8. INCREASES SELF-CONFIDENCE
As your child's patience and problem-solving skills expand, his self-confidence will too. He'll have a private and safe place to try new things. And he'll start to trust in his ability to figure things out.
9. DEVELOPS SELF-RELIANCE
Your child is alone during playtime. That means he can't rely on you to get or fix everything for him. And that's ok! He's developing creativity and problem-solving skills and will naturally start to become more self-reliant and independent.
10. DEVELOPS SOCIAL INDEPENDENCE
It's great for children to need and want social interaction. But it's also important for them to be okay flying solo. They'll learn to be content with themselves and not overly dependent on others to make them happy.
11. PROVIDES QUIET TIME
We live in a pretty busy world. There are constantly distractions, fun, stresses and noise. Your child experiences all of these too.
And just like you need breaks, she'll benefit from some quiet time too. No electronics, no people, just her and her imagination. It's a great way to decompress.
12. REINFORCES ROUTINE
Children thrive with routines. Make Independent Playtime a regular part of your daily routines whenever you can.
13. PROVIDES UNSTRUCTURED PLAY
This is especially beneficial for children in preschool or other structured activities. It's nice for them to have a break from direction and focus on how they want to play.
14. ENHANCES EMOTIONAL STABILITY
Children who have periods of time alone tend to be more calm. They're allowed a chance to wind down and recharge after stimulating activities. (I've also found playtime before playdates to be helpful.)
15. TEACHES SELF-SOOTHING
When children have time alone, they're given the chance to learn how to soothe themselves. This is great for creating better sleepers! And it's a skill that will continue to benefit them as they age.
16. DECREASES SEPARATION ANXIETY
Many children struggle with separation anxiety. And although it's is a normal part of development, Independent Playtime will help your child grow past it sooner.
17. TEACHES OBEDIENCE
Because your child is given boundaries during playtime, and as you continue to reinforce them, she's being taught the skills of obedience and self-restraint.
18. SMOOTHS TRANSITIONS
Playtime is a great way for your child to transition out of naps. He might still need some "down time" so use this for some afternoon (or morning) quiet time.
Also, if you have a new baby coming, this is an invaluable tool. It allows for you to have some uninterrupted time to take care of your new baby.
19. PREPARES FOR SCHOOL
All of the skills mentioned above will help your child as he develops. And when the time comes for school, he will be set with many of the skills that will help him be successful.
RELATED: How To Actually Be Ready For Kindergarten
20. TEACHES ORDERLINESS
Starting around the time your child can sit unassisted, have her help you clean up after every playtime. At first it might just be you making it a game for her to watch. But as she gets older, she'll start to help.
Teach her that it's just part of the routine to clean up after playing. You can help her transfer that skill to other parts of her day.
BONUS: A HAPPY MOM
The last one's a total bonus. Your child isn't the only one that benefits from Independent Playtime!
Moms need breaks too! And sometimes we forget that.
TMI moment: With my first, I was so afraid to leave my baby alone (even if I could see her) that I once had to run to the bathroom, while breastfeeding…with a granola bar in hand. Let's just say I've come a long way…
So now that you know it's ok for your child to be alone sometime, work on getting the routine down so you can enjoy a little break! Sit on the couch and drink a cup of tea. Check your email or pay a few bills. It's your time.
And as playtime gets longer, it can become a very productive time of day. Set up a baby monitor or stay in earshot (safety is important!) and use the time to tackle some of your responsibilities distraction-free.
TO SUM IT ALL UP
Adding Independent Playtime to your regular routine will be a parenting tool you can use for years to come. It'll boost your child's development and help you squeeze in a little break time too.
In the next post, we'll be talking all about the best ways to implement it into your routine, along with how long it should be based on your child's age.
And for reference, here is a list of all the posts in this series:
If you have any other questions, I'd love to hear from you in the comments!
want to remember this?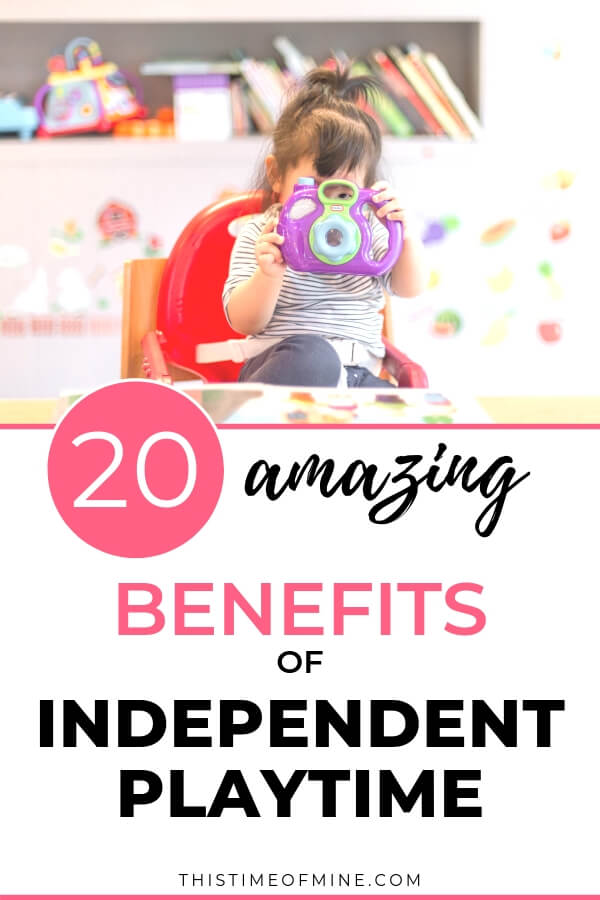 Share this article: