How To Hold Successful Family Meetings – In Just 3 Steps!
Hold family meetings even the kids will love! Find out exactly how to get started and how to prepare an effective agenda. (Free Printable Included!)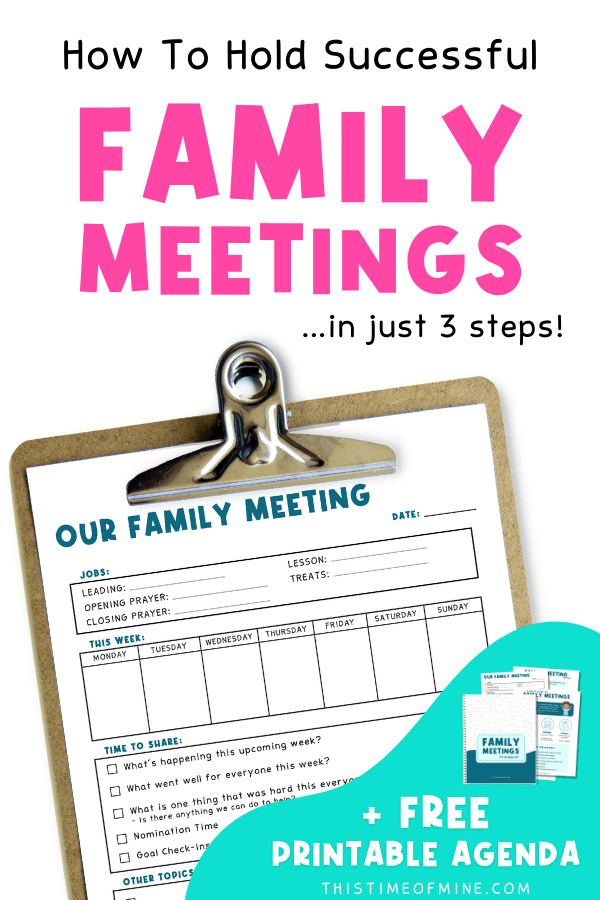 Family life can be busy.
And that can easily leave us feeling overwhelmed. Like we're always scrambling and never able to keep up.
So how do we catch a break? One answer might surprise you.
Believe it or not, holding a family meeting every week might be just the thing you need. It's a chance to coordinate schedules, teach, discuss, and get everyone on the same page.
And it's even possible to do with young kids in tow!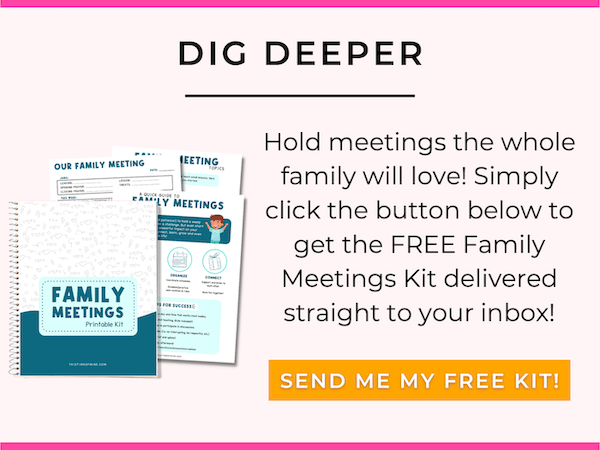 Can family meetings be short?
Yes! Ours certainly are. Our kids are little and can't handle long meetings. Typically, they're less than 20 min.
Are they always perfect?
Definitely not. We've had our fair share of kids who are too silly to listen, too busy huffing and puffing, or too preoccupied with being bored and staring at the wall.
But these meetings are so important to the unity of our family and the flow of family life that we keep at it.
And every once and a while, our kids surprise us with what they contribute. It's proof that things are slowly sinking in.
Ready to give it a try?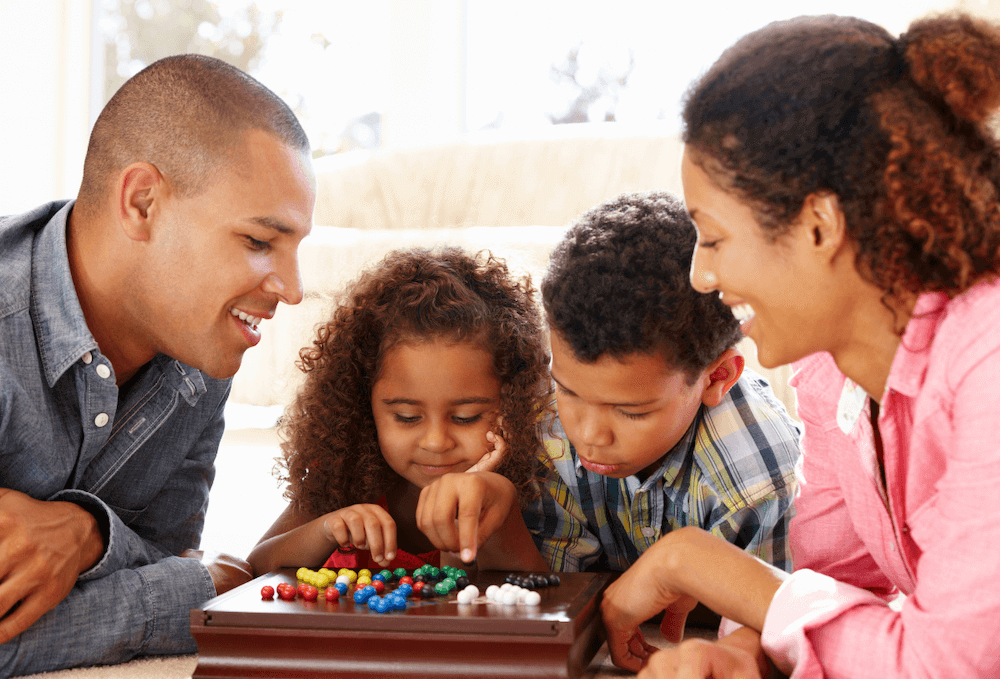 HOW TO HOLD FAMILY MEETINGS (AND STAY SANE)
Family meetings will look different for everyone, but it only takes 3 steps to hold a successful one.
STEP #1 CHOOSE A TIME FOR YOUR FAMILY MEETINGS
To help your kids get in the habit of participating in meetings, try to be as consistent as possible. Pick a day and time that tends to be less busy for your family, and then hold to that like you would a doctor's appointment!
But make sure it's not before a meal!
Trying to keep everyone's attention when they're hungry won't go well. Trust me.
STEP #2 ESTABLISH GROUND RULES
One purpose of family meetings is to create a safe space where everyone can share. In order to make that possible, it's important to establish a few ground rules.
Have your kids help create a list – but keep the list short. For example, you could stick with these 3 rules:
No interrupting.
Listen respectfully to whoever is talking.
Don't judge.
The last rule is for the parents too. Try to make your meetings a safe zone for sharing anything and everything. Kids need to know it's safe to be vulnerable.
STEP #3 PREPARE AN AGENDA
Preparing an agenda ahead of time will make sure you stay on track, cover the things you want, and get through the meeting faster.
It also makes it possible for the kids to be involved!
Once you've held a few meetings, start letting the kids lead. You can help when needed.
Additional jobs will help your kids be even more involved. They can help with little jobs like prayers (we always include prayer in our family meetings), helping to teach a quick lesson, or arranging treats.
You can prepare your own agenda, or you can use this free agenda template, which is the one we use. It comes with two templates, a pre-filled one and a blank one so you can customize your own!
Let's talk about what to put on each meeting's agenda.
WHAT TO INCLUDE IN THE FAMILY MEETING AGENDA
Here is the agenda we use each week.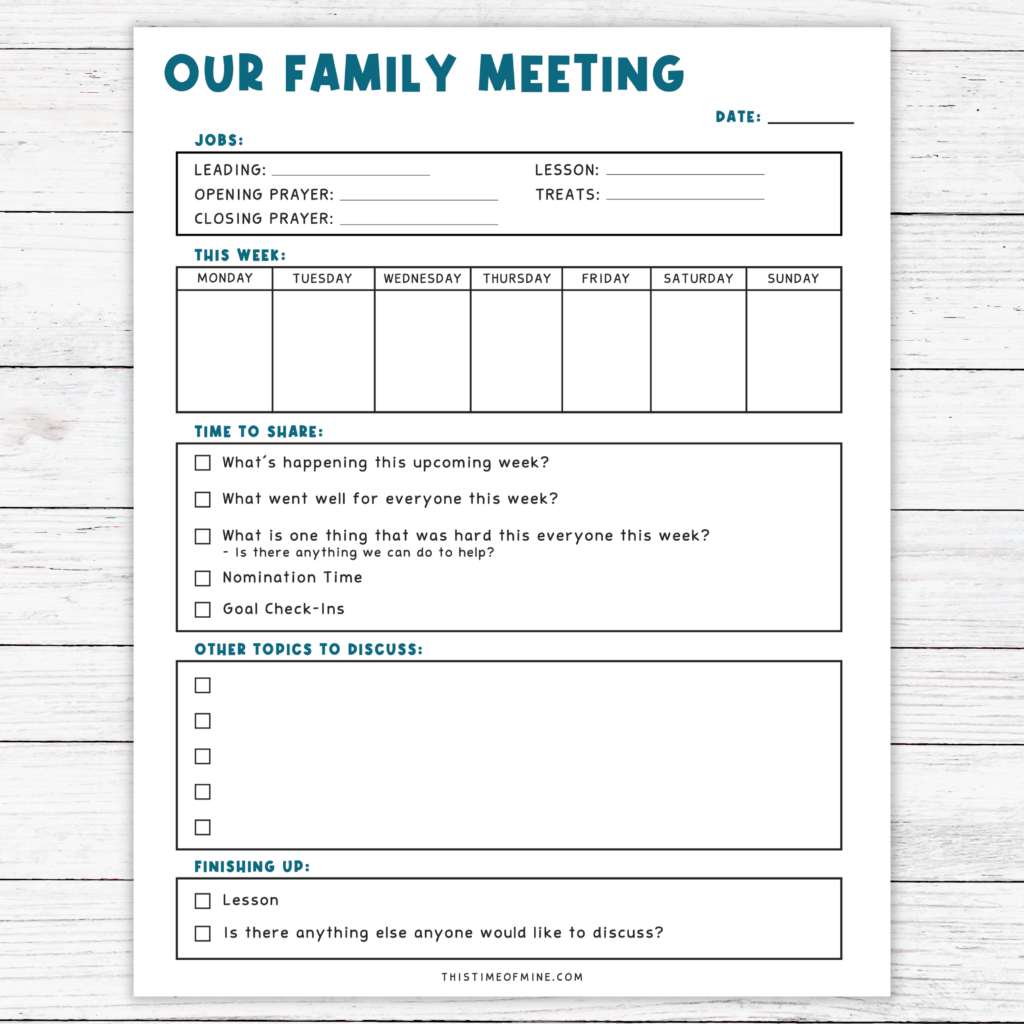 There are topics we cover in every meeting, which are printed onto the agenda. But there is also blank space to add other items when needed.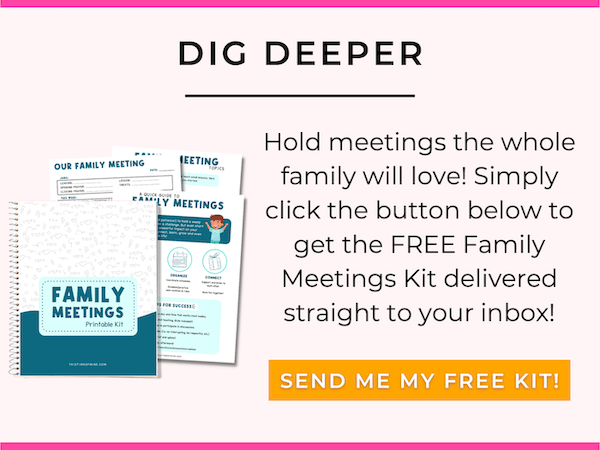 There are 8 components to our family meeting agendas.
1. JOBS
Part of holding successful family meetings is making sure everyone is included. Assigning jobs is a great way to do this. Here are some job ideas:
Leader. We let our kids take turns leading the meeting whenever we can. If they're too young to read the agenda, we help out.
Opening and Closing Prayer. Starting and ending with prayer sets this time apart as something different and to be taken seriously. It also (most of the time) helps establish a calmer atmosphere.
Lesson. We include a little lesson in every meeting. It's not elaborate and usually only lasts about 5 minutes. We simply discuss a topic we want our children to learn more about. And sometimes, we even let the kids teach the lessons!
Treats. Try to have a snack or treat at the end of each meeting. This helps make the meetings more of an "official" thing and gives everyone something to look forward to after!
2. WHAT'S HAPPENING THIS WEEK
Having a family means having multiple schedules. And that can get chaotic.
So spending a little bit of time coordinating everyone's events will help the whole family get on the same page. You might even discover a school project that one of your kids forgot to tell you about! (That's happened more than once over here…)
Talking about everyone's schedule for the week will also help the family support each other in their various activities. Either by being aware of them or by planning to go to them together!
You could even plan a family activity or outing for the upcoming weekend.
3. TIME TO SHARE
Give everyone a chance to share one positive thing about the previous week. Then encourage everyone to share one thing that was hard.
This might take some getting used to, especially if you have kids that prefer to keep things to themselves.
But as you get into the habit of doing family meetings, hopefully, you will see them start to open up, even if it's just a little.
If you feel comfortable, you might also spend some time discussing how the family can help or support anyone who is struggling.
Here's a simple game we like to play to get our kids to open up:
4. NOMINATION TIME
This is a tip I learned from Ralphie Jacobs, creator of Simply On Purpose.
Nomination time is a chance for everyone to stand up and "nominate" one person from the family they saw doing something good that week.
I love this because it helps everyone be aware of each other and notice the good things they do.
5. GOAL CHECK-INS
Goals are so important, for us and our kids. And helping our kids set and achieve goals is a wonderful gift we can give as parents. Our goal planning kits make it easy for kids to gets started and find success with their goals.
Spend a little time each meeting allowing everyone to report on how their goals are going. Offer support and brainstorm ways to help when needed.
Are you working toward something as a family? This is an excellent time to discuss how things are going.
6. OTHER TOPICS TO DISCUSS
This is the part of the meeting that varies from week to week. And because every family's needs are different, this section can be used in many different ways.
Here are some ideas of what you might cover:
Important issues that concern the family
Budgets, allowance, or other money topics
Planning for the holidays or a vacation
Establishing a new goal
There are other things you can cover (head here for more topics), but remember to keep it brief!
7. LESSON
This part of the meeting is one of my favorites.
I love having dedicated time to go over topics I want my kids to learn about. From family emergency plans to how to stay safe on the internet, there's always something we can talk about.
We try our best to keep this part short and upbeat and sometimes have the kids teach. The actual amount of time varies on the topic (and the mood of my kids by this point). But often it doesn't take more than 5-10 minutes.
8. ANYTHING ELSE?
Conclude the meeting by asking everyone if there is anything else they'd like to discuss.
Sometimes it's taken a whole meeting for one of my kids to warm up to the idea of sharing something or asking a question. So this allows for any last-minute discussion.
You can decide to finish the discussion as a family or in private after the meeting ends.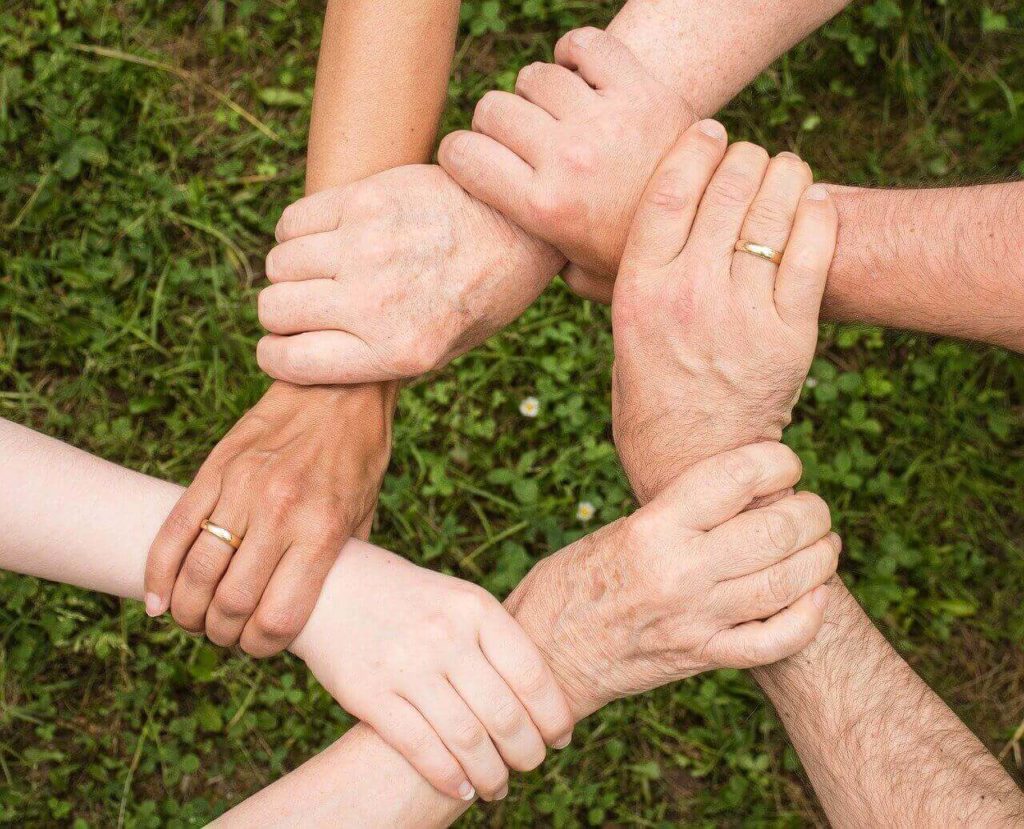 BONUS TIPS: HELP YOUR FAMILY HOLD STRESS-FREE MEETINGS
The most important thing to remember about family meetings is to stay consistent and keep the meetings simple and brief.
Here are a few more things to be aware of:
Some kids are naturally more talkative than others. But allowing time for everyone to share can eventually lead to them feeling safe enough to open up.
Sometimes your meetings will be short and filled with attitude. Let it be. These are the times when you're just aiming for consistency.
No matter what behaviors happen, keep the meetings upbeat and positive.
Don't forget to give your kids chances to lead the meetings.
No lecturing allowed. Family meetings are for sharing and discussing in a judgement-free zone.
Use this time to pick up on anything you think your kids aren't feeling brave enough to divulge fully. Later, you can approach them privately for comfort, advice, or support.
ARE FAMILY MEETINGS REALLY WORTH ALL THIS EFFORT? (9 BENEFITS YOU MIGHT NOT BE AWARE OF)
By now, you're probably thinking: this all sounds great – but it still seems like a lot of work.
And you'd be right…at first.
Like any new routine, it takes a lot of effort to hold family meetings. But over time, it gets easier and will begin to fit naturally into your family's routine – I promise.
And it's 100% worth the effort. Here's why: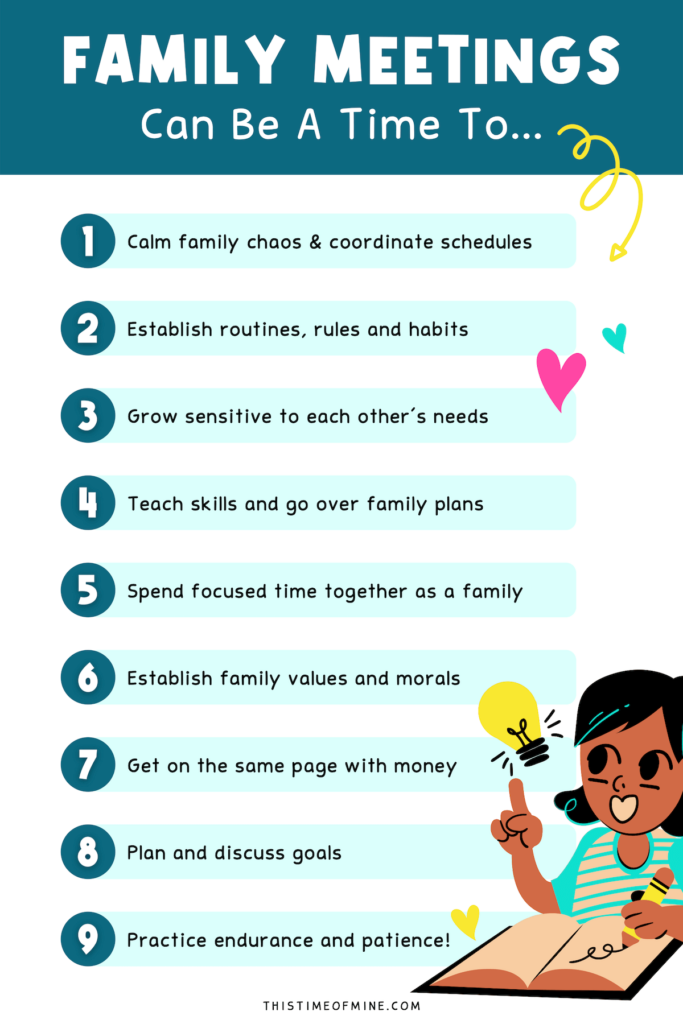 1. THEY HELP CALM FAMILY CHAOS
Juggling multiple schedules is hard. But discussing and coordinating them helps the family plan ahead for the week. This is also a chance to support one another in their weekly events.
2. THEY ESTABLISH ROUTINES AND HABITS
Routines are important for family stability. And regular meetings are a great way to create a weekly routine that everyone comes to expect.
3. THEY HELP FAMILY MEMBERS BECOME MORE SENSITIVE TO EACH OTHER'S NEEDS.
Family meetings allow a space to be vulnerable with each other. A time to listen to what's going on in each person's life and possibly brainstorm ways to support someone who needs extra help that week.
4. THEY PROVIDE AN OPPORTUNITY TO TEACH AND PLAN.
Family meetings are a great time to teach skills, manners, and other important lessons.
You can also discuss family plans. Want to plan a family vacation or outing? What will you do as a family this weekend? Is there someone in the neighborhood that needs help? What will you do for an upcoming holiday?
Kids will be more committed to the things they helped plan. And you can use your time together each week to evaluate your progress toward your plans and goals.
5. THEY PROVIDE A CHANCE FOR PARENTS TO SPEND FOCUSED TIME WITH THEIR KIDS.
Parents often get stuck in the administrative role of daily life. Family meetings give them a chance to see their kids in a different setting and listen to them open up.
6. THEY HELP ESTABLISH FAMILY VALUES.
Family meetings are an excellent time to go over family values. Spend part of the meeting in a brief lesson about anything you'd like your kids to learn.
7. THEY HELP EVERYONE GET ON THE SAME PAGE WITH MONEY.
Discussing budgets sounds so typical of a "business meeting". But why can't kids be involved in the family finances?
Is there something exciting you're saving for as a family? Did something unexpected happen and now you need to spend a little less money this month?
Use this time to discuss ways everyone can help reach certain budgeting goals.
8. THEY PROVIDE AN OPPORTUNITY TO PLAN AND DISCUSS GOALS.
Goal setting is important. And receiving support increases the chance of success. During your meetings, you can discuss ways to help each other reach personal goals. You can also come up with family goals.
9. FAMILY MEETINGS ARE A GREAT WAY TO PRACTICE ENDURANCE AND PATIENCE!
Ok, let's get real for a second.
Not every family meeting is going to be a life-altering event. After all, we're dealing with kids. Sometimes, you're going to have meetings that involve a lot of huffing and puffing.
But keep at it! Because in the long run, it'll be worth it.
YOU CAN HOLD SUCCESSFUL FAMILY MEETINGS TOO
You're busy. And you have a lot going on. So finding time to hold weekly meetings with your family might seem impossible.
But in the end, your family will be stronger because of them.
Your kids won't remember everything from every meeting, but they WILL remember that you had them. And that's something that can benefit them for the rest of their lives.
So to make it easy for you to get started, be sure to grab the free Family Meetings Kit. In it, you'll find the meeting agenda from this post along with a blank template for you to customize and a list of tips and topics so you can hold successful family meetings and begin to reap the benefits!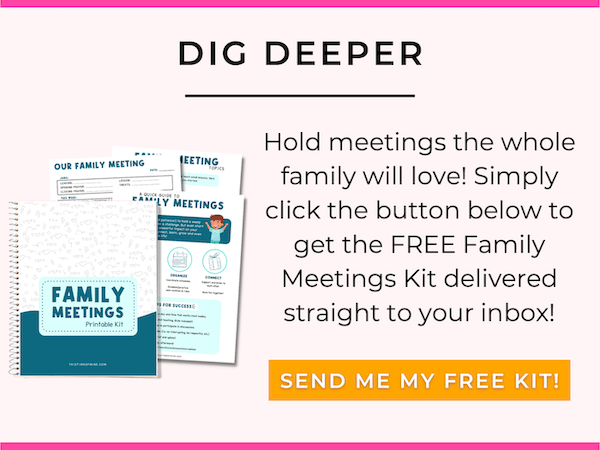 Does your family hold meetings? I'd love to hear about them in the comments below!
OTHER HELPFUL POSTS:
want to remember this?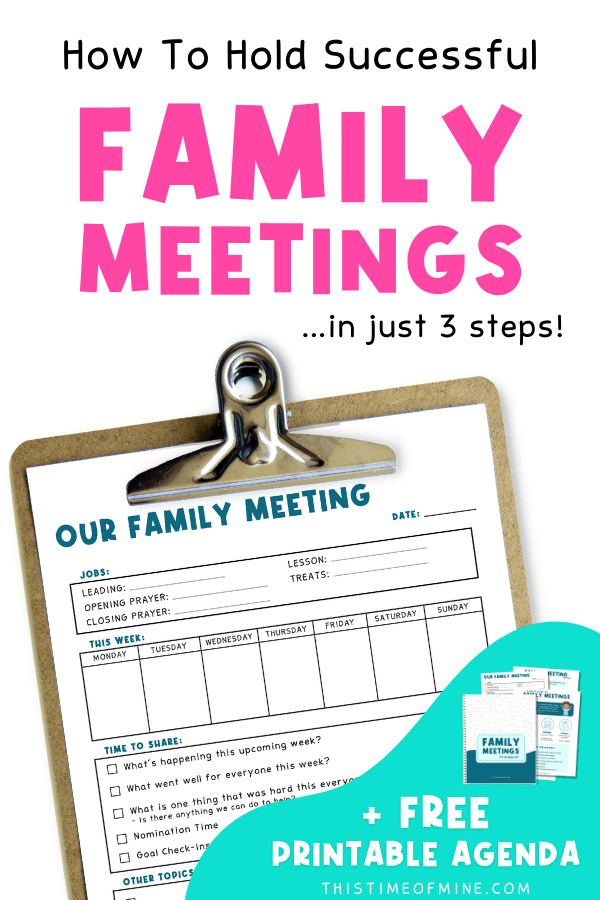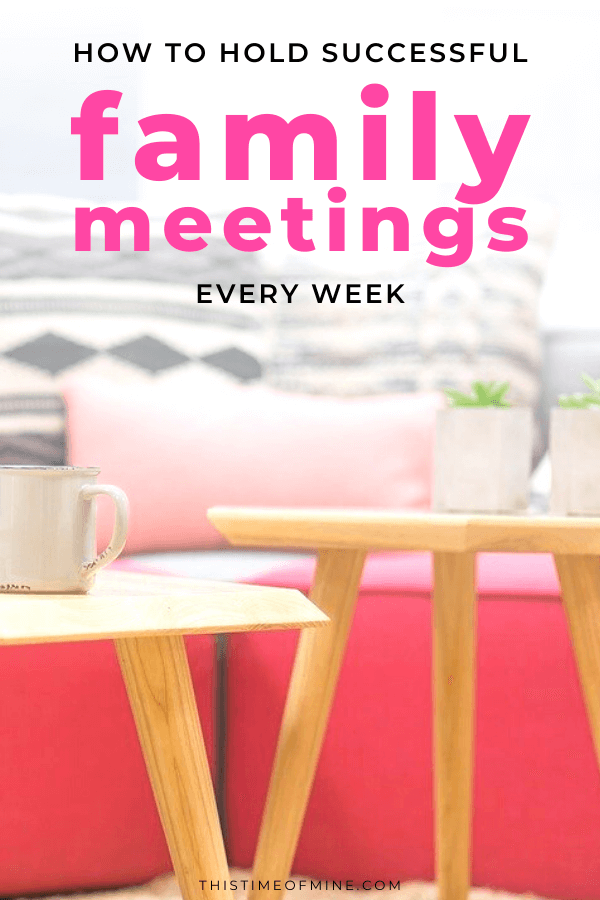 Share this article: